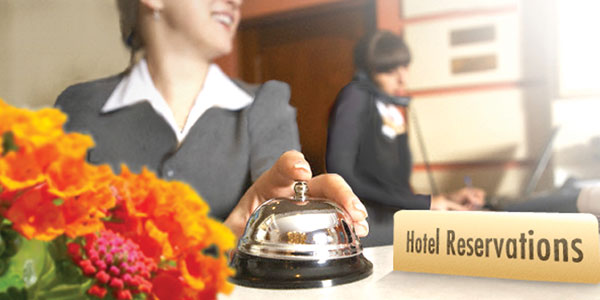 By Family Features
When most people plan a trip, the focus is on the purpose of the journey, whether it's a work-related jaunt or a vacation with loved ones. Researching and organizing travel for an upcoming trip is important, but so is finding the perfect place to make your journey easier, more productive and successful.
Proximity will almost always be a factor in selecting the right hotel, but the travel experts at Hyatt Place recommend paying special attention to a few essential details that can make an impact on your overall travel and hotel experience.
Guest-centered accommodations. It's often the little things that make the biggest impact when you're traveling far from home. Keep the core purpose of your trip in mind as you explore hotel accommodations, and look for those that are most thoughtfully designed around your needs. Seek out hotel options that can make it easier for guests to blur the lines between business and leisure travel with dedicated spaces to work, sleep and play and features like comfy sectional sofas, separate sleeping and living areas and contemporary bathrooms.
Better basics. Waking well rested after a long night is a start, but an exceptional breakfast experience can make your day even better. As part of its upgraded breakfast buffet, Hyatt Place hotels across the U.S. now feature regional recipes. For example, hotels in the South feature a turkey sausage and pimento biscuit sandwich, and hotels in the Atlantic region feature cinnamon French toast with apple butter. In addition to five regional offerings, hotel guests will find an expanded breakfast buffet featuring cage-free scrambled and hard-boiled eggs, all-natural bacon and sausage, Greek yogurt, fresh-cut fruit, steel-cut oatmeal, a rosemary-garlic potato medley and artisanal breads.
Lifestyle options. Whether you want to relax with your morning paper or mix and mingle following a day's work, it can be liberating to know you have options outside your hotel room. No matter the time of day, public areas, like a spacious lobby and lounge, 24-hour fitness center or indoor or outdoor pool, can provide a chance to enjoy new scenery.
Convenient amenities. Many hotels offer the basics, but with an option like Hyatt Place hotels, amenities are purposeful, making your trip as productive and seamless as possible. From free Wi-Fi throughout the hotel and guestrooms to a business center with remote printing and freshly prepared food offerings available throughout the day, guests' travel and dining needs are covered.
Thoughtful service. It goes without saying that quality customer care is an expectation for any stay, but there are some hotels that take service to an extra level. The front desk staff is often the best trained, but it's pretty simple to spot a hotel that puts a real emphasis on the guest experience. Checking in feels more like a welcome than a process with hosts offering a friendly smile, a greeting in the hallway or a friendly conversation. If you're traveling to a new city, try reading reviews to get a sense for a hotel's approach to guest services.
Start planning your next trip at hyattplace.com and discover why you'll never have to settle.
---
Encuentre un hotel que se ajuste a sus necesidades de viaje
Cuando la mayoría de las personas planean un viaje, la atención se centra en el propósito del viaje, ya sea una excursión relacionada con el trabajo o unas vacaciones con sus seres queridos. La investigación y organización de viajes para un próximo viaje es importante, pero también lo es encontrar el lugar perfecto para que su viaje sea más fácil, más productivo y exitoso.
La proximidad casi siempre será un factor en la selección del hotel correcto, pero los expertos en viajes de Hyatt Place recomiendan prestar especial atención a ciertos detalles esenciales que pueden hacer un impacto en su viaje en general y en la experiencia en el hotel.
Alojamientos centrados en el huésped. A menudo, las pequeñas cosas son las que causan el mayor impacto cuando viaja lejos de casa. Mantenga en mente el propósito central de su viaje cuando explore alojamientos en un hotel, y busque aquellos diseñados más cuidadosamente para sus necesidades. Busque opciones de hoteles que puedan hacer más fácil para los huéspedes desdibujar las líneas entre viajes de negocio y de placer con espacios dedicados para trabajar, dormir y jugar, y características como cómodos sofás seccionales, áreas separadas para dormir y estar, y baños modernos.
Mejores fundamentos. Despertarse bien después de una larga noche es un comienzo, pero una experiencia de desayuno excepcional puede hacer que su día sea aún mejor. Como parte de su desayuno buffet mejorado, los hoteles Hyatt Place en EE.UU. ahora ofrecen recetas regionales. Por ejemplo, hoteles en el Sur cuentan con un sándwich de bollo con salchicha de pavo y pimentón, y los hoteles en la región del Atlántico incluyen tostadas francesas con canela y mantequilla de manzana. Además de las cinco ofertas regionales, los huéspedes del hotel encontrarán un desayuno buffet ampliado con huevos revueltos y huevos duros, tocino y salchichas naturales, yogurt griego, fruta fresca, avena cortada con acero, mezcla de papas con ajo con romero y panes artesanales.
Opciones de estilo de vida. Ya sea que quiera relajarse con su periódico de la mañana o socializar después de un día de trabajo, puede ser liberador saber que tiene opciones fuera de su habitación de hotel. No importa la hora del día, las áreas públicas, como un amplio lobby o salón, un gimnasio abierto las 24 horas o una piscina interior o exterior, pueden brindar la oportunidad de disfrutar de nuevos paisajes.
Comodidades convenientes. Muchos hoteles ofrecen lo básico, pero con una opción como los hoteles Hyatt Place, los servicios tienen un propósito, haciendo que su viaje sea lo más productivo y fluido posible. Desde conexión inalámbrica a internet gratuita en todo el hotel y las habitaciones hasta un centro de negocios con impresión remota y ofertas de alimentos recién preparados disponibles durante todo el día, las necesidades gastronómicas y de viaje de los huéspedes están cubiertas.
Servicio atento. No hace falta decir que la atención al cliente de calidad es una expectativa para cualquier estancia, pero hay algunos hoteles que llevan el servicio a un nivel adicional. El personal de recepción es a menudo el mejor capacitado, pero es bastante simple detectar un hotel que pone un énfasis real en la experiencia del huésped. Registrarse se siente más como una bienvenida que un proceso con los hospedadores ofreciendo una sonrisa amistosa, un saludo en el pasillo o una conversación amistosa. Si está viajando a una nueva ciudad, intente leer las reseñas para tener una idea del enfoque de un hotel hacia los servicios para huéspedes.
Comience a planear su siguiente viaje en hyattplace.com y descubra por qué nunca tendrá que conformarse.