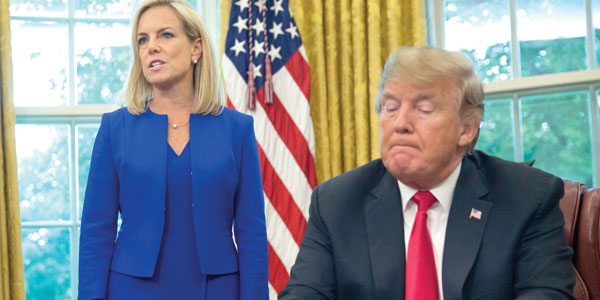 By Roberta Pardo
President Trump announced Sunday (April 7) that Kirstjen Nielsen had resigned as secretary of the Department of Homeland Security (DHS), marking the exit of a second top immigration official in a matter of days.
Kevin McAleenan, the commissioner of Customs and Border Protection, will replace Nielsen on an acting basis.
The announcement came after Trump and Nielsen had met at the White House. The meeting was not disclosed on the president's public schedule, as reported by multiple media outlets.
The resignation came days after the White House had abruptly removed the nomination of Ronald Vitiello, who had been picked as Trump's director of Immigration and Customs Enforcement.
In her resignation letter, Nielsen said this was the "right time" for her to leave.
"I hope that the next secretary will have the support of Congress and the courts in fixing the laws which have contributed to discord in our nation's discourse," she wrote in the two-page letter.
Later, in a tweet, Nielsen said she would stay through Wednesday (April 10) to "assist with an orderly transition."
On Monday (April 8), Trump continued the leadership dismantling of the country's top domestic security agency when the White House announced the removal of U.S. Secret Service Director Randolph D. "Tex" Alles. According to the Washington Post, one DHS official said the White House had given no cause for Alles' removal.
"They are decapitating the entire department," the official said.
Many DHS officials have admitted that Trump is not happy with how top officials are handling immigration. The director of U.S. Citizenship and Immigration Services, L. Francis Cissna; and John Mitnick, DHS general counsel, could be next, officials told the Post.
James M. Murray, a career member of the Secret Service, will take over as director, beginning in May.
__________________________________________________________________________
Trump despide a secretaria de DHS, otros oficiales de liderazgo
El presidente Trump anunció el domingo (7 de abril) que Kirstjen Nielsen había renunciado como secretaria del Departamento de Seguridad Nacional (DHS, por sus siglas en inglés), lo que marcó la salida de un segundo alto funcionario de inmigración en cuestión de días.
Kevin McAleenan, el comisionado de Aduanas y Protección Fronteriza, reemplazará a Nielsen de forma interina.
El anuncio se produjo poco después de que Trump y Nielsen se reunirán en la Casa Blanca. La reunión no fue divulgada en el calendario público del Presidente, según lo informado por múltiples medios de comunicación.
La renuncia se produjo días después de que la Casa Blanca removiera abruptamente la nominación de Ronald Vitiello, quien había sido elegido como el director de Inmigración y Control de Aduanas de Trump.
En su carta de renuncia, Nielsen dijo que este era el "momento adecuado" para su partida.
"Espero que el próximo secretario cuente con el apoyo del Congreso y los tribunales para arreglar las leyes que contribuyeron a la discordia en el discurso de nuestra nación", escribió en la carta de dos páginas.
Luego, en un tweet, Nielsen dijo que se quedaría hasta el miércoles (10 de abril) para "ayudar en una transición ordenada".
El lunes (8 de abril), Trump continuó el desmantelamiento del liderazgo de la principal agencia de seguridad nacional del país cuando la Casa Blanca anunció la destitución del director del Servicio Secreto de los Estados Unidos, Randolph D. "Tex" Alles. Según el Washington Post, un funcionario de DHS dijo que la Casa Blanca no había dado ningún motivo para el despido de Alles.
"Están decapitando a todo el departamento", dijo el funcionario.
Muchos funcionarios de DHS han admitido que Trump no está contento con la forma en que los altos funcionarios manejan la inmigración. El director de Servicios de Ciudadanía e Inmigración de los Estados Unidos, L. Francis Cissna; y John Mitnick, consejero general de DHS, podrían ser los siguientes, dijeron los funcionarios al Post.
James M. Murray, miembro de la carrera del Servicio Secreto, asumirá el cargo de director a partir de mayo.