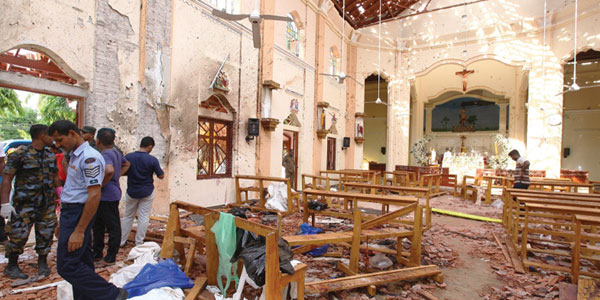 By Roberta Pardo
Gruesome bombings in Sri Lankan churches and hotels killed at least 321 people and injured more than 500 on Easter Sunday (April 21), multiple news sources reported.
Within a few hours Sunday, suicide bombings hit three Catholic churches and three luxury hotels in the island nation.
According to the Washington Post, Sri Lankan authorities said Tuesday (April 23) the bombings were a response to attacks in March on two mosques in New Zealand.
"Investigations have revealed that the attacks were carried out by Islamic extremists in retaliation for the mosque attacks in Christchurch, New Zealand," Ruwan Wijewardene, state minister of defense, told Parliament, as reported by the Post.
However, Prime Minister Ranil Wickremesinghe was more cautious during his news conference Tuesday, saying they "cannot say yet" if the Sunday's attacks were because of the New Zealand attacks.
"There seems to have been foreign involvement," he said. "Some may have traveled abroad and come back. … So far it is only Sri Lankan citizens that have been taken in for questioning."
Immediately following the attacks, the Sri Lankan government locked down the country, shutting down roads and imposing a curfew. It also temporarily blocked major social media and messaging services, such as Facebook, Instagram and WhatsApp, to prevent the spread of misinformation online.
International intelligence agencies had warned that the National Thowfeek Jamaath group, a local radical Islamist group, was planning attacks. However, the information did not reach the prime minister's office until after the massacre.
The attacks ended the relative peace Sri Lanka had experienced following the end of its civil war in 2009. For the past decade, the country had become a popular tourist destination.
The bombings came in the middle of a surge in attacks against Christians and religious groups in south Asia, where there has been a mix of surging nationalism, faith-based identity politics and social media rumor mongering.
---
Más de 300 personas mueren en atentados en Sri Lanka
Bombardeos horripilantes en iglesias y hoteles de Sri Lanka mataron al menos a 321 personas e hirieron a más de 500 el domingo de Pascua (21 de abril), como informaron múltiples fuentes de noticias.
Durante varias horas el domingo, los atentados suicidas atacaron tres iglesias católicas y tres hoteles de lujo en la isla.
Según el Washington Post, las autoridades de Sri Lanka dijeron el martes (23 de abril) que los bombardeos fueron una respuesta a los ataques en marzo contra dos mezquitas en Nueva Zelanda.
"Las investigaciones han revelado que los ataques fueron llevados a cabo por extremistas islámicos en represalia por los ataques a la mezquita en Christchurch, Nueva Zelanda", dijo Ruwan Wijewardene, ministro de defensa del estado, al Parlamento, según informó el Post.
Sin embargo, el primer ministro, Ranil Wickremesinghe, fue más cauteloso durante su conferencia de prensa el martes y dijo que "no pueden decir todavía" si los ataques del domingo se debieron a los ataques de Nueva Zelanda.
"Parece que ha habido participación extranjera", dijo. "Algunos pueden haber viajado al extranjero y volver. … Hasta ahora, sólo ciudadanos de Sri Lanka han sido interrogados".
Inmediatamente después de los ataques, el gobierno de Sri Lanka cerró el país, cerró carreteras e impuso un toque de queda. También bloqueó temporalmente los principales servicios de mensajería y redes sociales, como Facebook, Instagram y WhatsApp, para evitar la propagación de información errónea en línea.
Las agencias de inteligencia internacionales habían advertido que el grupo National Thowfeek Jamaath, un grupo islamista radical local, estaba planeando ataques. Sin embargo, la información no llegó a la oficina del primer ministro hasta después de la masacre.
Los ataques pusieron fin a la relativa paz que Sri Lanka había experimentado después del final de su guerra civil en 2009. Durante la última década, el país se había convertido en un destino turístico popular.
Los atentados ocurrieron en medio de una oleada de ataques contra cristianos y grupos religiosos en el sur de Asia, donde ha habido una mezcla de nacionalismo creciente, políticas de identidad basadas en la fe y rumores en redes sociales.