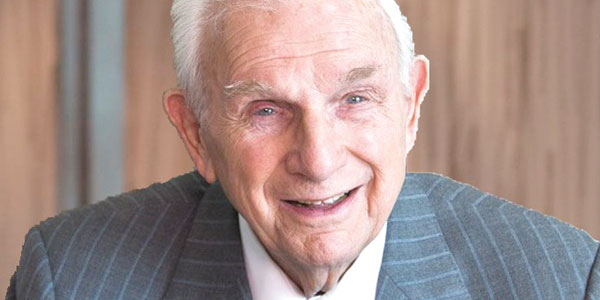 Kansas City lost a visionary, a courageous and generous native son last Tuesday. Henry Wollman Bloch passed away April 23 at age 96. He was co-founder of H&R Block Inc., a decorated combat veteran, co-founder of the Marion and Henry Bloch Family Foundation and lifelong supporter of area institutions, such as the Nelson-Atkins Museum of Art. On Monday, the museum hosted a public memorial service to celebrate his life.
Grace and good nature characterize the enterprising man who started H&R Block with his brother, Richard in 1955. Today, the tax preparation business produces annual revenues of more than $3.1 billion. In 2018, H&R Block's 12,000 tax offices in the U.S. and other countries, prepared 23 million tax returns, according to the company. Henry famously used his fortune to benefit his hometown's art, business, and education milieus.
"His leadership and dedication have been vital to the success of the Nelson-Atkins. But beyond the museum, Henry has been an outstanding citizen whose generosity and vision have had a transformative impact on Kansas City," the Nelson's director and CEO, Julián Zugazagoitia said in a statement. "Henry is irreplaceable. We will miss him very much."
Henry retired in 1992 as H&R Block's CEO and as chairman of the board in 2000. Richard, who survived lung cancer, defying a terminal diagnosis, retired in 1971 to focus on supporting cancer research and education.
Henry died peacefully in hospice, surrounded by his family, the company posted (http://blochfamilyfoundation.org/hr-block-announces-passing-of-henry-w-bloch/). He is survived by his four children, Robert Bloch, Thomas Bloch, Mary Jo Brown and Elizabeth Uhlmann of Kansas City, 12 grandchildren and 19 great-grandchildren.
Henry was preceded in death by his parents, Hortense and Leon, brothers, Leon and Richard, and Marion Helzberg Bloch, his beloved wife of 62 years.
Before her death, she and Henry founded the Marion and Henry Bloch Family Foundation "dedicated to making Greater Kansas City better." Since 2011, the organization has supported nonprofit organizations that serve residents in Clay, Jackson and Platte counties in Missouri and Johnson and Wyandotte in Kansas.
Among well-known beneficiaries of Marion and Henry's largesse are the University of Missouri-Kansas City, Saint Luke's Hospital, Don Bosco Community Center, Donnelly College, the Family Conservancy, Rose Brooks Center and Westside Housing Organization. Marion and Henry donated their personal collection of "priceless" Impressionist and post-Impressionist paintings to the Nelson and funded an $11.7 million renovation.
During World War II, Henry distinguished himself as a B-17 navigator. He'd enlisted in the Army Air Forces after the Dec. 7, 1941 Japanese attack on Pearl Harbor. For his 30-plus missions over Germany, Henry was awarded the Air Medal and three oak leaf clusters.
Henry Bloch left his mark on his hometown through his lifeworks – his generous contributions to art, education and health; business students he mentored; and his children. He lived life by these words, "Love others, work hard and do what is right," his son, Robert said on Monday.
______________________________________________________________________________
Recordando a Henry Bloch
El martes pasado Kansas City perdió a un visionario, un nativo valeroso y generoso. Henry Wollman Bloch falleció el 23 de abril a los 96 años. Fue cofundador de H&R Block Inc., un veterano de combate condecorado, cofundador de la Fundación Marion and Henry Bloch Family y donador de instituciones de la zona como el Museo de Arte Nelson-Atkins. El lunes, el museo organizó un servicio conmemorativo público para celebrar su vida.
La gracia y la buena naturaleza caracterizan al hombre emprendedor que inició H&R Block con su hermano Richard en el 1955. Hoy en día, el negocio de preparación de impuestos produce ingresos anuales de más de $3.1 mil millones. Según la compañía en el 2018, las 12,000 oficinas de impuestos de H&R Block en EE. UU. y otros países, procesaron 23 millones declaraciones de impuestos. Henry hizo un famoso uso de su fortuna para beneficiar a los medios artísticos, empresariales y educativos de su ciudad natal.
"Su liderazgo y dedicación han sido vitales para el éxito de Nelson-Atkins. Pero más allá del museo, Henry ha sido un ciudadano destacado cuya generosidad y visión han tenido un impacto transformador en Kansas City", indicó en un comunicado el director y CEO de Nelson, Julián Zugazagoitia. "Henry es insustituible. Le echaremos mucho de menos".
Henry se retiró en 1992 como director ejecutivo de H&R Block y como presidente del consejo en el 2000. Richard, quien sobrevivió al cáncer de pulmón, desafiando un diagnóstico terminal, se retiró en 1971 para enfocarse en apoyar la investigación y educación sobre el cáncer.
La compañía publicó que Henry murió pacíficamente en un hospicio, rodeado por su familia (http://blochfamilyfoundation.org/hr-block-announces-passing-of-henry-w-bloch/). Dejando a sus cuatro hijos, Robert Bloch, Thomas Bloch, Mary Jo Brown y Elizabeth Uhlmann de Kansas City, 12 nietos y 19 bisnietos.
La muerte de Hortense y León, los padres de Henry, precedieron su partida, sus hermanos, León y Richard y Marion Helzberg Bloch, su amada esposa durante 62 años.
Antes de su muerte, ella y Henry fundaron la Fundación de la familia Marion y Henry Bloch "dedicada a mejorar Kansas City". Desde el 2011, la organización ha apoyado a organizaciones sin fines de lucro que prestan servicios a los residentes de los condados de Clay, Jackson y Platte en Missouri, Johnson y Wyandotte en Kansas.
Entre los beneficiarios conocidos de la generosidad de Marion y Henry se encuentran la Universidad de Missouri-Kansas City, el Hospital Saint Luke, el Centro Comunitario Don Bosco, el Colegio Donnelly, la Family Conservancy, Rose Brooks Center y la Organización Westside Housing. Marion y Henry donaron su colección personal de pinturas impresionistas y post-impresionistas "invaluables" al Nelson y financiaron una renovación de $11.7 millones.
Durante la Segunda Guerra Mundial, Henry se distinguió como un navegante B-17. El 7 de diciembre de 1941 se había alistado en las Fuerzas Aéreas del Ejército después del ataque de los japoneses contra Pearl Harbor. Por sus más de 30 misiones en Alemania, Henry recibió la Air Medal y tres hojas de roble.
Henry Bloch dejó su huella en su ciudad natal a lo largo de su vida: sus generosas contribuciones al arte, la educación y la salud. Guió a estudiantes de negocios y a sus hijos. El lunes su hijo Robert indicó que Henry vivió una vida basada en: "Amar a los demás, trabajar duro y hacer lo correcto".