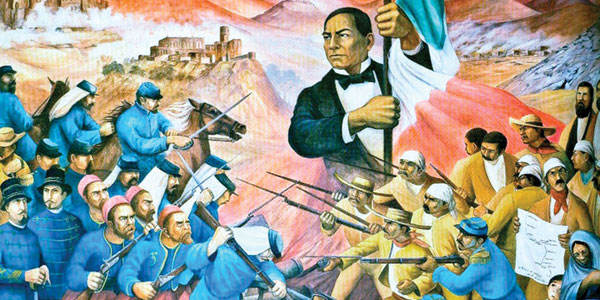 By Chara
This Sunday, people in the United States celebrate a Mexican holiday.
It's not Mexican Independence Day.
It's not a big holiday in Mexico either, although some Americans might think so.
It's Cinco de Mayo.
On Cinco de Mayo, Mexicans commemorate the Battle of Puebla. At the Battle of Puebla, the Mexican army faced and defeated the French army. The battle helped to spark rebellion against the French Intervention in Mexico, which eventually ended in 1867.
Everything started when Mexico owed some money to France. France was looking to expand its territory and saw the debt as an excuse to attack and colonize Mexico. French troops arrived in Mexico via Veracruz and were headed from there to Mexico City. However, they were stopped in Puebla, where Mexican troops led by Ignacio Zaragoza defeated the French in May 1862. History books state that Mexico's army had around 4,500 troops, while the French army had more than 6,500 soldiers.
Mexicans in Puebla celebrate Cinco de Mayo with parades and small street festivals. However, in other Mexican states, Cinco de Mayo isn't a big celebration. In the United States, Cinco de Mayo has grown in popularity, boosted by commercial interests.
Many people think that Mexicans celebrate Cinco de Mayo in the United States to show their national pride. However, this is inaccurate. The celebrations in the United States are considered ways for Mexican nationals to share Mexican traditions and culture.
______________________________________________________________________________
La historia detrás del Cinco de Mayo
Este domingo, la gente en los Estados Unidos celebra un día festivo mexicano.
No es el día de la Independencia Mexicana.
Tampoco es un día festivo grande en México, aunque algunos estadounidenses quizás lo piensen así.
Es el 5 de mayo.
En el 5 de mayo, los mexicanos conmemoran la batalla de Puebla. En la batalla de Puebla, el ejército mexicano enfrentó y derrotó al ejército francés. La batalla ayudó a desatar la rebelión contra la intervención francesa en México, la cual gradualmente terminó en 1867.
Todo empezó cuando México tenía una deuda con Francia. Francia estaba tratando de expandir su territorio y vio la deuda como una excusa para atacar y colonizar a México. Las tropas francesas llegaron a México por Veracruz y de allí se dirigían a la Ciudad de México.
Sin embargo, en Puebla los detuvieron las tropas mexicanas encabezadas por Ignacio Zaragoza quienes derrotaron a los franceses en mayo de 1862. Los libros de historia cuentan que el ejército de México tenía alrededor de 4,500 soldados, mientras que el ejército francés tenía más de 6,500 soldados.
En Puebla los mexicanos celebran el 5 de mayo con desfiles y pequeños festivales en las calles. Sin embargo, en otros estados mexicanos, el 5 de mayo no es una gran celebración. En Estados Unidos, el 5 de mayo ha crecido en popularidad, impulsado por intereses comerciales.
Mucha gente piensa que los mexicanos celebran el 5 de mayo en los Estados Unidos para demostrar su orgullo nacional. Sin embargo, esto no es correcto. Las celebraciones en Estados Unidos se consideran maneras para que los mexicanos compartan las tradiciones y cultura mexicanas.