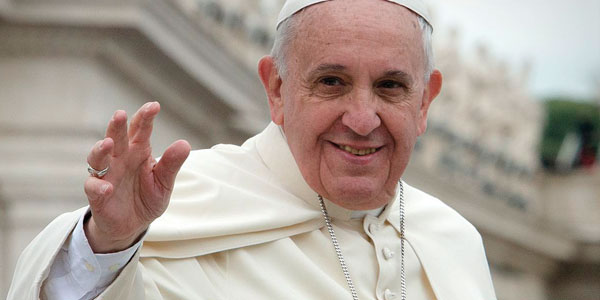 By Roberta Pardo
Pope Francis has donated $500,000 to help migrants stranded in Mexico as they try to reach the border with the United States, the Vatican said.
The money comes from the Catholic Church's Peter's Pence Fund, gathered from church collections around the world.
"The Catholic Church hosts thousands of migrants in the hotels within dioceses or religious congregations, providing basic necessities, from housing to clothing," said an official statement.
A statement from Peter's Pence office said aid to migrants by the government and private individuals had decreased because of a decrease in media coverage, thus prompting the pope's donation.
"This amount will be distributed among 27 projects in 16 dioceses and among Mexican religious congregations that have asked for help in order to continue providing housing, food and basic necessities to these, our brothers and sisters," the statement said.
It also said that 13 of those projects had already been approved, with another 14 being evaluated. A requirement to get approved aid is to guarantee a regulated and transparent use of resources.
In March, the pope criticized political leaders who tried to build barriers to keep out migrants.
"Builders of walls, be they made of razor wire or bricks, will end up becoming prisoners of the walls they build," he said.
__________________________________________________________________________
El Papa dona $500,000 para ayudar a los migrantes en México
El Vaticano indicó que el papa Francisco ha donado $500,000 para ayudar a los migrantes varados en México mientras intentan llegar a la frontera con Estados Unidos.
El dinero proviene del Fondo Peter's Pence de la iglesia Católica, que se recolecta de las colecciones de iglesias de todo el mundo.
"La Iglesia Católica alberga a miles de migrantes en los hoteles dentro de las diócesis o congregaciones religiosas, que satisfacen las necesidades básicas, desde la vivienda hasta la ropa", dijo un comunicado oficial.
Una declaración de la oficina de Peter's Pence dijo que la ayuda a los migrantes por parte del gobierno y los particulares había disminuido debido a una disminución en la cobertura de los medios, lo que provocó la donación del Papa.
"Esta cantidad se distribuirá entre 27 proyectos en 16 diócesis y entre las congregaciones religiosas mexicanas que han pedido ayuda para continuar brindando alojamiento, alimentos y necesidades básicas a estos, nuestros hermanos y hermanas", estableció en la declaración.
También dijo que 13 de esos proyectos ya habían sido aprobados y que otros 14 estaban siendo evaluados. Un requisito para obtener la ayuda aprobada es garantizar un uso regulado y transparente de los recursos.
En marzo, el Papa criticó a los líderes políticos que trataron de construir barreras para mantener alejados a los migrantes.
"Los constructores de muros, ya sean de alambre o ladrillos, terminarán convirtiéndose en prisioneros de los muros que construyen", dijo.