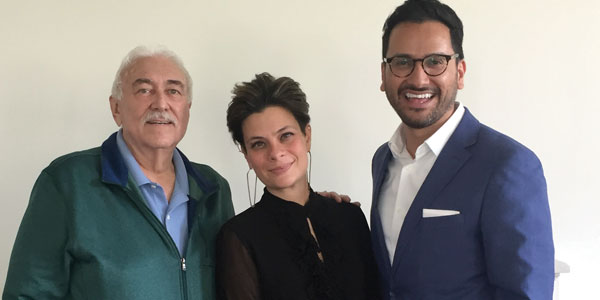 By Roberta Pardo
After five years, the architectural construction at the Corinthian Hall at the Kansas City Museum has been completed.
Expected to open in late 2020, the hall is part of a museum-wide, multistaged, multiyear restoration and renovation that started five years ago, when the Kansas City, Missouri, Parks and Recreation Department took over the management and operation of the museum. The $22-million renovation project was done by JE Dunn Construction Co. and features humidity- and temperature-controlled rooms.
Once the R.A. Long family mansion, the hall is ready to be filled with exhibitions and interactive digital technologies.
Dos Mundos recently got an exclusive look of a few rooms in the building. One of the rooms visited was a gallery space on the third floor. Anna Marie Tutera, Kansas City Museum executive director, said the renovated space will be a gallery that covers Kansas City history from the 1970s to present, finishing a timeline that will start on the second floor.
The space also will house exhibitions that will focus on neighborhood stories, Tutera said.
"The goal is to not just focus on the history of those neighborhoods but (also) to highlight and showcase what's currently happening in those neighborhoods, … preservation efforts, the cultural assets of the neighborhood, the hopes and dreams of those residents and the stories — highlighting stories, especially (of) those who have often been overlooked," she said.
For that, the museum will work closely with partners in the neighborhoods. Tutera said the plan is to showcase two neighborhoods per year.
Dr. Gene T. Chavez, museum curator, said the role of the exhibition space is to make sure all populations — particularly those who are often overlooked — share their stories.
"We want to make sure that ethnic populations are represented in the telling of the history of Kansas City," he said.
Ultimately, the goal is to inspire people into acting, Tutera said, whether by engaging in dialogue or making contributions in the community.
"We believe that, once you understand where you come from, you can make a more meaningful contribution to your community, to your neighborhood, to your city," she said.
---
Remodelación del Corinthian Hall del Museo de KC ha sido completada
Después de cinco años, la construcción arquitectural del Corinthian Hall en el Museo de Kansas City ha sido completada.
El edificio, que se espera que abra a fines de 2020, forma parte de una restauración y renovación de varios años, con múltiples etapas y en todo el museo, que comenzó hace cinco años, cuando el Departamento de Parques y Recreación de Kansas City, Missouri, asumió la administración y operación del museo. El proyecto de renovación de $22 millones fue realizado por JE Dunn Construction Co. y cuenta con habitaciones con control de humedad y temperatura.
Lo que una vez fue la mansión de la familia R.A. Long ahora es un edificio que está listo para ser llenado de exhibiciones y tecnologías digitales interactivas.
Dos Mundos recientemente obtuvo un vistazo exclusivo de algunas habitaciones del edificio. Una de las salas visitadas fue un espacio de galería en el tercer piso. Anna Marie Tutera, directora ejecutiva del Museo de Kansas City, dijo que el espacio remodelado será una galería que cubrirá la historia de Kansas City desde los años 70 al presente, concluyendo una línea de tiempo que comenzará en el segundo piso.
El espacio también albergará exposiciones que se centrarán en las historias del barrio, dijo Tutera.
"El objetivo es no sólo enfocarse en la historia de esos vecindarios, sino también (también) resaltar y mostrar lo que está sucediendo actualmente en esos vecindarios, … los esfuerzos de preservación, los bienes culturales del vecindario, las esperanzas y los sueños de los residentes y las historias, destacando historias, especialmente (de) aquellos que a menudo se han pasado por alto", dijo.
Para eso, el museo trabajará muy de cerca con socios en los vecindarios. Tutera dijo que el plan es exhibir dos vecindarios por año.
Dr. Gene T. Chávez, curador del museo, dijo que el papel del espacio de exhibición es asegurarse que todas las comunidades, especialmente aquellas que a menudo se pasan por alto, compartan sus historias.
"Queremos asegurarnos que las poblaciones étnicas estén representadas en el relato de la historia de Kansas City", dijo.
En última instancia, el objetivo es inspirar a las personas para que actúen, dijo Tutera, ya sea participando en el diálogo o haciendo contribuciones en la comunidad.
"Creemos que, una vez que entiendas de dónde vienes, puedes hacer una contribución más significativa a tu comunidad, a tu vecindario, a tu ciudad", dijo.