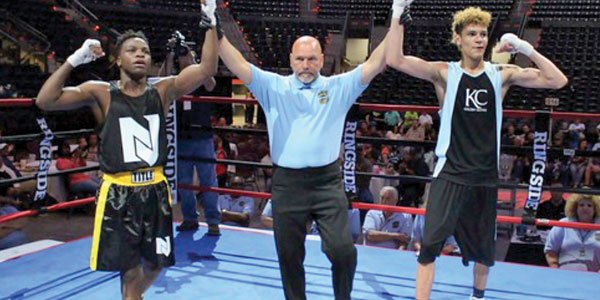 By Chara
Recently, throngs of boxers laced up or strapped on their gloves in Kansas City, Kansas, hoping to take their next step in pursuing a national title.
Continuing an annual tradition that started in 1936, KC Golden Gloves gave those boxers the opportunity to pursue their hopes by hosting its regional tournament. Open-division winners at the tournament, held April 11-13 at Memorial Hall, qualified for the national Golden Gloves tournament, which began Monday (May 6) for ages 18-40 and will conclude Saturday (May 11) in Chattanooga, Tennessee. Winners will receive a national title belt.
"They will be competing against the best in the United States who have also won regional tournaments," Chris Walden, KC Golden Gloves president, said.
Kansas City area athletes who are 18 and older and want to try Golden Gloves boxing are encouraged to find a gym where they can train and then participate in the annual regional tournament. The tournament has divisions based on weight and experience level – novice and open. Only open-division fighters (10 or more fights) advance to the national competition after winning at the regional tournament.
"Any boxer can register for the regional tournaments to compete in their area," Walden said.
Those who get involved with Golden Gloves are supporting a good cause, Walden suggested.
"Kansas City Golden Gloves is a non-for-profit organization, and all proceeds … (benefit) the KC national team with travel," Walden said. "The KC Golden Gloves (organization) also gives a college scholarship to a deserving boxer every year to help with their academic goals."
According to the regional tournament organizers, the Kansas City area tournament is important because it gives amateur boxers the opportunity to be named a national Golden Gloves champion, considered by many to be one of boxing's highest honors.
Winning a national Golden Gloves title also can be a stepping stone to a professional boxing career. Muhammad Ali, Sugar Ray Leonard and Oscar De La Hoya are among the legendary boxers who were national Golden Gloves champions.
For more information about the KC Golden Gloves Regional Championships or getting involved in KC Golden Gloves in general, visit https://www.kcgoldengloves.com/.
__________________________________________________________________________
KC Golden Gloves organiza un torneo regional
Recientemente, una multitud de boxeadores se amarraron y pusieron los guantes en Kansas City, Kansas, con la esperanza de dar el siguiente paso para obtener un título nacional.
Continuando con una tradición anual que comenzó en 1936, KC Golden Gloves les dio a esos boxeadores la oportunidad de perseguir sus esperanzas al organizar su torneo regional. Los ganadores de la división abierta en el torneo, que tuvo lugar del 11 al 13 de abril en el Memorial Hall, calificaron para el torneo nacional Golden Gloves. El torneo nacional dirigido a boxeadores entre los 18 y los 40 años comenzó el lunes (6 de mayo) y concluirá el sábado (11 de mayo) en Chattanooga, Tennessee. Los ganadores recibirán un título nacional.
"Ellos competirán contra los mejores en Estados Unidos que también ganaron torneos regionales", dijo Chris Walden, presidente de KC Golden Gloves.
A los atletas del área de Kansas City que tengan 18 años o más y quieran practicar boxeo con Golden Gloves se les recomienda encontrar un gimnasio donde puedan entrenar y luego participar en el torneo regional anual. El torneo tiene divisiones basadas en el peso y el nivel de experiencia: principiante y abierto. Sólo los luchadores de división abierta (10 o más peleas) avanzan a la competencia nacional después de ganar en el torneo regional.
"Cualquier boxeador puede inscribirse en los torneos regionales para competir en su área", dijo Walden.
Walden mencionó que aquellos que colaboran con Golden Gloves están apoyando una buena causa.
"Kansas City Golden Gloves es una organización sin fines de lucro y todas las ganancias … van a los viajes del equipo nacional de KC", dijo Walden. "La organización KC Golden Gloves también otorga una beca universitaria a un boxeador cada año para ayudar con sus metas académicas".
Según los organizadores del torneo regional, el torneo del área de Kansas City es importante porque brinda a los aficionados del box la oportunidad de ser nombrados campeones nacionales de Golden Gloves, considerado por muchos como uno de los más altos honores del boxeo.
Ganar un título nacional de Golden Gloves también puede ser un trampolín para una carrera profesional de boxeo. Muhammad Ali, Sugar Ray Leonard y Oscar De La Hoya se encuentran entre los legendarios boxeadores que fueron campeones nacionales de Golden Gloves.
Para obtener más información sobre el KC Golden Gloves Regional Championships o colaborar con KC Golden Gloves en general, visite https://www.kcgoldengloves.com/.