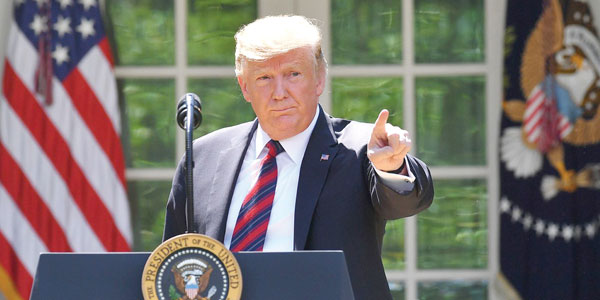 By Roberta Pardo
President Trump unveiled a proposal to reform border security and legal immigration on May 16.
The new proposal wants to prioritize high-skilled workers over those with family members who are U.S. citizens. This would allow applicants to increase eligibility based on factors such as age, ability to speak English, job offers and educational background.
"Our proposal builds upon our nation's rich history of immigration, while strengthening the bonds of citizenship that bind us together as a national family," he said during his speech from the Rose Garden.
Although the total number of immigrants admitted into the United States would remain the same, the proposal, if implemented, would shift away from most people coming into the country based on family ties to having a majority coming in based on skill and employment. It would use a point-based system for visas.
Under the new system, about 57 percent of green cards would be issued based on professional skills and education, compared to about 12 percent now, according to White House officials. This system would create a two-step process that would begin with a civics test and a background check. Then, green card applicants would be evaluated on the new points system.
In his speech, Trump again made his case for his long-sought U.S.-Mexico border wall. The proposal omitted any discussion of the Deferred Action for Childhood Arrivals program.
The White House plans to release the proposal in bill form later.
_______________________________________________________________________
Trump anuncia nueva propuesta de inmigración
El presidente Trump dio a conocer una propuesta para reformar la seguridad fronteriza e inmigración legal el 16 de mayo.
La nueva propuesta quiere priorizar a trabajadores altamente calificados sobre aquellos con familiares que son ciudadanos estadounidenses. Esto permitiría a los solicitantes aumentar la elegibilidad en función de factores como edad, habilidad de hablar inglés, ofertas de trabajo y antecedentes educativos.
"Nuestra propuesta se basa en la rica historia de inmigración de nuestra nación, al mismo tiempo que fortalece los lazos de ciudadanía que nos unen como familia nacional", dijo durante su discurso desde el Rose Garden.
Aunque el número total de inmigrantes admitidos en los Estados Unidos seguiría siendo el mismo, la propuesta, si es implementada, se alejaría de tener una mayoría de las personas que ingresan en el país en función de los lazos familiares a tener una mayoría que se basa en las habilidades y el empleo. Usaría un sistema basado en puntos para las visas.
Según el nuevo sistema, alrededor del 57 por ciento de tarjetas verdes se emitirían en base a habilidades profesionales y educación, comparado con el 12 por ciento actual, según oficiales de la Casa Blanca. Este sistema crearía un proceso de dos pasos que comenzaría con un examen cívico y una verificación de antecedentes. Luego, los solicitantes de tarjetas verdes serían evaluados en base al nuevo sistema de puntos.
En su discurso, Trump nuevamente presentó su caso por su largamente buscado muro fronterizo de México y Estados Unidos. La propuesta omitió cualquier discusión sobre el programa de Acción Diferida para los Llegados en la Infancia.
La Casa Blanca planea lanzar la propuesta en forma de proyecto de ley más adelante.