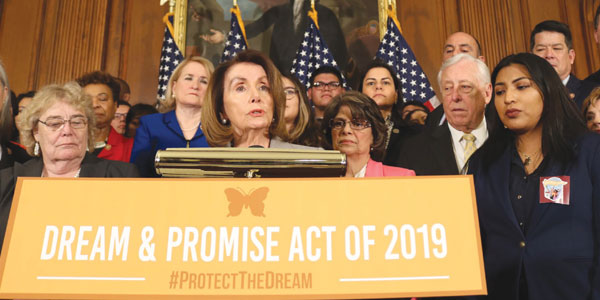 By Chara
Two immigration-related bills are moving forward in Congress, multiple news sources are reporting.
The Dream and Promise Act of 2019, an immigration proposal submitted in March by Democrats, is one of those bills. On May 22, it cleared the U.S. House of Representatives Judiciary Committee. In addition, the Venezuela TPS Act cleared the House Judiciary Committee on May 23.
If approved, the Dream and Promise Act would offer green cards and a path to citizenship to "Dreamers" and people on temporary permits that would prevent them from being deported. The Venezuela TPS Act would grant temporary protected status to Venezuelans living in the United States.
According to The Hill, if both bills are approved, they could grant permanent U.S. residency to 2.1 million people.
Many Democrats are applauding the bills moving forward. However, resistance is expected when they reach the Republican-controlled Senate. Many people think the bills will not get the necessary support from Republican Senators. One skeptic is Shawnee, Kansas, resident Liliana Gonzalez.
"I'm hoping that Republican Senators do the right thing," Gonzalez said. "These children are children who have dreams and have no guilt … (for) being here. They haven't committed a crime; they just want to have a good life, go to school and get a job. Although I know it is going to be challenging, I'm crossing my fingers and asking our Republican Senators to do what is right."
_________________________________________________________________________
Proyectos de ley de inmigración avanzan
Dos proyectos de ley relacionados con inmigración están avanzando en el Congreso, informan varias fuentes de noticias.
El Dream and Promise Act de 2019, una propuesta de inmigración presentada en marzo por los demócratas, es uno de esos proyectos de ley. El 22 de mayo, fue aprobada por el Comité Judicial de la Cámara de Representantes de los Estados Unidos. Además, la Ley de TPS de Venezuela fue aprobada por el Comité Judicial de la Cámara el 23 de mayo.
Si es aprobada, el Dream and Promise Act ofrecería tarjetas verdes y un camino a la ciudadanía para los "Dreamers" y personas con permisos temporales que evitarían que sean deportados. La Ley de TPS de Venezuela otorgaría un estatus de protección temporal a los venezolanos que viven en los Estados Unidos.
De acuerdo a The Hill, si ambos proyectos son aprobados, podrían otorgar residencia permanente a 2.1 millones de personas.
Muchos demócratas están aplaudiendo los avances de los proyectos de ley. Sin embargo, se espera resistencia cuando lleguen al Senado controlado por republicanos. Muchas personas piensan que los proyectos de ley no tendrán el apoyo necesario de los senadores republicanos. Una escéptica es Liliana González, residente de Shawnee, Kansas.
"Espero que los senadores republicanos hagan lo correcto", dijo González. "Estos niños son niños que tienen sueños y no tienen la culpa … por estar aquí. No han cometido un crimen, sólo quieren tener una buena vida, ir a la escuela y conseguir un trabajo. Aunque sé que va a ser un desafío, cruzo los dedos y le pido a nuestros senadores republicanos que hagan lo correcto".