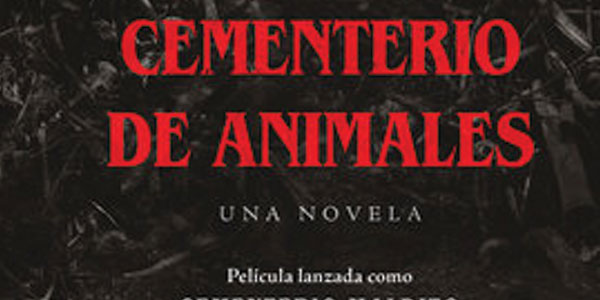 Win a copy of the book "Pet Sematary"
June is Book Month at Dos Mundos Newspaper.
To celebrate, Dos Mundos will be giving away one copy of a different book every week. The book will be in Spanish, so you can enjoy it in your native language—or improve your level of Spanish as a second language.
Courtesy of Vintage Español, Dos Mundos wants to celebrate the Spanish language, starting with the giveaway of a copy of Stephen King's "Pet Sematary," a 1983 horror novel that has been adapted to the big screen twice (1989 and 2019).
Book synopsis: Dr. Louis Creed has recently moved from Chicago to Ludlow, Maine, with his wife, their children and pet cat. Near their house, local children have created a cemetery for the dogs and cats killed by the steady stream of transports on the busy highway. Deeper in the woods lies another graveyard, an ancient Indian burial ground whose sinister properties Louis discovers when the family cat is killed.
Be on the lookout for our Facebook post about how you can enter the giveaway, or email mydosmundos@dosmundos.com with any questions.
______________________________________________________________________________
Gana una copia del libro "Cementerio de Animales"
Junio es el Mes del Libro en el periódico Dos Mundos.
Para celebrar, Dos Mundos estará regalando una copia de un libro diferente cada semana. El libro estará en español para que lo pueda disfrutar en su idioma, o mejorar su nivel de español como segunda lengua.
Cortesía de Vintage Español, Dos Mundos quiere celebrar el idioma español, comenzando con el sorteo de una copia del libro "Cementerio de Animales" de Stephen King. Es una novela de terror de 1983 que se ha adaptado a la pantalla grande dos veces (1989 y 2019).
Sinopsis: El Dr. Louis Creed se mudó recientemente de Chicago a Ludlow, Maine, con su esposa, sus hijos y su mascota. Cerca de su casa, los niños locales han creado un cementerio para los perros y gatos muertos por el flujo constante de transportes en la transitada carretera. Más profundo en el bosque se encuentra otro cementerio, un antiguo cementerio indio cuyas propiedades siniestras Louis descubre cuando el gato de la familia es asesinado.
Esté atento a nuestra publicación de Facebook sobre cómo puede participar en el sorteo, o envíe un correo electrónico a mydosmundos@dosmundos.com con cualquier pregunta.