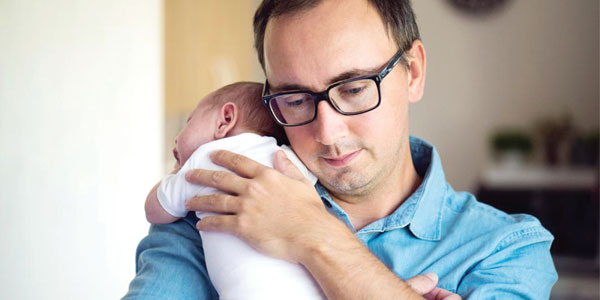 Thirty-six years ago, actor Michael Keaton lampooned an ex-engineer sentenced by unemployment to the alien and uncomfortable role of stay-at-home dad with three little kids. The actual discomfiting experience of comedy writer John Hughes while babysitting his own kids inspired the 1983 film, "Mr. Mom".
Audiences today probably wouldn't be as amused. In 2019, the situation seems outlandish and the father's extreme discomfort and cringeworthy bumbling dated. Contemporary men may spend years preparing for an occupation or profession, but most are as comfortably adept caring for their offspring as they are at work.
In fact, "being a father can help you earn more money and be better at your job," Business Insider published in an article last year. Citing a study out of Cornell University, the news website "compiled nine significant ways being a dad impacts success," and examined "how fatherhood can factor into how much you earn, your health and eating habits and your happiness."
Some men consider being a father their most important job. Indeed, some men are choosing kids over career. Males have historically been raised to measure their worth by their work. There's virtue in forgoing family time to doggedly pursue advancement at work, the power of conventional wisdom told them. But now we're experiencing a cultural revolution in stereotyping. Increasingly more men are choosing kids over careers. There's no longer a stigma attached to being a stay-at-home dad.
Whether employed in or out of the house, it's fathers who are active and engaged parents who make the difference. Research shows that it impacts offspring in a number of important ways.
Kids with active and engaged fathers do better academically, make healthier choices and form healthier relationships, according to family counselors. They have fewer emotional and behavioral issues and grow up to enjoy more satisfying marriages and adult relationships.
Sunday is Father's Day – a holiday to honor and remember our loving, supportive dad or the loving, supportive father figures in our lives. To all of them, a heartfelt thanks. We love you.
Nota bene:
Read the Business Insider article online at: https://www.businessinsider.com/how-being-a-dad-affects-your-succes
---
En honor a los padres
Hace 36 años, el actor Michael Keaton se burló de un ex ingeniero condenado por desempleo al papel extraño e incómodo del padre que se queda en casa con tres niños pequeños. La experiencia realmente desconcertante del escritor de comedia John Hughes mientras cuidaba a sus propios hijos inspiró la película de 1983, "Mr. Mom".
Las audiencias de ahora probablemente no pensarán que es tan divertido. En 2019, la situación parece extravagante y la incomodidad extrema y torpeza del padre anticuada. Los hombres contemporáneos pueden pasar años preparándose para una ocupación o profesión pero la mayoría son expertos tan cómodos en cuidar a sus hijos como lo son en el trabajo.
De hecho, "ser un padre puede ayudarle a ganar más dinero y ser mejor en su trabajo", Business Insider publicó en un artículo el año pasado. Al citar un estudio realizado en la Universidad de Cornell, el sitio web de noticias "recopiló nueve maneras significativas en que ser padre ayuda a tener éxito", y examinó "cómo la paternidad puede influir en cuánto gana, su salud y hábitos alimenticios y su felicidad".
Algunos hombres consideran que ser padre es su trabajo más importante. De hecho, algunos hombres eligen a sus hijos sobre su carrera. Los hombres han sido criados históricamente para medir su valor por su trabajo. El poder de la sabiduría convencional les dijo que existe la virtud de dejar de lado el tiempo familiar para perseguir obstinadamente el progreso en el trabajo. Pero ahora estamos experimentando una revolución cultural en los estereotipos. Cada vez son más los hombres que están eligiendo a sus hijos sobre sus carreras. Ya no hay un estigma asociado a ser un padre que se queda en casa.
Ya sea que estén empleados dentro o fuera de la casa, son los padres que están activos y comprometidos los que hacen la diferencia. Las investigaciones muestran que afecta a la descendencia de varias maneras importantes.
Los niños con padres activos y comprometidos obtienen mejores resultados académicos, toman decisiones más sanas y forman relaciones más sanas, según los consejeros familiares. Tienen menos problemas emocionales y de comportamiento y crecen para disfrutar de matrimonios y relaciones adultas más satisfactorias.
El domingo es el Día del Padre: un día festivo para honrar y recordar a nuestro padre amoroso y comprensivo, o a las figuras paternas amorosas y comprensivas en nuestras vidas. A todos ellos, un sincero agradecimiento. Los queremos.
Nota bene:
Lea el artículo de Business Insider en línea en: https://www.businessinsider.com/how-being-a-dad-affects-your-succes