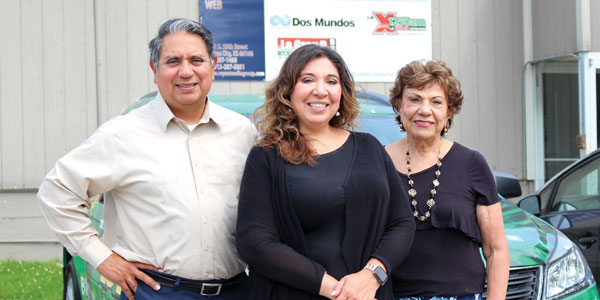 By Roberta Pardo
It all started 38 years ago.
Clara Reyes had the vision to create a newspaper with one goal: To share Hispanic culture in two languages.
Now, almost four decades later, Dos Mundos has become the largest, most widely read Hispanic newspaper in the Kansas City area. Reyes, Dos Mundos president and editor, attributes the paper's success in a world that is increasingly leaning toward digital content to its ability to continue pursuing its mission through the years.
"What we try to do is to give (the community) information they need, give them advice — … not so much the news, but the news that impacts our community," she said.
Ed Reyes, senior operations advisor and Clara Reyes' son, agreed. He said the mission to divulge the Hispanic culture in both languages will not change, regardless of the platform the newspaper utilizes.
"That's what really helps us survive," Ed Reyes said. "We're not in it for the dollar as much (yes, we need it to survive), but I think the motivation is genuine."
Dos Mundos has helped bridge communities and helped them understand one another, Ed Reyes said, by being bilingual.
It was a consideration to switch from hard copy to digital, said Diana Reyes Raymer, Clara Reyes' daughter, who serves as general and sales manager. Ultimately, that did not happen because the paper found out a way to keep costs down by combining the newspaper with the radio stations operated by Reyes Media Group.
"Our niche is the Hispanic focus, the local focus, and (our focus is) being able to connect with both the listenership (through the radio) and the readership," Reyes Raymer said.
Instead of replacing the hard copy version with a digital one, Dos Mundos added digital components — a website and social media accounts — to complement the print editions of the paper.
Reyes Raymer said print newspapers are not going anywhere because people in the community enjoy being featured in them and seeing newspapers in tangible form. There is a sense of ownership and connection that comes with having a print copy of the newspaper, Clara Reyes said.
"It's about being connected to the community," she said.
That will continue to be Dos Mundos' motto.
---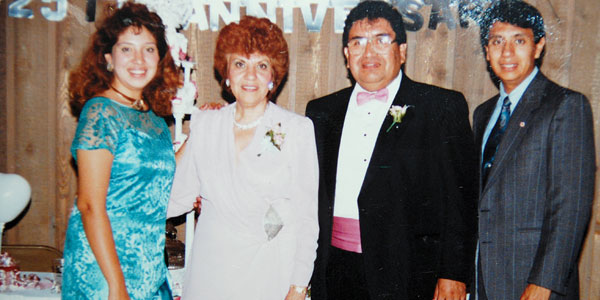 Dos Mundos continúa sirviendo el área de KC en la era digital
Todo comenzó hace 38 años.
Clara Reyes tuvo la visión de crear un periódico con un objetivo: compartir la cultura hispana en dos idiomas.
Ahora, casi cuatro décadas después, Dos Mundos se ha convertido en el periódico hispano más grande y más leído en el área de Kansas City. Reyes, presidenta y editora de Dos Mundos, atribuye el éxito del periódico en un mundo que se inclina cada vez más hacia el contenido digital a su capacidad de continuar su misión a través de los años.
"Lo que intentamos hacer es brindarles (a la comunidad) la información que necesitan, darles consejos, … no tanto las noticias, sino las noticias que afectan a nuestra comunidad", dijo.
Ed Reyes, asesor principal de operaciones e hijo de Clara Reyes, estuvo de acuerdo. Dijo que la misión de divulgar la cultura hispana en ambos idiomas no cambiará, independientemente de la plataforma que utilice el periódico.
"Eso es lo que realmente nos ayuda a sobrevivir", dijo Ed Reyes. "No estamos en esto por el dinero—sí, lo necesitamos para sobrevivir—pero creo que la motivación es genuina".
Dos Mundos ayudó a unir a las comunidades y las ayudó a entenderse unas a otras, dijo Ed Reyes, al ser bilingüe.
Fue una consideración cambiar de ediciones impresas a digitales, dijo Diana Reyes Raymer, la hija de Clara Reyes, quien se desempeña como gerente general y de ventas. En última instancia, eso no sucedió porque el periódico encontró una manera de mantener bajos los costos al combinar el periódico con las estaciones de radio operadas por Reyes Media Group.
"Nuestro nicho es el enfoque hispano, el enfoque local y (nuestro enfoque es) poder conectarnos tanto con la audiencia (a través de la radio) como con los lectores", dijo Reyes Raymer.
En lugar de reemplazar la versión impresa por una digital, Dos Mundos agregó componentes digitales, como un sitio web y cuentas de redes sociales, para complementar las ediciones impresas del periódico.
Reyes Raymer dijo que los periódicos impresos no irán a ningún lado porque a la gente de la comunidad les gusta salir en ellos y ver los periódicos en forma tangible. Hay un sentido de propiedad y conexión que viene con tener una copia impresa del periódico, dijo Clara Reyes.
"Se trata de estar conectado a la comunidad", dijo.
Ese seguirá siendo el lema de Dos Mundos.