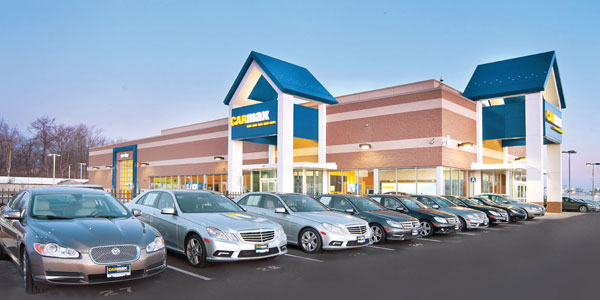 CarMax seeking to fill 100 Spanish bilingual positions
CarMax announced the creation of approximately 300 jobs for its new Customer Experience Center opening July 2019 in Olathe, Kansas. CarMax is now hiring Customer Experience consultants, assistants and managers to work at the location.
The opening of the Customer Experience Center in Olathe builds on CarMax's more than 15-year history in the Kansas City area.
"We are excited to continue our growth in Kansas City with this opening and build out our talented associate team," said Diane Cafritz, CarMax Chief Human Resources Officer. "After a nationwide search, the Kansas City area was a natural fit due to its central location, top talent and local culture, in addition to its alignment with our business needs."
The Customer Experience Center in Olathe will be the second stand-alone Customer Experience Center CarMax is opening to support the company's new customer-driven buying experience rolling out nationwide. CarMax Consultants working in the Center will support customers over the phone or online with shopping and financing until the customer is ready to pick up their vehicle at an area store or receive the vehicle through home delivery.
"We are pleased CarMax chose Kansas to expand its footprint," said Kansas Governor Laura Kelly. "Kansas is the perfect place for a nationally recognized Fortune 500 company like CarMax. I'm confident that they will continue to enjoy the ease of doing business in our state, as well as the quality of Kansas workers."
CarMax is looking for driven, customer-focused individuals with strong communications and sales skills to work in the new Olathe Customer Experience Center. No previous automotive experience is required. In addition, the company is recruiting for Spanish bilingual candidates to fill approximately a third of the open roles. Candidates may visit jobs.carmax.com to apply.
Kansas City Area Development Council (KCADC) was proud to work with several regional partners in attracting CarMax to the region.
"The KC region is the perfect location for CarMax," said Tim Cowden, president and CEO of KCADC. "Our region's real estate and workforce offer a high-quality location for customer support services."
"The City of Olathe is delighted to have such a well-respected brand like CarMax join our community," said Michael Copeland, mayor of the City of Olathe. "We look forward to building a rewarding and mutually beneficial relationship that will offer the company first-rate employees a topnotch working environment, while also bringing new employment opportunities to Olatheans."
There are two existing CarMax stores in the greater Kansas City area. The new Customer Experience Center will be located at 17300 W. 119th St. in Olathe, Kansas 66061.
---
CarMax está contratando para nuevo centro en Olathe
CarMax busca llenar 100 puestos bilingües en español
CarMax anunció la creación de aproximadamente 300 empleos para su nuevo Centro de Experiencia del Cliente que abrirá en julio de 2019 en Olathe, Kansas. CarMax está contratando consultores de experiencia del cliente, asistentes y gerentes para trabajar en las instalaciones.
La apertura del Centro de Experiencia del Cliente en Olathe se basa en los más de 15 años de historia de CarMax en el área de Kansas City.
"Estamos entusiasmados de continuar nuestro crecimiento en Kansas City con esta apertura y desarrollar nuestro talentoso equipo de asociados", dijo Diane Cafritz, directora de Recursos Humanos de CarMax. "Después de una búsqueda en todo el país, el área de Kansas City encajó de forma natural debido a su ubicación central, talento principal y cultura local, además de su alineación con nuestras necesidades comerciales".
El Centro de Experiencia del Cliente en Olathe será el segundo Centro de Experiencia del Cliente independiente que CarMax abrirá para apoyar la nueva experiencia de compra impulsada por el cliente de la compañía que se está implementando en todo el país. Los consultantes de CarMax que trabajan en el centro ayudarán a los clientes por teléfono o en línea con compras y financiamientos hasta que el cliente esté listo para recoger su vehículo en una tienda del área o recibir el vehículo a través de la entrega a domicilio.
"Nos complace que CarMax haya elegido a Kansas para ampliar su presencia", dijo la gobernadora de Kansas Laura Kelly. "Kansas es el lugar perfecto para una compañía Fortune 500 reconocida a nivel nacional como CarMax. Estoy segura de que seguirán disfrutando de la facilidad de hacer negocios en nuestro estado así como de la calidad de los trabajadores de Kansas".
CarMax está buscando personas orientadas y centradas con sólidas habilidades de comunicación y ventas para trabajar en el nuevo Centro de Experiencia del Cliente de Olathe. No se requiere experiencia previa en automoción. Además, la compañía está reclutando candidatos bilingües en español para cubrir aproximadamente un tercio de los puestos abiertos. Los candidatos pueden visitar jobs.carmax.com para postularse.
El Consejo de Desarrollo del Área de Kansas City (KCADC, por sus siglas en inglés) se enorgulleció de trabajar con varios socios regionales para atraer a CarMax a la región.
"La región de KC es la ubicación perfecta para CarMax", dijo Tim Cowden, presidente y CEO de KCADC. "Los bienes raíces y la fuerza laboral de nuestra región ofrecen una ubicación de alta calidad para servicios de atención al cliente".
"La ciudad de Olathe está encantada de que una marca tan respetada como CarMax se una a nuestra comunidad", dijo Michael Copeland, alcalde de la Ciudad de Olathe. "Esperamos construir una relación gratificante y mutuamente beneficiosa que ofrezca a los empleados de la primera clase de la empresa un entorno de trabajo de primer nivel, al tiempo que también ofrezca nuevas oportunidades de empleo a los residentes de Olathe".
Hay dos tiendas CarMax existentes en el área metropolitana de Kansas City. El nuevo Centro de Experiencia del Cliente estará ubicado en 17300 W. 199thh St. en Olathe, Kansas 66061.