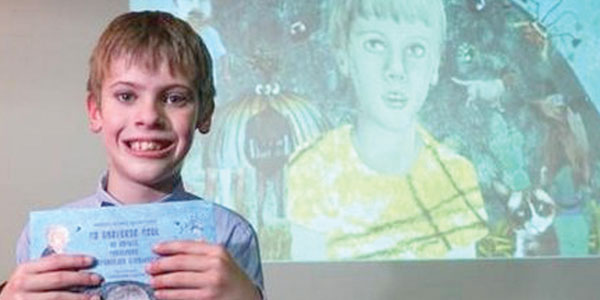 Ten-year-old Sergio Gomez Quintero has published his first book, "My blue universe," with 29 tales about zombies, monsters and imaginary friends.
The boy from Granada, Spain, has always loved writing and literature. He also has always had to live with autism. Literature and writing have helped him advance in his speech and communication skills.
"Sergio is restless and creative; he's always telling stories," David Gomez, his dad, told the Spanish newspaper Ideal, back in February, when the book was released.
It is David Gomez who has helped translate his son's amazing stories into print. Publishing the book is a dream came true for them.
The book includes stories like "Og, the clueless troll," "Sergio reaches the finish line" and "Francisco is weird," among others.
Many have praised the book as a precedent for kids with autism and as an example that everyone can achieve their dreams.
It is unclear whether the book will be distributed in Latin America. As of now, it is available in libraries across Spain and through Amazon.com
"My blue universe" was edited by the editorial Allanamiento de Mirada and the EntreLibros Association. It also has illustrations by Carolina Luzon.
---
Sergio Gómez Quintero, de diez años, publicó su primer libro, "Mi universo azul", con 29 cuentos sobre zombis, monstruos y personajes imaginarios.
El niño de Granada, España, siempre ha amado la escritura y la literatura. También siempre ha tenido que vivir con autismo. La literatura y la escritura lo han ayudado a avanzar en sus habilidades del habla y la comunicación.
"Sergio es inquieto y creativo; siempre está contando historias", dijo David Gómez, su padre, al periódico español Ideal, en febrero cuando se publicó el libro.
Es David Gómez quien ha ayudado a trasladar las increíbles historias de su hijo al medio escrito. Publicar el libro es un sueño hecho realidad para ellos.
El libro incluye historias como "Og, el trol despistado", "Sergio llega a la meta", y "Francisco está raro", entre otros.
Muchos han elogiado el libro como un precedente para los niños con autismo y como un ejemplo de que todos pueden lograr sus sueños.
No está claro si el libro será distribuido en América Latina. Por ahora, está disponible en bibliotecas de España y de Amazon.com.
"Mi universo azul" fue editado por la editorial Allanamiento de Mirada y la Asociación EntreLibros. También tiene ilustraciones por Carolina Luzón.