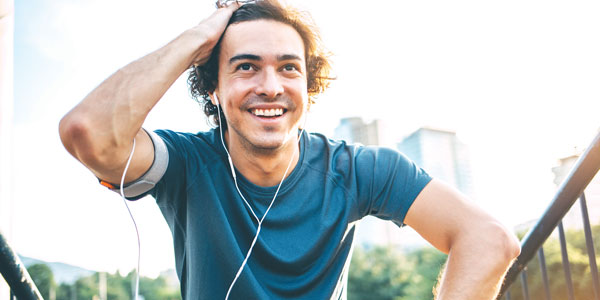 As temperatures rise and the sun shines brighter, you might start taking your workouts outside more often. To ensure your body's comfort and safety, you may need to refresh your fitness regimen.
These tips can help you safely enjoy your summer workouts:
*Wear sweat-proof sunscreen. Protecting your skin is a year-round endeavor, but when it's hot outside, you're more likely to lose the protection of sunscreen faster. Use a sunscreen that is designed to withstand your summer workout, whether it's a good sweaty run or laps in a refreshing pool. Reapply a broad-spectrum formula with an SPF of 15 or higher regularly and be sure you're using enough. Most people need a full ounce to cover their entire bodies.
*Stay hydrated. In warmer weather, your body typically sweats at a higher rate, causing you to lose key electrolytes, like salt and potassium, that are important to keeping your body properly hydrated. Stay hydrated by drinking fluids before, during and after a workout. To mix up your hydration plan, consider choosing a water formulated for fitness, like Propel Vitamin Boost, which is enhanced with 100% of the recommended daily value of vitamins B3, B5, B6, C and E and electrolytes to help replace what is lost in sweat.
*Find a workout buddy. There's power – and safety – in numbers. Whether you grab a friend, coworker or pet, try exploring new places to work out for a change of scenery. Having a buddy by your side not only offers security, but also a boost of motivation. Together, you can work toward a common goal, keep each other accountable and encourage each other to crank up the intensity.
*Time workouts for cooler periods. Avoid exercising during the heat of the day. Instead, opt for morning or evening workouts and be conscious of high humidity levels, which can adversely affect your respiration and lead to overheating. It's also a good idea to acclimate to the warmer temperatures by starting with a brief workout and gradually increasing the duration over the span of a week or two.
*Wear appropriate clothes. Switching to summer attire isn't just about wearing less material; you also need to pay attention to the fabric you wear. The appropriate fit may vary depending on your chosen activity, but generally, breathable fabric in lighter colors is ideal.
Visit propelwater.com to learn more about safely hydrating to tackle warm weather workouts.
---
A ​​medida que aumentan las temperaturas y el sol brilla más, es posible que empiece a hacer ejercicios en el exterior con mayor frecuencia. Para garantizar la comodidad y seguridad de su cuerpo, es posible que deba actualizar su régimen de ejercicios.
Estos consejos pueden ayudarlo a disfrutar de forma segura sus entrenamientos de verano:
* Use protector solar a prueba de sudor: Proteger su piel es un esfuerzo de todo el año, pero cuando hace calor afuera, es más probable que la protección del protector solar se pierda más rápido. Use un protector solar que esté diseñado para soportar su entrenamiento de verano, ya sea una intensa carrera sudorosa o vueltas en una piscina refrescante. Aplique regularmente una fórmula de amplia protección con un SPF de 15 o más y asegúrese de estar usando lo suficiente. La mayoría de las personas necesitan una onza completa para cubrir todo su cuerpo.
* Mantente hidratado: En climas más cálidos, su cuerpo generalmente suda a una mayor velocidad, lo que hace que pierda electrolitos clave, como la sal y el potasio, que son importantes para mantener su cuerpo adecuadamente hidratado. Manténgase hidratado tomando líquidos antes, durante y después de un entrenamiento. Para mezclar su plan de hidratación, considere la posibilidad de elegir un agua formulada para el acondicionamiento físico, como Propel Vitamin Boost, que se refuerza con el 100% del valor diario recomendado de vitaminas B3, B5, B6, C y E y electrolitos para ayudar a reemplazar lo que se pierde. en sudor.
* Encuentra un compañero de entrenamiento: Hay poder, y seguridad, en números. Ya sea que agarre a un amigo, compañero de trabajo o mascota, intente explorar nuevos lugares para hacer un cambio de escenario. Tener un amigo a su lado no sólo ofrece seguridad, sino también un impulso de motivación. Juntos, pueden trabajar hacia un objetivo común, cuidarse uno al otro y animarse mutuamente a aumentar la intensidad.
* Programe los entrenamientos en los periodos más fríos: Evite hacer ejercicio durante el calor del día. En su lugar, opte por entrenamientos matutinos o vespertinos y ten en cuenta los altos niveles de humedad, que pueden afectar negativamente tu respiración y provocar un sobrecalentamiento. También es una buena idea aclimatarse a las temperaturas más cálidas comenzando con un entrenamiento breve y aumentando gradualmente la duración en el transcurso de una semana o dos.
* Use ropa adecuada: Cambiar a la ropa de verano no se trata solo de usar menos prendas. También debes prestar atención a la tela que usas. El ajuste apropiado puede variar según la actividad elegida, pero en general, la tela transpirable en colores más claros es ideal.
Visite propelwater.com para obtener más información sobre mantener una hidratación segura y poder enfrentarse a los entrenamientos de clima cálido.