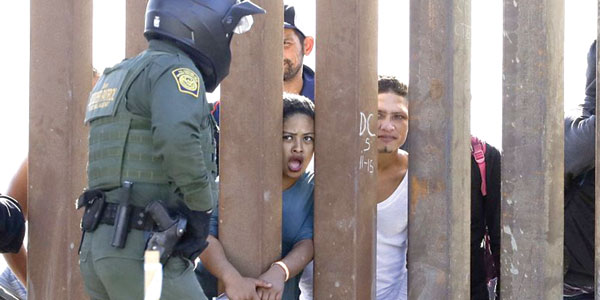 By Roberta Pardo
A series of offensive posts by Border Patrol agents surfaced recently, thanks to a report by ProPublica.
ProPublica obtained screenshots of a secret Facebook group for current and former Border Patrol agents where members joked about the deaths of migrants, shared derogatory comments about Latina members of Congress who planned to visit a controversial Texas facility July 1 and featured a lewd meme involving at least one of the lawmakers.
Created in August 2016, the Facebook group, which has roughly 9,500 members from across the country, is called "I'm 10-15," with 10-15 referencing Border Patrol code for "aliens in custody." ProPublica matched participants in those posts to legitimate Facebook profiles, including a supervisor based in El Paso, Texas.
"These comments and memes are extremely troubling," said Daniel Martinez, a sociologist at the University of Arizona in Tucson, who studies the border, to ProPublica. "They're clearly xenophobic and sexist."
In response to the ProPublica report, U.S. Rep. Joaquin Castro, chairman of the Congressional Hispanic Caucus, tweeted: "These agents don't deserve to wear any uniform representing the United States of America."
On July 3, Kevin McAleenan, acting Department of Homeland Security (DHS) secretary, announced he had ordered an investigation into the offensive posts.
"I have directed an immediate investigation, and as the @USBPChief has made clear, any employee found to have compromised the public's trust in our law enforcement mission will be held accountable," McAleenan said in a series of tweets. "They do not represent the men and women of the Border Patrol or @DHSgov."
The posts were turned over to the DHS Office of the Inspector General, along with the U.S. Customs and Border Protection's internal affairs office, to begin investigations, said Brian Hastings, U.S. Border Patrol chief of operations, in an interview with CNN.
---
Publicaciones ofensivas en Facebook de agentes de la Patrulla Fronteriza provocan investigación
Una serie de publicaciones ofensivas de agentes de la Patrulla Fronteriza surgieron recientemente, gracias a un informe de ProPublica.
ProPublica obtuvo capturas de pantalla de un grupo de Facebook secreto para agentes actuales y ex agentes de la Patrulla Fronteriza donde los miembros bromeaban sobre la muerte de los inmigrantes, compartían comentarios despectivos sobre las miembros latinas del Congreso que planeaban visitar una instalación polémica de Texas el 1 de julio y presentaban un meme lascivo con al menos uno de los legisladores.
Creado en agosto de 2016, el grupo de Facebook, que tiene casi 9,500 miembros de todo el país, se llama "Soy 10-15", con 10-15 haciendo referencia al código de la Patrulla Fronteriza para "extranjeros en custodia". ProPublica asoció a los participantes en esas publicaciones con perfiles de Facebook legítimos, incluido un supervisor basado en El Paso, Texas.
"Estos comentarios y memes son muy preocupantes", le dijo Daniel Martínez, sociólogo de la Universidad de Arizona en Tucson, quien estudia la frontera, a ProPublica. "Son claramente xenófobos y sexistas".
En respuesta al informe de ProPublica, el representante Joaquín Castro, presidente del Comité Hispano del Congreso, tuiteó: "Estos agentes no merecen llevar ningún uniforme que represente a los Estados Unidos de América".
El 3 de julio, Kevin McAleenan, secretario interino del Departamento de Seguridad Nacional (DHS), anunció que había ordenado una investigación de las publicaciones ofensivos.
"He ordenado una investigación inmediata y, como dejó claro el @USBPChief, cualquier empleado que haya comprometido la confianza del público en nuestra misión de cumplimiento de la ley será responsable", dijo McAleenan en una serie de tweets. "No representan a los hombres y mujeres de la Patrulla Fronteriza o @DHSgov".
Las publicaciones fueron entregadas a la Oficina del Inspector General de DHS, junto con la oficina de asuntos internos de Aduanas y Protección Fronteriza de Estados Unidos, para comenzar las investigaciones, dijo Brian Hastings, jefe de operaciones de la Patrulla Fronteriza de Estados Unidos, en una entrevista con CNN.