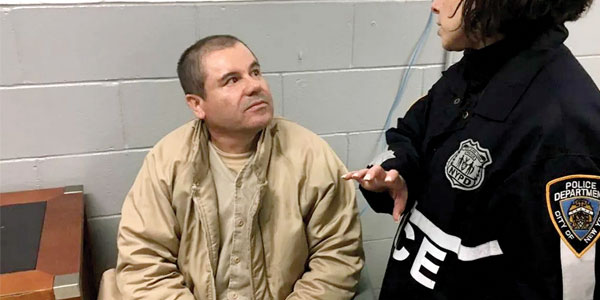 By Chara
Joaquin 'El Chapo' Guzman was sentenced to life in prison plus 30 years by a federal judge in a federal court in New York.
According to prosecutors, Guzman was responsible for shipping more than 200 tons of cocaine to the United States, as well as brutal murders and widespread political payoffs, among other illegal activities.
Before the sentenced was read, Guzman said that his trial was unfair and that his imprisonment in a federal jail was a psychological, emotional and mental torture 24 hours a day.
"It's been the most inhumane situation I have lived in my entire life," Guzman was quoted by different media as saying.
According to NBC News, a life sentence is mandatory under federal sentencing guidelines, but the Justice Department asked for an extra 30 years because Guzman illegally used firearms when committing his crimes.
"It's justice not only for the Mexican government, but for all of Guzman's victims in Mexico," Raymond Donovan, the agent in charge of his capture, told The New York Times.
Guzman was arrested by the Mexican authorities in 2014 but escaped through a well-elaborated tunnel underneath his cell in 2015. He was recaptured in January 2016 and extradited to the United States after a year of negotiations.
Speaking to the court through an interpreter, 'El Chapo' said that when he was extradited to the U.S., he expected to have a fair trial and that his name would not be a factor, but what happened was the opposite.
"The U.S. is not better than any other corrupt country," he said.
Guzman is more likely to be sent to the United States Penitentiary Administrative Maximum Facility in Florence, Colorado, a prison where no one has escaped before.
___________________________________________________________________________
Cadena perpetua para 'El Chapo'
Joaquín 'El Chapo' Guzmán fue condenado a cadena perpetua más 30 años por un juez federal en un tribunal federal de Nueva York.
Según los fiscales, Guzmán fue responsable de enviar más de 200 toneladas de cocaína a Estados Unidos, así como de asesinatos brutales y pagos políticos generalizados, entre otras actividades ilegales.
Antes de que se leyera la sentencia, Guzmán dijo que su juicio fue injusto y que su encarcelamiento en una prisión federal fue una tortura psicológica, emocional y mental las 24 horas del día.
"Ha sido la situación más inhumana que he vivido en toda mi vida", dijo Guzmán según diferentes medios de comunicación.
Según NBC News, una sentencia de por vida es obligatoria según las pautas de sentencia federales, pero el Departamento de Justicia solicitó 30 años adicionales porque Guzmán usó armas de fuego ilegalmente cuando cometió sus delitos.
"Es justicia no sólo para el gobierno mexicano sino para todas las víctimas de Guzmán en México", le dijo Raymond Donovan, el agente a cargo de su captura, a The New York Times.
Guzmán fue arrestado por autoridades mexicanas en 2014 pero escapó a través de un túnel bien elaborado debajo de su celda en 2015. Fue recapturado en enero de 2016 y extraditado a Estados Unidos después de un año de negociaciones.
Hablando ante el tribunal a través de un traductor, 'El Chapo' dijo que cuando fue extraditado a Estados Unidos, esperaba tener un juicio justo y que su nombre no sería un factor, pero lo que sucedió fue lo contrario.
"Estados Unidos no es mejor que cualquier otro país corrupto", dijo.
Es más probable que Guzmán sea enviado a la institución administrativa máxima penitenciaria de los Estados Unidos en Florence, Colorado, una prisión donde nadie ha escapado antes.