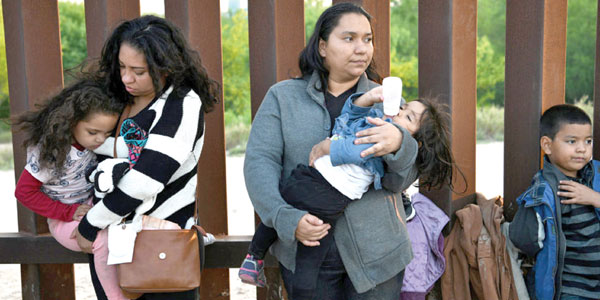 By Roberta Pardo
The Trump administration announced Monday (July 15) that it would end all asylum protections for most immigrants arriving at the U.S. southern border.
The move is another attempt by the Trump administration to deter Central American families from coming to the United States seeking asylum. According to the plan, immigrants who pass through another country, such as Mexico, and do not seek asylum there on their way to the United States will be ineligible for asylum, reported The Associated Press. The rule also applies to children.
"Until Congress can act, this interim rule will help reduce a major 'pull' factor driving irregular migration to the United States," said acting Homeland Security Secretary Kevin McAleenan in a statement, according to multiple media outlets.
The rule means that immigrants coming from Honduras, Guatemala and El Salvador cannot seek asylum if they did not first request it in Mexico.
The new rule was set to be published Tuesday (July 16) in the Federal Register and be effective immediately. However, it is certain to face legal challenges. The American Civil Liberties Union plans to sue, as multiple news outlets reported.
"The Trump administration is trying to unilaterally reverse our country's legal and moral commitment to protect those fleeing danger," said Lee Gelernt, deputy director of the Immigrants' Rights Project of the ACLU, in a statement to CNN. "This new rule is patently unlawful, and we will sue swiftly."
Under U.S. law, immigrants may claim asylum once they are on U.S. soil — except for those who come through safe third countries. A "safe third country" is defined as one "in which refugees can enjoy asylum without any danger," according to the United Nations' refugee agency. Mexico is one of them.
The new rule also is subject to three exceptions: Migrants who did apply for protection in at least one of the safe countries and were denied, migrants who meet the definition of a human trafficking person, and migrants who came to the United States through only a country or countries that were not parties to the 1951 Convention relating to the Status of Refugees, the 1967 Protocol or the Convention against Torture and Other Cruel, Inhuman or Degrading Treatment or Punishment.
_______________________________________________________________________
Trump se mueve para poner fin a las protecciones de asilo para la mayoría de los inmigrantes
La administración de Trump anunció el lunes (15 de julio) que terminaría todas las protecciones de asilo para la mayoría de los inmigrantes en la frontera sur del país.
La medida es otro intento de la administración de Trump para disuadir a las familias centroamericanas de venir a los Estados Unidos en busca de asilo. Según el plan, los inmigrantes que pasen por otro país, como México, y que no soliciten asilo allí en camino a Estados Unidos no serán elegibles para asilo, reportó The Associated Press. La regla también se aplica a los niños.
"Hasta que el Congreso pueda actuar, esta regla interina ayudará a reducir un importante factor de 'atracción' que impulsa la migración irregular a los Estados Unidos" dijo el secretario interino de Seguridad Nacional, Kevin McAleenan, en una declaración, según varios medios de comunicación.
La regla significa que los inmigrantes procedentes de Honduras, Guatemala y El Salvador no pueden solicitar asilo si no lo solicitaron primero en México.
La nueva regla se fijó para ser publicada el martes (16 de julio) en el Registro Federal y se hará efectiva de inmediato. Sin embargo, es seguro que enfrentará desafíos legales. La Unión Americana de Libertades Civiles (ACLU, por sus siglas en inglés) planea demandar, como informaron varios medios de comunicación.
"El gobierno de Trump está tratando de revertir unilateralmente el compromiso legal y moral de nuestro país para proteger a quienes huyen del peligro", dijo Lee Gelernt, subdirector del Proyecto de Derechos de los Inmigrantes de la ACLU, en un comunicado a CNN. "Esta nueva regla es evidentemente ilegal, y demandaremos rápidamente".
Bajo ley estadounidense, los inmigrantes pueden solicitar asilo una vez que llegan a suelo estadounidense, excepto aquellos que vienen a través de terceros países seguros. Un "tercer país seguro" se define como uno "en el que los refugiados pueden disfrutar de asilo sin ningún peligro", según la agencia de refugiados de las Naciones Unidas. México es uno de ellos.
La nueva regla también está sujeta a tres excepciones: los migrantes que solicitaron protección en al menos uno de los países seguros y fueron denegados, los migrantes que cumplen con la definición de víctimas de trata de personas y los migrantes que llegaron a los Estados Unidos sólo a través de un país o países que no eran parte en la Convención de 1951 sobre el Estatuto de los Refugiados, el Protocolo de 1967 o la Convención contra la Tortura y Otros Tratos o Penas Crueles, Inhumanos o Degradantes.