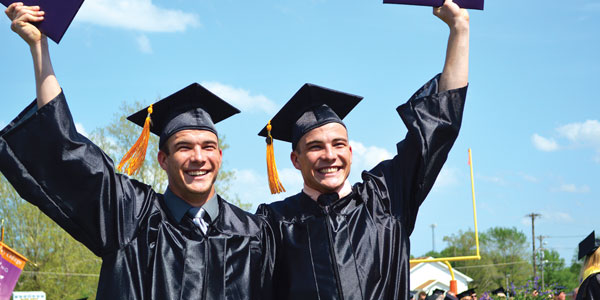 Commentary by Chara
Every year, about 2 million people in the United States graduate from college. And for some of them, deciding what to do after college is an overwhelming experience.
If you are a recent college graduate, the following tips might offer you some sense of direction – and help you manage your post-college graduation stress:
*Have a plan: Most of the anxiety from graduating comes from uncertainty. When you were in college, you had structure. Give yourself structure after college by creating a plan for your career. Then, start following that plan. Remember, motivation comes from action, not the other way around.
*Pursue a master's degree: If you feel like you are not ready to let go of school, boost your career with a master's degree. An advanced degree will offer you a deeper understanding of your field and get you closer to landing your dream job.
*Volunteer: Doing something for others will connect you with your community and help offer meaning to your life. It also gives you the opportunity to network, has résumé value and keeps you in a routine. In fact, many employers state that someone who has volunteering work listed on their résumé has a better chance of being hired.
*Apply to several jobs: Do not fear rejection. Update your résumé and keep applying for jobs.
*Step outside your comfort zone during your job search: See the application process as an opportunity to try something new. And if you find a job outside of your major, remember, the experience will allow you to gain new skills and discover new passions.
*Live abroad for a while: Be adventurous and try experiencing a new culture. Besides, you can find many jobs related to your field abroad. In addition, there are many opportunities to work outside your field of study abroad, such as being a nanny or teaching English as a second language.
---
Qué hacer después de que se gradúa de la universidad: algunas ideas
Cada año, alrededor de 2 millones de personas en Estados Unidos se gradúan de la universidad. Y para algunos de ellos, decidir qué hacer después de la universidad es una experiencia abrumadora.
Si eres un recién graduado de universidad, los siguientes consejos podrían ofrecerle un sentido de dirección, y ayudarlo a manejar su estrés después de graduarse de la universidad:
* Ten un plan: la mayor parte de la ansiedad de graduarse viene de la incertidumbre. Cuando estaba en la universidad, tenía estructura. Organícese después de la universidad creando un plan para su carrera. Luego, comience a seguir ese plan. Recuerde que la motivación viene de la acción no al revés.
* Haga una maestría: si siente que no está listo para abandonar la escuela, mejore su carrera con un título de maestría. Un título avanzado le ofrecerá una comprensión más profunda de su campo y lo acercará más al trabajo de sus sueños.
* Haga voluntariado: hacer algo por los demás lo conectará con su comunidad y le ayudará a darle sentido a su vida. También le da la oportunidad de conocer a más personas, tiene valor en el currículum y lo mantiene en una rutina. De hecho, muchos empleadores afirman que una persona que tiene un trabajo voluntario incluido en su currículum tiene más posibilidades de ser contratada.
* Aplique a varios trabajos: no tema al rechazo. Actualice su currículum y siga aplicando a trabajos.
* Salga de su zona de confort durante su búsqueda de empleo: vea el proceso de solicitud como una oportunidad para probar algo nuevo. Y si encuentra un trabajo fuera de su especialidad, recuerde, la experiencia le permitirá adquirir nuevas habilidades y descubrir nuevas pasiones.
* Viva en el extranjero por un tiempo: sea aventurero e intente experimentar una nueva cultura. Además, puede encontrar muchos trabajos relacionados con su campo en el extranjero. Además, hay muchas oportunidades para trabajar fuera de su campo de estudio en el extranjero, como ser una niñera o enseñar inglés como segundo idioma.