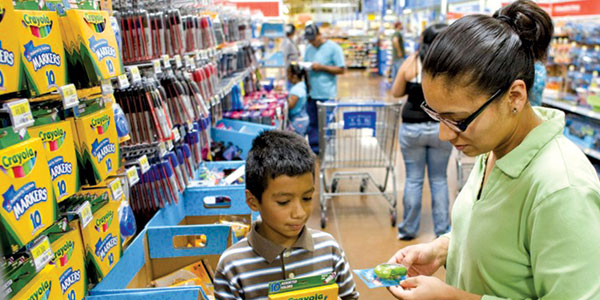 By Chara
Shoppers will have opportunities to save money this weekend, thanks to the Missouri sales tax-free holiday.
The event starts at 12:01 a.m. Friday (Aug. 2) and runs through midnight Sunday (Aug. 4). However, the Missouri Department of Revenue states on its website that the sales tax holiday applies to state and local sales taxes only when a local jurisdiction chooses to participate. Jurisdictions that have chosen to not participate include Jefferson City, Branson, Sedalia, Columbia and Springfield.
Items that are exempt from state and local sales taxes during the holiday are clothing, school supplies and personal computers. The Department of Revenue defines clothing as articles meant to be worn on or about a person's body.
There are a few exceptions under the clothing section, such as watches, watchbands, jewelry, handbags, umbrellas, scarves, ties, headbands and belt buckles. Moreover, the sales tax exception for clothing is limited to any article having a taxable value of $100 or less.
Under school supplies, the Department of Revenue allows textbooks, notebooks, paper, writing instruments, crayons, art supplies, rulers, book bags, backpacks, handheld calculators, graphing calculators, chalk, maps and globes. The sales tax exemption price limit for school supplies is $50.
A personal computer must cost less than $1,500 to qualify for exemption.
"This holiday is good for all parents to save money," said Fernando Lopez, a Kansas City, Missouri, resident. "I have two children and I take advantage of these days to buy whatever they need for the school year."
For more information about the sales tax holiday, visit https://dor.mo.gov.
---
Se acerca la exención de impuestos de ventas de Missouri
Los compradores tendrán oportunidades de ahorrar dinero este fin de semana, gracias a las festividades libres de impuestos sobre las ventas de Missouri.
El evento comienza a las 12:01 a.m. el viernes (2 de agosto) y se extiende hasta la medianoche del domingo (4 de agosto). Sin embargo, el Departamento de Ingresos de Missouri indica en su sitio web que la exención del impuesto sobre las ventas se aplica a los impuestos sobre las ventas estatales y locales sólo cuando una jurisdicción local decide participar. Las jurisdicciones que han optado por no participar incluyen Jefferson City, Branson, Sedalia, Columbia y Springfield.
Los artículos que están exentos de impuestos estatales y locales durante el fin de semana son ropa, útiles escolares y computadores personales. El Departamento de Ingresos define la ropa como artículos destinados a ser usados sobre el cuerpo de una persona.
Hay algunas excepciones en la sección de ropa, como relojes, correas de reloj, joyas, bolsos, paraguas, bufandas, corbatas, cintas para la cabeza y hebillas de cinturón. Además, la excepción del impuesto sobre las ventas para la ropa se limita a cualquier artículo que tenga un valor imponible de $100 o menos.
Bajo los útiles escolares, el Departamento de Ingresos permite libros, cuadernos, papel, instrumentos de escritura, crayones, materiales de arte, reglas, mochilas, calculadoras de mano, calculadoras gráficas, tizas, mapas, mochilas y globos. El límite de precio de exención de impuestos de ventas para útiles escolares es de $50.
Una computadora personal debe costar menos de $1,500 para calificar para una exención.
"Estas festividades son buenas para que todos los padres ahorren dinero", dijo Fernando López, un residente de Kansas City, Missouri. "Tengo dos hijos y aprovecho de estos días para comprar lo que necesiten para el año escolar".
Para obtener más información sobre la exención del impuesto sobre las ventas, visite https://dor.mo.gov.