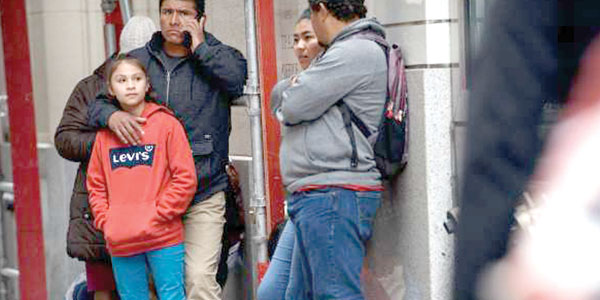 Wow, immigration is complicated enough, but now ICE is putting fake dates on the paperwork.  There were several confused immigrants present this morning at the KC immigration court. How can you tell if you really have a hearing?
A deportation case starts with a document called a "Notice to Appear" asking the immigrant to come to court.   This document is issued by Immigration and Customs Enforcement (ICE). It contains basic information about the immigrant and why the government has started deportation proceedings against them.  
Usually, this document was issued due to contact with the Border Patrol or with ICE.  Now, we are also seeing them after an application is denied with USCIS. I recently had a client receive a NTA after her application to extend her B-2 visa was denied.  It also had a fake date on it.   
To truly start the deportation case in court, ICE attorneys have to file it with the court.  It is critical to keep your address updated and comply with all other check-ins while you are waiting for your official notice of hearing.  You should also call the Immigration Court (EOIR) hotline for information 1-800-898-7180. It is automated – you type in your A number and it will tell you if a hearing has been scheduled. 
Don't wait to look for an attorney!  You still must file your asylum application within the first year of your arrival or prepare to prove your defense – family relationships/presence in the US.  We are hosting several community forums to help with your questions. Information is on our Facebook page or call us at 816-895-6363!
---
Fechas falsas en la Corte de Inmigración!
Wow, inmigración es suficientemente complicada, pero ahora ICE esta poniendo fechas falsas en papeleo. Hubo varios inmigrantes confundidos esta mañana en la Corte de Inmigración de KC. Cómo puede saber usted si en verdad tiene una audiencia?
Un caso de deportación comienza con un documento llamado un "Aviso Para Aparecer" pidiéndole al inmigrante que vaya a la Corte. Este documento es emitido por Inmigración y Control de Aduanas (ICE). Contiene información básica sobre el inmigrante y por qué el gobierno ha comenzado procedimientos de deportación en su contra.
Usualmente, este documento era emitido debido al contacto con la patrulla fronteriza o con ICE. Ahora, los estamos viendo también cuando una aplicación es negada con USCIS. Recientemente, yo tuve un cliente que recibió un APA después de que su aplicación para extender su visa B-2 fue negada. También tenía una fecha falsa.
Para realmente comenzar el caso de deportación en la Corte, los abogados de ICE necesitan archivarlo con la Corte. Es crítico que mantenga su dirección actualizada y cumplir con todos los otros registros (check-ins) mientras usted está esperando su aviso oficial de audiencia. También debe llamar a la línea directa de la Corte de Inmigración (EOIR) para información 1-800-898-7180. Está automatizado – escriba su número de inmigrante y le va a decir si una audiencia ha sido programada.
No espere para buscar un abogado! Aún tiene que archivar su aplicación de asilo dentro del primer año de su llegada o preparar para mover su defensa – relaciones familiares/presencia en los Estados Unidos. Estamos organizando varios foros para ayudar con sus preguntas. Hay información en nuestra página de Facebook o llámenos a 816-895-6363.