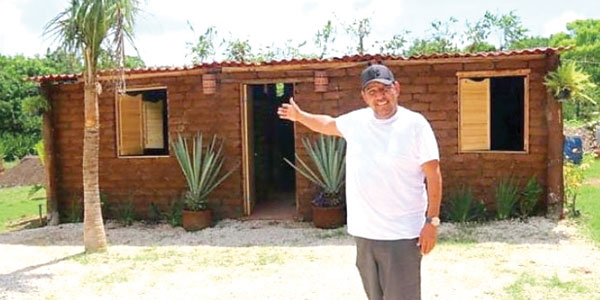 By Chara
Omar Vazquez Sanchez might have a solution to sargassum seaweed problem.
Seaweed is accumulating on beaches. According to a story published recently by Forbes, more than 650,000 tons of algae have washed up on shore in Cancun this year alone.
As Forbes also reported, Mexican President Andres Manuel Lopez Obrador has contributed more than $2 million to remove the sargassum seaweed affecting the Yucatan Peninsula. Vazquez Sanchez believes he can help, too.
Vazquez Sanchez owns Blue Green Mexico, a company that makes seaweed bricks to help build homes. He learned that, if seaweed is biodegraded and mixed with mud brick or adobe, a sturdy brick can be produced.
"Sargassum seaweed is strong," Vazquez Sanchez was quoted by CGTN America as saying. "If you try to rip it apart, it's hard. So that's why I started putting the clay with sargassum seaweed, and it worked."
According to Velazquez Sanchez, the cost of a seaweed brick is less than a cement brick. By using seaweed, the industry can save up to 30 percent, he estimated.
The sargassum seaweed bricks are being used to build houses in rural communities. Moreover, a "high-end" community located in the town of Tulum is planning to use the bricks to build homes.
Oscar Alvarez Gil, the environmental minister for the Mexican state of Quintana Roo, supports Vazquez Sanchez's idea. He hopes that other construction companies will join him in helping to solve seaweed problem.
---
Méxicano ofrece posible solución al problema de sargazo
Omar Vázquez Sánchez podría tener una solución al problema del Sargazo (Algas marinas) .
Las algas se están acumulando en las playas. Según una historia publicada recientemente por Forbes, más de 650,000 toneladas de algas han aparecido en la costa de Cancún sólo este año.
Como también informó Forbes, el presidente mexicano Andrés Manuel López Obrador ha contribuido con más de $2 millones para eliminar las algas de sargazo que afectan la península de Yucatán. Vázquez Sánchez cree que él también puede ayudar.
Vázquez Sánchez es dueño de Blue Green México, una compañía que fabríca ladrillos de algas para ayudar a construir casas. Aprendió que, si las algas se biodegradan y se mezclan con lodo o adobe, se puede producir un ladrillo resistente.
"Las algas de sargazo son fuertes", dijo Vázquez Sánchez, como lo informó CGTN América. "Si intentas destrozarlo, es difícil. Por eso empecé a poner la arcilla con algas de sargazo y funcionó".
Según Vázquez Sánchez, el costo de un ladrillo de algas es menor que un ladrillo de cemento. Al usar algas, la industria puede ahorrar hasta el 30 por ciento, estimó.
Los ladrillos de algas de sargazo se están utilizando para construir casas en comunidades rurales. Además, una comunidad de "alta gama" ubicada en la ciudad de Tulum está planeando usar los ladrillos para construir casas.
Oscar Álvarez Gil, ministro de medio ambiente del estado mexicano de Quintana Roo, apoya la idea de Vázquez Sánchez. Espera que otras empresas constructoras se unan a él para ayudar a resolver el problema de las algas marinas.