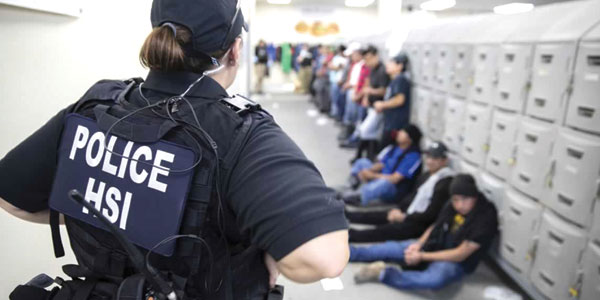 By Chara
On Aug. 7, U.S. Immigration and Customs Enforcement (ICE) agents staged a massive raid of several Mississippi chicken processing plants, resulting in 680 arrests.
More than 600 ICE agents participated in the operation, which targeted immigrant workers employed at local food processing plants and had been planned for more than a year, officials claimed. Most of the workers arrested were Latino, the Associated Press and other media outlets reported.
A day later, ICE officials released 300 of the 680 people they had arrested. The individuals who were released received orders to appear in immigration court to begin the deportation process.
ICE has not released any specific details about why it kept more than 300 people in custody. Media outlets such as The Clarion-Ledger reported that ICE was sending them to detention centers in Mississippi and Louisiana.
Because many of the detainees have school-age children, several school districts have reported substantial drops in school attendance. Scott County School District "had approximately 154 students across our district, mainly Hispanic and Latino of nature, that were absent … (from) school," Superintendent Tony McGee told "PBS NewsHour" reporter Jeffrey Brown.
"We started a process of trying to identify those students and those parents that may have been detained," McGee said.
The district has "started reaching out to those families to find out about their safety," the superintendent also said.
Local advocates and individuals said they were disturbed at the timing of the operation, considering it took place so close to the mass shooting in El Paso, Texas – an act believed to have been a hate crime directed toward Latinos.
Many Americans see the operation as the beginning of an era of worksite raid operations. At the beginning of 2019, the Trump administration stated that the federal government would ramp up so-called work site enforcement operations.
---
ICE realiza redadas de inmigración más grandes en una década
El 7 de agosto, agentes del Servicio de Inmigración y Control de Aduanas (ICE, por sus siglas en inglés) de Estados Unidos organizaron una redada masiva en varias plantas de procesamiento de pollo de Mississippi, lo que resultó en 680 arrestos.
Más de 600 agentes de ICE participaron en la operación, que tenía como blanco a los trabajadores inmigrantes empleados en las plantas locales de procesamiento de alimentos y que se había planeado durante más de un año, dijeron las autoridades. La mayoría de los trabajadores arrestados eran latinos, informaron Associated Press y otros medios de comunicación.
Un día después, funcionarios de ICE liberaron a 300 de las 680 personas que habían arrestado. Las personas que fueron liberadas recibieron órdenes de comparecer en la Corte de Inmigración para comenzar el proceso de deportación.
ICE no ha revelado ningún detalle específico sobre por qué mantuvo a más de 300 personas bajo custodia. Medios de comunicación como The Clarion-Ledger informaron que ICE los estaba enviando a centros de detención en Mississippi y Louisiana.
Debido a que muchos de los detenidos tienen hijos en edad escolar, muchos distritos escolares han reportado caídas sustanciales en la asistencia escolar. El Distrito Escolar del Condado de Scott "tuvo aproximadamente 154 estudiantes en nuestro distrito, principalmente hispanos y latinos de naturaleza, que estuvieron ausentes … (de) la escuela", dijo el superintendente Tony McGee al reportero de "PBS NewsHour" Jeffrey Brown.
"Comenzamos un proceso de tratar de identificar a los estudiantes y a los padres que pudieron haber sido detenidos", dijo McGee.
El distrito "comenzó a comunicarse con esas familias para saber sobre su seguridad", dijo el superintendente.
Los defensores locales y las personas dijeron que estaban molestos en el momento de la operación, considerando que tuvo lugar tan cerca del tiroteo masivo en El Paso, Texas, un acto que se cree que fue un crimen de odio dirigido a los latinos.
Muchos estadounidenses ven la operación como el comienzo de una era de operaciones de incursión en el lugar de trabajo. A principios de 2019, la administración Trump declaró que el gobierno federal aumentaría las llamadas operaciones de aplicación de la ley en el lugar de trabajo.