Story by Chara and photos by Michael Alvarado
Some Kansas City area artists are using their work to depict the reality of thousands of immigrants who live on the U.S.-Mexico border.
A mural of immigrant life is on display at 30th and Cherry in Kansas City, Missouri. Painted by Rodrigo Alvarez, Issac Tapia, Chico Salvador Sierra y Jose Faus , it was completed in 10 days.
"We thought it was very important to portray separation, as well as show the way … people are living and are being treated in those (detention) camps," Alvarez said.
Once they had the idea for the mural, they posted content on social media to request material donations. They soon started receiving donations.
"I feel proud to know that there is support in our community," Alvarez said. "This shows that we (Latinos) are united."
The mural consists of many images, including one of a child inside a cage. The child, known as "Kid No. 47," is meant to represent "an angel behind bars," Alvarez said. He thought the image would help emphasize the atrocity of how immigrants are being treated along the border.
"People need to know that we can't allow this to happen because it is not humanitarian," he said. "Our president is jailing children. It is not fair. This is similar to what happened in Germany during the Holocaust. If you think about it, the situation that immigrants are … (experiencing on) the border (separation and jailing) is (not) any better."
Other images include butterflies as symbols of migration and a heart, which is meant to symbolize sympathy. Alvarez, Garcia and Tapia recognize that those and other images in the mural would not be possible without community support.
"We want to thank the Hispanic community for their support and for all the donations we received," Alvarez said.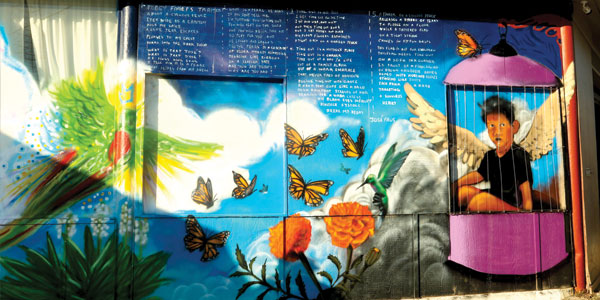 ---
Artistas locales retratan la realidad fronteriza en un mural en KCMO
Algunos artistas del área de Kansas City están utilizando su trabajo para representar la realidad de miles de inmigrantes que viven en la frontera entre Estados Unidos y México.
Un mural de la vida de los inmigrantes se exhibe en la calle 30th y Cherry en Kansas City, Missouri. Pintado por Rodrigo Alvarez, Issac Tapia, Chico Salvador Sierra y José Faus se completó en 10 días.
"Pensamos que era muy importante retratar la separación, así como mostrar la forma en que … las personas viven y son tratados en esos campos de detención", dijo Álvarez.
Una vez que tuvieron la idea del mural, publicaron contenido en las redes sociales para solicitar donaciones de material. Pronto comenzaron a recibir donaciones.
"Me siento orgulloso de saber que hay apoyo en nuestra comunidad", dijo Álvarez. "Esto muestra que nosotros (los latinos) estamos unidos".
El mural consta de muchas imágenes, incluida una de un niño dentro de una jaula. El niño, conocido como "Kid No. 47", representa a "un ángel tras las rejas", dijo Álvarez. Pensó que la imagen ayudaría a enfatizar la atrocidad de cómo se trata a los inmigrantes a lo largo de la frontera.
"La gente necesita saber que no podemos permitir que esto suceda porque no es humanitario", dijo. "Nuestro Presidente está encarcelando a niños. No es justo. Esto es similar a lo que sucedió en Alemania durante el Holocausto. Si lo piensas bien, la situación que los inmigrantes están … experimentando en la frontera (separación y encarcelamiento) no es diferente".
Otras imágenes incluyen mariposas como símbolos de migración y un corazón, que simboliza la simpatía. Álvarez, García y Tapia reconocen que esas y otras imágenes en el mural no serían posibles sin el apoyo de la comunidad.
"Queremos agradecer a la comunidad hispana por su apoyo y por todas las donaciones que recibimos", dijo Álvarez.