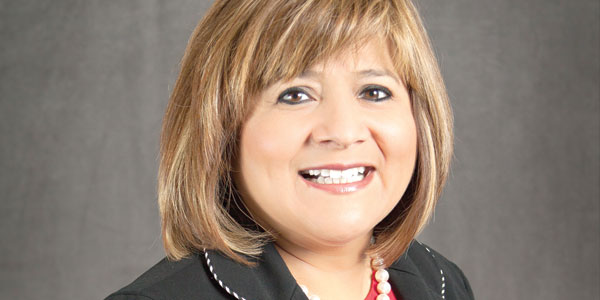 By Roberta Pardo
Adriana Pecina was on vacation when she received an email telling her she was a recipient of a 2019 Nuestra Latina Award.
It was a surprise because she was not aware the awards existed.
"I was glad to see there's an awards ceremony that's dedicated to Latinas," she said.
Born in Mexico City, Pecina and her family settled in Kansas City, Missouri's Westside area when she was 2 years old. She works as a senior program officer at the Health Forward Foundation, which fights for enduring change that "will elevate the overall health of the population" the foundation serves.
"My job is to review applications when organizations apply for money from us," Pecina said. "I work with many non-profit organizations to help them ensure that they are able to serve people that are uninsured and underinsured."
Pecina will receive the Nuestra Latina Health and Wellness Award because of her work advocating for health in the community. She said awards like it are important in terms of representation for the younger Hispanic population.
"I think it's important for (young people) to dream and important for them to see role models in the community, people that look like them, that they can relate to," she said.
Pecina also thinks awards like this help break stereotypes regarding the Hispanic community.
Besides her family, many of Pecina's colleagues and friends will attend the awards ceremony. She sees the ceremony as an opportunity to spread the word about the work of Latinas in the community. It also makes her proud to be a Latina.
"Pride is so important in these (times) we're experiencing, with what happened in El Paso. … This is a time that our community, our children need to feel proud of who they are," she said.
Pecina will receive her award at the ceremony, scheduled to begin at 5:30 p.m. on Aug. 29 at the BEST Building at the University of Kansas Edwards Campus in Overland Park. Tickets are on sale at the Hispanic Chamber of Commerce of Greater Kansas City website.
_______________________________________________________________________________________
Pecina, orgullosa de recibir un Premio Nuestra Latina
Adriana Pecina estaba de vacaciones cuando recibió un correo electrónico que le informaba que había recibido un Premio Nuestra Latina 2019.
Fue una sorpresa porque no sabía que existían los premios.
"Me alegró ver que hay una ceremonia de premiación dedicada a las latinas", dijo.
Nacida en Ciudad de México, Pecina y su familia se mudaron al área del Westside de Kansas City, Missouri, cuando tenía 2 años. Trabaja como oficial superior de programa en la Fundación Health Forward, que lucha por un cambio duradero que "elevará la salud general de la población" a la que sirve la fundación.
"Mi trabajo es revisar solicitudes cuando las organizaciones nos solicitan dinero", dijo Pecina. "Trabajo con muchas organizaciones sin fines de lucro para ayudarlas a garantizar que puedan servir a las personas que no tienen seguro o tienen seguro insuficiente".
Pecina recibirá el Premio Nuestra Latina en la categoría de Salud y Bienestar por su trabajo abogando por la salud en la comunidad. Dijo que premios como este son importantes en términos de representación para la población hispana más joven.
"Creo que es importante que (los jóvenes) sueñen y es importante que ellos vean ejemplos a seguir en la comunidad, personas que luzcan como ellos, con los que se pueden identificar", dijo.
Pecina también piensa que premios como este ayudan a romper los estereotipos con respecto a la comunidad hispana.
Además de su familia, muchos de los colegas y amigos de Pecina asistirán a la ceremonia de premiación. Ve la ceremonia como una oportunidad para correr la voz sobre el trabajo de las latinas en la comunidad. También la enorgullece ser latina.
"El orgullo es muy importante en estos (tiempos) que estamos experimentando, con lo que sucedió en El Paso. … Este es un momento en que nuestra comunidad, nuestros niños necesitan sentirse orgullosos de quienes son", dijo.
Pecina recibirá su premio en la ceremonia, programada para comenzar a las 5:30 p.m. el 29 de agosto en el BEST Building del campus Edwards de la Universidad de Kansas en Overland Park. Los boletos están a la venta en el sitio web de la Cámara de Comercio Hispana del Gran Kansas City.