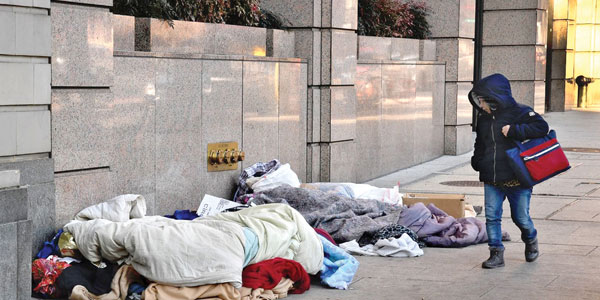 Monday marks the 125th anniversary of Labor Day as a national holiday. What began as a tribute to the contributions of American laborers has evolved into a celebration of all employed Americans.
Much else has changed. The country has grown by six states and 2.7 million people. The average speed of travel via the three transportation modes: two-to-three miles per hour, horse-drawn carriage; 10-to-15 miles per hour by rail; and 18-to-19 miles per hour by steamship. Today, there are many more means of travel at far faster speeds, and destinations include space.
As of Tuesday, the national unemployment rate was 3.7 percent, up a tick from 3.6 in June – a 49-year low. And the three-month moving average of median wage growth in the U.S. is trending up from a historic 1.6 percent low in January 2010 to 3.9 percent last month, according to the Federal Reserve. Good news, on the surface and cause for celebration this holiday weekend.
But a critical sector of our economy is in an ever-worsening crisis. The U.S. has a shortage of nearly eight million affordable housing units nationwide, according to a new report from the National Low Income Housing Coalition. Housing affordability peaked in 2012 when 78 percent of new and existing home sales were affordable for a typical family, according to the NAHB/Wells Fargo Housing Opportunity Index. The index could fall below 50 percent this year, their projections show.
A modest, two-bedroom apartment is out of reach for workers making a minimum wage anywhere in the country, according to the NLIHC. Their 30th annual study of housing affordability, "Out of Reach" found that minimum wage workers must maintain three full-time jobs in order to afford such simple digs.
Kansas City, Missouri's new mayor campaigned on addressing affordable housing. Quinton Lucas was raised by a single mom in the urban core, sometimes homeless so the issue has personal relevance and urgency for him. He's devoted part of his first month in office meeting with tenants groups and others about developing quality affordable housing.
More than four centuries ago, a British judge famous in part for his spirited defense of the supremacy of common law, issued this declaration in a historic ruling. Everyone's home is to her/him a "castle and fortress as well for defense against injury and violence as for repose."
Securing a home and life's basic essentials are why we as independent adults perform work that occupies most of our waking hours.
As we celebrate this holiday, why not turn our thoughts to eliminating the critical housing shortage for some eight million of our fellow workers who are homeless or housing insecure. Shouldn't one of the rewards for one's labor be a safe, secure, comfortable place to come home to?
_________________________________________________________________________________________
Nuestros trabajadores sin hogar y con inseguridad de vivienda
El lunes se cumplen 125 años del Día del Trabajo como feriado nacional. Lo que comenzó como un homenaje a las contribuciones de los trabajadores estadounidenses se ha convertido en una celebración de todos los estadounidenses empleados.
Mucho más ha cambiado. El país ha crecido en seis estados y 2.7 millones de personas. La velocidad promedio de viaje a través de los tres modos de transporte: dos a tres millas por hora, carruaje tirado por caballos; 10 a 15 millas por hora en tren; y 18 a 19 millas por hora en barco de vapor. Hoy en día, hay muchos más medios de viajar a velocidades mucho más rápidas, y los destinos incluyen el espacio.
Hasta el martes, el índice nacional de desempleo era del 3.7 por ciento, un aumento desde el 3.6 en junio, un mínimo de 49 años. Y el promedio móvil de tres meses del crecimiento medio de los salarios en Estados Unidos está pasando de un mínimo histórico de 1.6 por ciento en enero de 2010 al 3.9 por ciento el mes pasado, según la Reserva Federal. Buenas noticias, en la superficie y motivo de celebración este fin de semana festivo.
Pero un sector crítico de nuestra economía está en una crisis cada vez peor. Estados Unidos tiene una escasez de casi ocho millones de unidades de vivienda asequible en todo el país, según un nuevo informe de la Coalición Nacional de Vivienda de Bajos Ingresos (NLIHC, por sus siglas en inglés). La asequibilidad de la vivienda alcanzó su punto máximo en 2012 cuando el 78 por ciento de las ventas de viviendas nuevas y existentes eran asequibles para una familia típica, según el Índice de Oportunidades de Vivienda de NAHB/Wells Fargo. El índice podría caer por debajo del 50 por ciento este año, según muestran sus proyecciones.
Un modesto apartamento de dos habitaciones está fuera del alcance de los trabajadores que ganan un salario mínimo en cualquier parte del país, según NLIHC. En su trigésimo estudio anual sobre la asequibilidad de la vivienda, "Out of Reach" descubrió que los trabajadores con salario mínimo deben mantener tres trabajos a tiempo completo para poder pagar gustos tan simples.
El nuevo alcalde de Kansas City, Missouri, hizo campaña prometiendo abordar el tema de viviendas asequibles. Quinton Lucas fue criado por una madre soltera en el núcleo urbano, a veces sin hogar, por lo que el problema tiene relevancia personal y urgencia para él. Dedicó parte de su primer mes en el cargo a reunirse con grupos de inquilinos y otros sobre el desarrollo de viviendas asequibles de calidad.
Hace más de cuatro siglos, un juez británico famoso en parte por su enérgica defensa de la supremacía del derecho común, emitió esta declaración en un fallo histórico. El hogar de todos es para él o ella un "castillo y fortaleza, tanto para la defensa contra lesiones y violencia como para el descanso".
Asegurar un hogar y los elementos básicos de la vida es la razón por la cual, como adultos independientes, realizamos un trabajo que ocupa la mayor parte de nuestras horas del día.
Mientras celebramos este feriado, ¿por qué no pensar en eliminar la escasez crítica de viviendas para unos ocho millones de nuestros compañeros de trabajo que no tienen hogar o tienen inseguridad de vivienda? ¿No debería una de las recompensas por el trabajo de uno ser un lugar seguro y cómodo que llamar hogar?