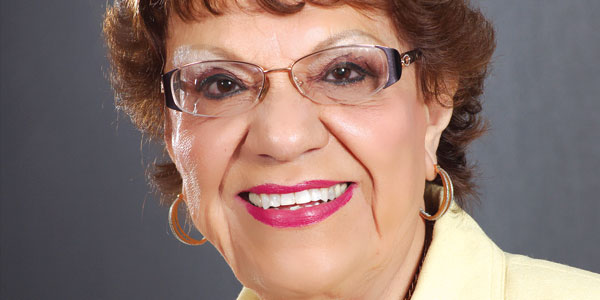 Dos Mundos co-founder receiving Nuestra Latina Lifetime Achievement Award
Clara Reyes is a fighter.
The Dos Mundos co-founder has fought to achieve her dreams. She has fought to help the Hispanic community. She has fought to open the path to Latinas who want to tell their own stories.
The Hispanic Chamber of Commerce of Greater Kansas City (HCC) is honoring Reyes for the fights she has won for Latinas.
Reyes will receive the Nuestra Latina Lifetime Achievement Award during a ceremony starting at 5:30 p.m. Thursday (Aug. 29) at the University of Kansas Edwards Campus in Overland Park.
"I never thought that I was going to achieve all of these things," she said. "The only thing I had in mind is to keep us (Latinx) united. Every day, I always thought, 'This is going to be the last day that I'm gonna be doing this,' but here we are."
Reyes did not know of her nomination until staff members at the HCC told her. She feels thrilled to receive the award.
"I feel very happy and humbled that our own people recognize our achievement," Reyes said. "Receiving this award with women that I've seen grow is very rewarding. I want to thank all (the) people who nominated all (the) women who are going to receive these awards. I want to thank the Hispanic Chamber of Commerce board, and (HCC president) Carlos Gomez for all the things they do for our community."
For Reyes, the award is as much a reflection of what Dos Mundos has achieved since it began publishing in 1981 as it is of her own achievements.
"It is important to me to see that the bridge we built worked," Reyes said. "Our community is … (hardworking) and vibrant, and I never thought that we were going to impact our community as we have done."
One area where Dos Mundos has impacted the community has been education. That is particularly meaningful to Reyes.
"When I started with Dos Mundos, I always thought that education was important – and now, I see that people who I care about (are) going to college and are successful," she said. "Definitely, my dream came true."
The fighter who has watched her dreams come true is seen by many Latinas as a role model. She has some advice to those Latinas who look up to her.
"Work to accomplish your dreams," she said. "Be consistent and don't let anyone tell you that you can't accomplish what you want. Everything is possible, as long as you work hard for the things you want."
---
Cofundadora de Dos Mundos recibirá el Premio Nuestra Latina a la Trayectoria
Clara Reyes es una luchadora.
La cofundadora de Dos Mundos ha luchado por alcanzar sus sueños. Ha luchado para ayudar a la comunidad hispana. Ha luchado para abrir el camino a las latinas que quieren contar sus historias.
La Cámara de Comercio Hispana del Gran Kansas City (HCC, por sus siglas en inglés) está honrando a Reyes por los logros que ha ganado para las latinas.
Reyes recibirá el Premio Nuestra Latina a la Trayectoria durante una ceremonia que comenzará a las 5:30 p.m. este jueves (29 de agosto) en el Edwards Campus de la Universidad de Kansas en Overland Park.
"Nunca pensé que iba a lograr todas estas cosas", dijo. "Lo único que tenía en mente es mantenernos (a los latinos) unidos. Todos los días, pensaba, 'Este será el último día en que voy a hacer esto', pero aquí estamos".
Reyes no sabía de su nominación hasta que los miembros del personal de HCC le dijeron. Se siente emocionada de recibir el premio.
"Me siento muy feliz y humilde de que nuestra propia gente reconozca nuestros logros", dijo Reyes. "Recibir este premio con mujeres que he visto crecer es muy gratificante. Quiero agradecer a todas (las) personas que nominaron a todas (las) mujeres que van a recibir estos premios. Quiero agradecer a la junta de la Cámara de Comercio Hispana y al (presidente de HCC) Carlos Gómez por todas las cosas que hacen por nuestra comunidad".
Para Reyes, el premio es tanto un reflejo de lo que Dos Mundos ha logrado desde que comenzó a publicarse en 1981 como de sus propios logros.
"Es importante para mí ver que el puente que construimos funcionó", dijo Reyes. "Nuestra comunidad es … (trabajadora) y vibrante, y nunca pensé que íbamos a impactar nuestra comunidad como lo hemos hecho".
Un área donde Dos Mundos ha impactado la comunidad ha sido la educación. Eso es particularmente significativo para Reyes.
"Cuando comencé con Dos Mundos, siempre pensé que la educación era importante, y ahora veo que las personas que me importan van a la universidad y tienen éxito", dijo. "Definitivamente, mi sueño se hizo realidad".
La luchadora que ha visto sus sueños volverse realidad es vista por muchas latinas como un modelo a seguir. Ella tiene algunos consejos para aquellas latinas que la admiran.
"Trabajen para cumplir sus sueños", dijo. "Sean coherentes y no permitan que nadie les diga que no pueden lograr lo que quieren. Todo es posible, siempre y cuando trabajen duro por las cosas que desean".