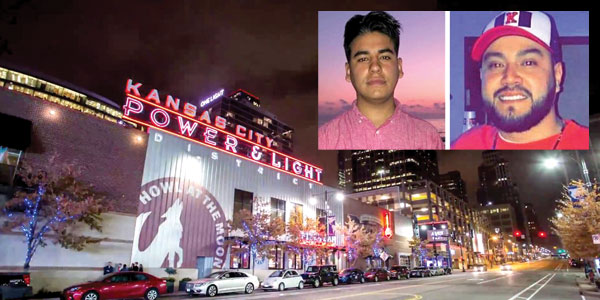 Story by Roberta Pardo and photo cortesy of Kansas City Power & Light District
Two men were killed in a drive-by shooting in the early hours of Sunday (Aug. 25) near the Kansas City Power & Light District.
According to multiple news outlets, police officers working around the entertainment district heard gunfire around 2:15 a.m. coming from Walnut and 12th streets. When they arrived, they found two men who had been shot.
One man was pronounced dead at the scene. The other man was taken to the hospital, where he was pronounced dead shortly after arriving, the police said.
On Monday (Aug. 26), the Kansas City Police Department identified the men as 28-year-old Austin Quijas and 22-year-old Leo Moreno.
Witnesses reported that a group of people, including the victims, was walking northbound on Walnut when an unknown vehicle pulled alongside the group. Someone inside fired shots at the group, striking the two men.
Detectives are investigating what led to the shooting. Anyone with information about the double homicide is asked to call the TIPS Hotline at (816) 474-TIPS (8477) or the Kansas City Police Department's Homicide Unit at (816) 234-5043.
There is a $25,000 reward for information leading to an arrest in this case.
_________________________________________________________________________________________
Dos hombres muertos en doble tiroteo en el distrito de Power & Light
Dos hombres fueron asesinados en un tiroteo en la madrugada del domingo (25 de agosto) cerca del Distrito de Power & Light de Kansas City.
Según múltiples medios de comunicación, los agentes de policía que trabajaban en el distrito de entretenimiento escucharon disparos alrededor de las 2:15 a.m. de las calles Walnut y 12. Cuando llegaron, encontraron a dos hombres que habían recibido un disparo.
Un hombre fue declarado muerto en la escena. El otro hombre fue llevado al hospital, donde fue declarado muerto poco después de llegar, dijo la policía.
El lunes (26 de agosto), el Departamento de Policía de Kansas City identificó a los hombres como Austin Quijas, de 28 años, y Leo Moreno, de 22 años.
Los testigos informaron que un grupo de personas, incluídas las víctimas, caminaba hacia el norte en Walnut cuando un vehículo desconocido se detuvo junto al grupo. Alguien dentro disparó al grupo y golpeó a los dos hombres.
Los detectives están investigando qué condujo al tiroteo. Cualquier persona con información sobre el doble homicidio debe llamar a la línea directa de TIPS al (816) 474-TIPS (8477) o a la Unidad de Homicidios del Departamento de Policía de Kansas City al (816) 234-5043.
Hay una recompensa de $25,000 por información que conduzca a un arresto en este caso.