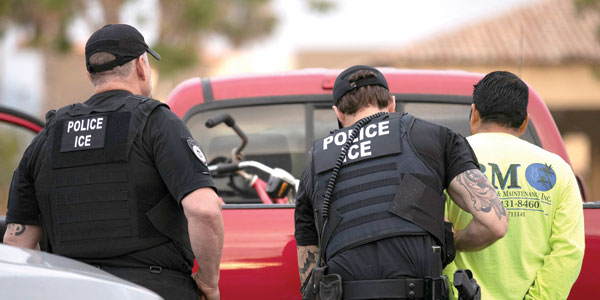 By Roberta Pardo
U.S. Immigration and Customs Enforcement (ICE) has started processing some undocumented immigrants under new expedited removal rules that expand who can be deported without a hearing before an immigration judge, according to a memo obtained by Time magazine.
In the memo, dated July 24, Matthew Albence, ICE acting director, said the agency's officers could begin processing expedited removal cases under the new designation on or around Sunday (Sept. 1).
Immigration attorneys and advocacy organizations across the country are preparing to offer support and advice. Time reports that the American Civil Liberties Union (ACLU) and the American Immigration Council are preparing for a hearing on Friday (Sept. 6), where a judge will decide whether to temporarily block the rule. The lawsuit argues that the new rule violates due process.
"Hundreds of thousands of people living anywhere in the United States are at risk of being separated from their families and deported without any resource," Anand Balakrishnan, an attorney for the ACLU's Immigrant Rights Project, told Univision. "This is a dramatic and illegal escalation in the Trump administration's attacks on immigrant communities."
So far, expedited removal has been applied to undocumented immigrants caught 100 miles from the border and within two weeks of arriving. But under the new rules, expedited removal can be applied to undocumented immigrants anywhere in the country who cannot prove they have been in U.S. territory longer than two years.
Those affected are immigrants who were deported and came back to the country without a visa, those who committed severe crimes or have multiple felonies, drug traffickers or terrorists and foreigners with a final deportation notice.
________________________________________________________________________________________
Nuevas reglas sobre deportación acelerada entran en vigencia a nivel nacional
El Servicio de Inmigración y Control de Aduanas (ICE, por sus siglas en inglés) ha comenzado a procesar a algunos inmigrantes indocumentados bajo nuevas reglas de deportación acelerada que amplían quién puede ser deportado sin una audiencia ante un juez de inmigración, según un memorando obtenido por la revista Time.
En el memorando, fechado 24 de julio, Matthew Albence, director interino de ICE, dijo que los oficiales de la agencia podrían comenzar a procesar casos de deportación acelerada bajo la nueva designación el domingo (alrededor del 1 de septiembre).
Los abogados de inmigración y las organizaciones de defensa en todo el país se están preparando para ofrecer apoyo y asesoramiento. Time informa que la Unión Estadounidense de Libertades Civiles (ACLU) y el Consejo Estadounidense de Inmigración se están preparando para una audiencia el viernes (6 de septiembre), donde un juez decidirá si bloquea temporalmente la regla. La demanda argumenta que la nueva regla viola el debido proceso.
"Cientos de miles de personas que viven en cualquier parte de los Estados Unidos corren el riesgo de ser separadas de sus familias y deportadas sin ningún recurso", dijo a Univisión Anand Balakrishnan, abogado del Proyecto de Derechos de los Inmigrantes de la ACLU. "Esta es una escalada dramática e ilegal en los ataques de la administración Trump a las comunidades de inmigrantes".
Hasta ahora, la deportación acelerada se ha aplicado a inmigrantes indocumentados capturados a 100 millas (160 km) de la frontera y dentro de las dos semanas posteriores a su llegada. Pero según las nuevas reglas, la deportación acelerada se puede aplicar a los inmigrantes indocumentados en cualquier parte del país que no puedan probar que han estado en territorio estadounidense por más de dos años.
Los afectados son inmigrantes que fueron deportados y regresaron al país sin visa, aquellos que cometieron delitos graves o tienen múltiples delitos graves, narcotraficantes o terroristas y extranjeros con un aviso de deportación final.