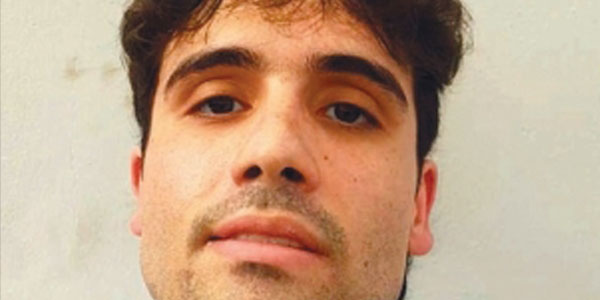 By Chara
At least eight people died on Oct. 17 in Culiacan, the capital city of the Mexican state of Sinaloa, as a result of fighting between Mexican authorities and the Sinaloa Cartel.
The Washington Post and other media outlets reported the fighting broke out as Mexican law enforcement authorities closed in on the compound housing cartel member Ovidio Guzman Lopez, the son of convicted drug lord Joaquin "El Chapo" Guzman. According to the Los Angeles Times, authorities arrested Ovidio Guzman around 2:45 p.m. in a house located in an upscale Culiacan neighborhood.
The younger Guzman's men, however, surrounded the house, taking federal officers hostage. At the same time, more of his people dispersed around the city, freeing inmates and blocking the main roads with burning vehicles. Ernesto Martinez, a local crime reporter, told The New York Times he had never seen anything like the firefight and that the sound of bullets was strong.
By 5:30 p.m., the Mexican government decided to release the younger Guzman. The fighting stopped.
Mexican President Andres Manuel Lopez Obrador said releasing Ovidio Guzman was necessary to save the lives of innocent civilians. Lopez Obrador said during a press conference that many of the arresting officers had to protect civilians who were caught in the gun battle. He also said his government would capture the younger Guzman, but it would do so when people's lives were not at risk.
Mexican Security Minister Alfonzo Durazo said in a statement that federal agents were overpowered by Ovidio Guzman's gunmen because they had to wait for an arrest warrant.
General opinion was divided over the government's decision to release Ovidio Guzman. Some people supported it. Others saw it as a failure by the federal government.
Columnist Carlos Loret de Mola wrote in the newspaper El Universal that the operation was "a defeat to the country" and a defeat to the Lopez Obrador administration. On the other hand, a lady from Culiacan who was taking shelter from the gunfire told the Los Angeles Times the government's decision was a relief because it stopped the gunfire.
_________________________________________________________________________________________
Armas, vehículos arden en Culiacán mientras el cártel y las autoridades chocan
Al menos ocho personas murieron el 17 de octubre en Culiacán, la ciudad capital del estado mexicano de Sinaloa, como resultado de un enfrentamiento entre autoridades mexicanas y el cártel de Sinaloa.
El Washington Post y otros medios de comunicación reportaron que la pelea se desató cuando las autoridades policiacas mexicanas se acercaban al miembro del cártel de la vivienda compuesta, Ovidio Guzmán López, hijo del condenado narcotraficante Joaquín "El Chapo" Guzmán. Según el Los Ángeles Times, las autoridades arrestaron a Ovidio Guzmán alrededor de las 2:45 p.m. en una casa ubicada en un exclusivo barrio de Culiacán.
Los hombres del joven Guzmán, sin embargo, rodearon la casa y tomaron como rehenes a los oficiales federales. Al mismo tiempo, más de su gente se dispersó por la ciudad, liberando a los internos y bloqueando las carreteras principales con vehículos incendiados. Ernesto Martínez, un reportero local del crimen, le dijo al New York Times que nunca había visto algo como el tiroteo y que el sonido de las balas era fuerte.
A las 5:30 p.m., el gobierno mexicano decidió liberar al joven Guzmán. La lucha se detuvo.
El presidente mexicano, Andrés Manuel López Obrador, dijo que liberar a Ovidio Guzmán era necesario para salvar las vidas de civiles inocentes. López Obrador dijo durante una conferencia de prensa que muchos de los oficiales que arrestaron tenían que proteger a los civiles que fueron atrapados en el tiroteo. También dijo que su gobierno capturaría al joven Guzmán, pero que lo haría cuando las vidas de las personas no estuvieran en riesgo.
El ministro de Seguridad de México, Alfonzo Durazo, dijo en un comunicado que los agentes federales fueron vencidos por los pistoleros de Ovidio Guzmán porque tuvieron que esperar una orden de arresto.
La opinión general estaba dividida sobre la decisión del gobierno de liberar a Ovidio Guzmán. Algunas personas lo apoyaron. Otros lo vieron como un fracaso del gobierno federal.
El columnista Carlos Loret de Mola escribió en el periódico El Universal que la operación fue "una derrota para el país" y una derrota para la administración López Obrador. Por otro lado, una señora de Culiacán que se estaba refugiando de los disparos le dijo al Los Angeles Times que la decisión del gobierno fue un alivio porque detuvo los disparos.