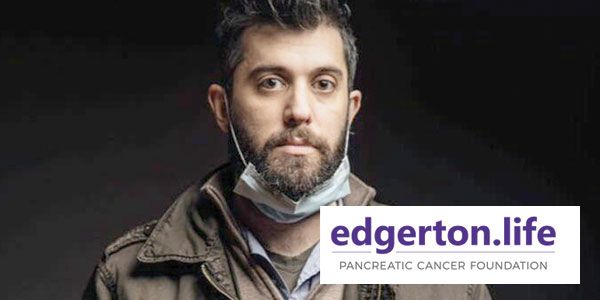 By Roberta Pardo
When Andrew Edgerton was diagnosed with pancreatic cancer, he was 37 years old.
Andrew was seemingly healthy. Nobody expected it.
Pancreatic cancer can only be detected in the late stages, when there is nothing much to do.
"It's like a death sentence," said JoAnna Edgerton, Andrew's mother.
Pancreatic cancer has the lowest five-rate survival rate of any form of cancer, 9 percent. About 74 percent of those diagnosed with it will not make it a year. Andrew lived longer than most, dying two years later, in late 2017.
While battling the disease, Andrew became an advocate to raise awareness and help others with the same cancer. A few months later, in 2018, his family created the Edgerton.Life Pancreatic Cancer Foundation to honor Andrew's work.
The foundation aims to raise awareness and raise funds to aid in any way possible in the detection, treatment, research and, ultimately, the cure of pancreatic cancer.
"We're also waging hope," JoAnna said.
The foundation is run by a volunteer board of governors. Mike Coleman, the foundation's executive director, is honored to be a part of the foundation.
"It's turning my anger over what happened to Andy into passion," Coleman said.
Starting at 5:30 p.m. Oct. 23, the foundation hosted its second annual gala to raise funds at the Foundation Event Space. It featured a silent auction, a short presentation to educate guests on pancreatic cancer and share statistics.
"The money goes to patient services research, helping to fund early detection techniques," Coleman said.
The gala happens every year on Andrew's birthday: Oct. 23.
This year, the gala had a purple (the color of pancreatic cancer) carpet, and the foundation gave the first Purple Halo Award to recognize someone who has gone above and beyond the call of duty in helping raise funds. The first winner was Lindsay McDonalds, who has been involved with pancreatic cancer advocacy for 10 years.
"Pancreatic cancer is such a rare disease that doesn't get much attention," Coleman said. "We want to raise awareness so that we can change the (statistics)."
Because the foundation relies on volunteer work, members are always looking for more people to join with events. For more information or to join, visit www.edgerton.life. For more information on the gala, visit www.1023gala.eventbrite.com.
_________________________________________________________________________________________
Edgerton.Life espera aumentar la conciencia del cáncer de páncreas
Cuando Andrew Edgerton fue diagnosticado con cáncer de páncreas, tenía 37 años.
Andrew parecía gozar de buena salud. Nadie lo esperaba.
El cáncer de páncreas sólo puede ser detectado en las últimas etapas, cuando no hay mucho que hacer.
"Es como una sentencia de muerte", dijo Jody Edgerton, la madre de Andrew.
El cáncer de páncreas tiene la tasa de supervivencia a cinco años más baja de cualquier forma de cáncer, 9 por ciento. Alrededor del 74 por ciento de los diagnosticados no lo hará en un año. Andrew vivió más que la mayoría, muriendo dos años después, a fines de 2017.
Mientras luchaba contra la enfermedad, Andrew se convirtió en un defensor para crear conciencia y ayudar a otros con el mismo cáncer. Unos meses más tarde, en 2018, Jody, el resto de su familia y amigos cercanos crearon la Fundación de Cáncer de Páncreas Edgerton.Life para honrar el trabajo de Andrew.
La fundación tiene como objetivo crear conciencia y recaudar fondos para ayudar de cualquier manera posible en la detección, tratamiento, investigación y, en última instancia, la cura del cáncer de páncreas
"También estamos generando esperanza", dijo Jody.
La fundación está dirigida por una junta de gobernadores voluntarios. Mike Coleman, el director ejecutivo de la fundación, se siente honrado de ser parte de la fundación.
"Está convirtiendo mi ira por lo que le pasó a Andy en pasión", dijo Coleman.
A partir de las 5:30 p.m. el 23 de octubre, la fundación organizó su segunda gala anual para recaudar fondos en el Foundation Event Space. Contó con una subasta silenciosa, una breve presentación para educar a los invitados sobre el cáncer de páncreas y compartir estadísticas.
"El dinero se destina a la investigación de servicios al paciente, ayudando a financiar técnicas de detección temprana", dijo Coleman.
La gala ocurre todos los años en el cumpleaños de Andrew: 23 de octubre.
Este año, la gala tuvo una alfombra morada (el color del cáncer de páncreas) y la fundación otorgó el primer Premio Purple Halo para reconocer a alguien que ha superado el deber de ayudar a recaudar fondos. La primera ganadora fue Lindsey McDonald, quien ha estado involucrada en la defensa del cáncer de páncreas durante 10 años.
"El cáncer de páncreas es una enfermedad tan rara que no recibe mucha atención", dijo Coleman. "Queremos crear conciencia para que podamos cambiar las (estadísticas)".
Debido a que la fundación depende del trabajo voluntario, los miembros siempre están buscando más personas para unirse a los eventos. Para obtener más información o para unirse, visite www.edgerton.life. Para más información sobre la gala, visite www.1023gala.eventbrite.com.