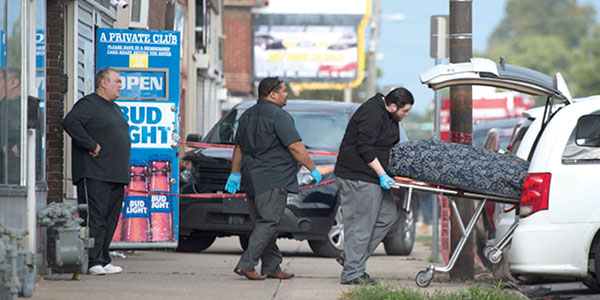 The decisions of judges last month in different states and jurisdictions in separate cases forever changed the lives of at least 11 families and others in a close-knit Hispanic community. On Sept. 9, Jackson County, Missouri Judge Kevin D. Harrell released Javier Alatorre from jail on his own recognizance. The judge so ruled despite the strenuous objection of the assistant prosecuting attorney on the grounds that Alatorre "was a flight risk, habitually skipped court appearances and presented a danger to the community."
Twenty days later, Leavenworth County, Kansas District Court Judge Michael Gibbens released Hugo Villanueva-Morales from jail. Instead of sending him back to prison for nine years as the law permitted him to do, the judge put Villanueva-Morales on three years' probation.
A week later in the early morning hours of Oct. 6, Alatorre and Villanueva-Morales entered a neighborhood bar on Central Avenue in Kansas City, Kan. The two opened fire, shooting nine people, four fatally.
As expected, local and national officials weighed in on the massacre at Tequila KC with remarks expressing an assortment of appropriate sentiments from sympathy for the victims and their families and the community to anger and outrage and vows to put an end to the senseless violence and bloodshed.
Predictably, there were calls for tougher gun-control laws and handwringing over the outrageous number of guns. It mustn't be overlooked, though, that there are already laws in place to prevent individuals like Alatorre and Villanueva-Morales from legally possessing a firearm. Both are convicted felons.
The Oct. 6 massacre is especially painful for the Hispanic community. All nine of the victims were Hispanic, shot by Hispanics. By all accounts, Tequila KC is a friendly neighborhood bar where, as one bartender remarked, "everybody knew everybody else." It's one of many Hispanic-owned businesses on the Avenue and served as a sort of community gathering place where patrons felt safe.
There are still in this 21st century, roadblocks for Hispanics to fully sharing in the blessings and benefits America has to offer. Considering the multitude of obstacles and difficulties, it's a personally painful tragedy when Hispanics victimize other Hispanics. And this could've been prevented. Had someone in the shooters' formative years taught them how to deal with anger issues appropriately, perhaps they wouldn't have behaved so violently, and 11 families would still be intact.
So we come to the issues of how to put the brakes on gun violence and how many guns in our communities are too many. There are numerous grassroots campaigns across the metro, the region and the country to address gun violence. Here locally, there's a chapter of Grandparents Against Gun Violence, KC Mothers in Charge and Moms Demand Action, to name a few. All are busy working to reduce gun violence. But the carnage continues.
Are there too many guns in America? According to the Small Arms Survey in 2018, American civilians owned 393 million guns; that's 100 million times as many firearms as the U.S. military has and more than 400 times as many as law enforcement. Studies cited in the report suggest that higher rates of gun ownership are associated with higher homicide and suicide rates and higher accidental gun death rates.
Nota bene:
– We extend our sympathy and prayers to the families of the victims: Alfredo Calderon, 29; Francisco Anaya Garcia, 34; Eber Meza-Aguirre, 29; and Martin Rodriguez Gonzalez, 58. We offer well wishes for the recovery of the survivors.
– Police are still searching for Hugo Villanueva-Morales, 29. Anyone who sees Villanueva-Morales or has information about his whereabouts is asked to call 911 or the TIPS Hotline at 816-474-8477.
_________________________________________________________________________________________
Tiroteo masivo en KCK persigue a la comunidad
Las decisiones de los jueces el mes pasado en diferentes estados y jurisdicciones en casos separados cambiaron para siempre las vidas de al menos 11 familias y otros en una comunidad hispana muy unida. El 9 de septiembre, el juez Kevin D. Harrell del condado de Jackson, Missouri, liberó a Javier Alatorre de la cárcel por su propio reconocimiento. El juez dictaminó lo mismo a pesar de la extenuante objeción del asistente del fiscal por el hecho de que Alatorre "era un riesgo de fuga, omitía habitualmente las apariciones en la Corte y representaba un peligro para la comunidad".
Veinte días después, el juez del tribunal de distrito del condado de Leavenworth, Kansas, Michael Gibbens, liberó a Hugo Villanueva-Morales de la cárcel. En lugar de enviarlo de vuelta a prisión por nueve años como la ley lo permitía, el juez puso a Villanueva-Morales en libertad condicional por tres años.
Una semana después, en las primeras horas de la mañana del 6 de octubre, Alatorre y Villanueva-Morales entraron en un bar del vecindario en Central Avenue en Kansas City, Kan. Los dos abrieron fuego y dispararon a nueve personas, cuatro fatalmente.
Como era de esperar, los funcionarios locales y nacionales intervinieron en la masacre en Tequila KC con comentarios que expresaron una variedad de sentimientos apropiados de simpatía por las víctimas y sus familias y la comunidad a la ira y la indignación y los votos para poner fin a la violencia sin sentido y al derramamiento de sangre.
Como era de prever, hubo reclamos por leyes más estrictas para el control de armas y por la cantidad escandalosa de armas. Sin embargo, no debe pasarse por alto que ya existen leyes para evitar que personas como Alatorre y Villanueva-Morales posean legalmente un arma de fuego. Ambos son delincuentes convictos.
La masacre del 6 de octubre es especialmente dolorosa para la comunidad hispana. Las nueve víctimas eran hispanas, disparadas por hispanos. Según todos los informes, Tequila KC es un bar amigable en el vecindario donde, como comentó un cantinero, "todos conocían a todos los demás". Es una de las muchas empresas de propiedad hispana en la avenida y sirvió como una especie de lugar de reunión comunitaria donde los clientes se sentían seguros.
Todavía hay en este siglo XXI obstáculos para que los hispanos compartan plenamente las bendiciones y los beneficios que Estados Unidos tiene para ofrecer. Considerando la multitud de obstáculos y dificultades, es una tragedia dolorosa personalmente cuando los hispanos victimizan a otros hispanos. Y esto podría haberse evitado. Si alguien en los años formativos de los tiradores les hubiera enseñado cómo lidiar con los problemas de ira de manera apropiada, tal vez no se habrían comportado de manera tan violenta, y 11 familias aún estarían intactas.
Entonces llegamos a los problemas de cómo frenar la violencia armada y cuántas armas en nuestras comunidades son demasiadas. Existen numerosas campañas de base en todo el metro, la región y el país para abordar la violencia armada. Aquí a nivel local, hay una sucursal de Grandparents Against Gun Violence, KC Mothers in Charge y Moms Demand Action, por nombrar algunos. Todos están ocupados trabajando para reducir la violencia armada. Pero la carnicería continúa.
¿Hay demasiadas armas en Estados Unidos? Según el Small Arms Survey en 2018, los civiles estadounidenses poseían 393 millones de armas; eso es 100 millones de veces más armas de fuego que el ejército de Estados Unidos y más de 400 veces más que las fuerzas del orden. Los estudios citados en el informe sugieren que las tasas más altas de posesión de armas están asociadas con tasas más altas de homicidios y suicidios y tasas más altas de muerte accidental por armas.
Nota bene:
– Extendemos nuestra simpatía y oraciones a las familias de las víctimas: Alfredo Calderón, 29; Francisco Anaya García, 34; Eber Meza-Aguirre, 29; y Martin Rodríguez González, de 58 años. Ofrecemos buenos deseos para la recuperación de los sobrevivientes.
– La policía sigue buscando a Hugo Villanueva-Morales, de 29 años. Cualquier persona que vea a Villanueva-Morales o tenga información sobre su paradero debe llamar al 911 o a la línea directa de TIPS al 816-474-8477.