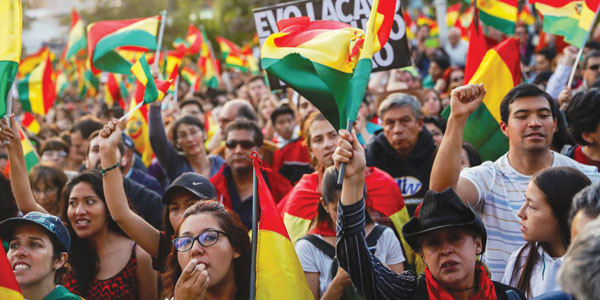 By Roberta Pardo
Protests in Bolivia against alleged electoral fraud have entered their second week.
On Monday (Oct. 28), street battles broke out between supporters and opposers of President Evo Morales, leaving dozens injured. Pro- and anti-Morales demonstrators clashed in La Paz, forcing the police to use tear gas to try to disperse the clashes, multiple media outlets reported.
In the eastern city of Santa Cruz, clashes left around 30 people wounded. At press time, Santa Cruz was entering its ninth day of being in shutdown mode, with protestors blocking streets and roads. Many other major cities in Bolivia also have been on strike.
Protestors claim results from the election, which saw Morales winning reelection without a runoff, were rigged to give Morales enough of a majority to avoid a runoff he might lose.
On Oct. 20, Bolivians went to the polls to elect their new president. That night, after 85 percent of the vote had been counted, it seemed like there would be a runoff between Morales and Carlos Mesa. But then, votes mysteriously stopped being counted — without a reasonable explanation, as claimed later by the Organization of American States.
The next day, on Oct. 21, Morales claimed victory in the first round, giving him a fourth term. That was when the protests started.
Discontent with Morales has grown exponentially in recent years. In February 2016, Morales called for a referendum seeking approval for a constitutional revision that would allow him to run for a fourth term (Bolivia only allows two consecutive terms). The proposal was rejected 51 percent to 49 percent.
Morales said he would respect the results of the referendum; however, in late 2017, a court ruling gave him the green light to run again.
Morales has denied irregularities in the Oct. 20 presidential election and has said he welcomes an international audit of the election and vote-counting.
_____________________________________________________________________________________________
Bolivia experimenta protestas a nivel nacional por resultados electorales
Las protestas en Bolivia contra un presunto fraude electoral han entrado en su segunda semana.
El lunes (28 de octubre), estallaron peleas callejeras entre partidarios y opositores del presidente Evo Morales, dejando decenas de heridos. Manifestantes a favor y en contra de Morales se enfrentaron en La Paz, obligando a la policía a usar gases lacrimógenos para tratar de dispersar los enfrentamientos, informaron varios medios de comunicación.
En la ciudad oriental de Santa Cruz, los enfrentamientos dejaron alrededor de 30 personas heridas. Al cierre de esta edición, Santa Cruz estaba entrando en su noveno día de estar en bloqueo, con manifestantes bloqueando calles y caminos. Muchas otras ciudades importantes en Bolivia también han estado en huelga.
Los manifestantes afirman que los resultados de las elecciones, que vieron a Morales ganar la reelección sin una segunda vuelta, fueron manipulados para darle a Morales una mayoría suficiente para evitar una segunda vuelta que podría perder.
El 20 de octubre, los bolivianos acudieron a las urnas para elegir a su nuevo presidente. Esa noche, después de contar el 85 por ciento de los votos, parecía que habría una segunda vuelta entre Morales y Carlos Mesa. Pero luego, los votos misteriosamente dejaron de contarse, sin una explicación razonable, como lo afirmó más tarde la Organización de Estados Americanos.
Al dia siguiente, el 21 de octubre, Morales anunció su victoria en primera ronda, dándole un cuarto mandato. Fue entonces cuando comenzaron las protestas.
El descontento con Morales ha crecido exponencialmente en los últimos años. En febrero de 2016, Morales solicitó un referéndum para obtener la aprobación de una revisión constitucional que le permitiría postularse para un cuarto mandato (Bolivia sólo permite dos mandatos consecutivos). La propuesta fue rechazada por el 51 por ciento contra un 49 por ciento.
Morales dijo que respetaría los resultados del referéndum; sin embargo, a fines de 2017, un fallo judicial le dio luz verde para volver a presentarse.
Morales ha negado las irregularidades en las elecciones presidenciales del 20 de octubre y ha dicho que acepta con beneplácito una auditoría internacional de las elecciones y el recuento de votos.