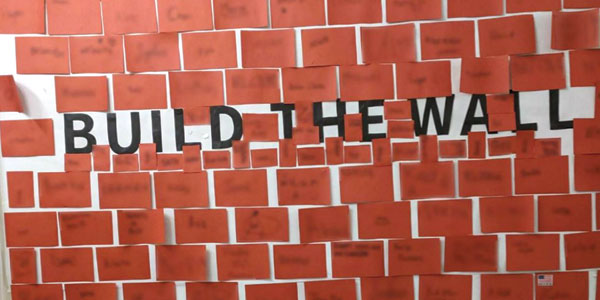 By Roberta Pardo
A Halloween party on Oct. 25 at the White House featured a station where children were encouraged to help "Build the Wall" with their own personalized bricks, as multiple news outlets reported.
Held in the Eisenhower Executive Office Building at the White House, the party included the families of executive branch employees, and VIP guests outside and inside the government, Yahoo News reported.
According to the news outlet, the mural had large letters on the display spelling out "Build the Wall." Kids dressed in costumes were given brick-colored paper cards and told to write their names in them and tape them to the wall. Next to the paper wall, there were signs, including one that read "America First," a slogan often used by President Trump.
Immigration activists have expressed concern about the use of Trump's border wall as a children's party display. Erika Andiola, chief advocacy officer for the immigration rights organization RAICES, told Yahoo News that the wall — which has become a symbol for Trump's immigration plans — was inappropriate for a kids' party.
"I don't think they understand the amount of pain that people are going through at the border for them to make a joke out of it," Andiola told Yahoo News. "We still are dealing with children in cages, even if people are not calling it that, so it's not a joke."
Frank Sharry, executive director of the immigrant advocacy organization America's Voice, also described the paper wall as offensive.
"Only in Trump's White House would a holiday event centered on kids, costumes and candy become a propaganda opportunity for his racism and xenophobia," he said.
---
A niños se les pidió "construir un muro" en fiesta de Halloween de la Casa Blanca
Una fiesta de Halloween el 25 de octubre en la Casa Blanca tuvo una estación donde se alentó a los niños a ayudar a "Construir el Muro" con sus propios ladrillos personalizados, según informaron varios medios de comunicación.
Celebrada en el Edificio de la Oficina Ejecutiva de Eisenhower en la Casa Blanca, la fiesta incluyó a las familias de los empleados de la rama ejecutiva e invitados VIP fuera y dentro del gobierno, informó Yahoo News.
Según el medio de comunicación, el mural tenía letras grandes en la pared que deletreaban "Construye el muro". A los niños vestidos con disfraces se les daban tarjetas de papel de color ladrillo y se les pedía que escribieran sus nombres en ellas y las pegaran a la pared. Al lado de la pared de papel, había carteles, incluido uno que decía "Primero Estados Unidos", un eslogan que el presidente Trump suele usar.
Los activistas de inmigración han expresado su preocupación por el uso del muro fronterizo de Trump como exhibición de la fiesta infantil. Erika Andiola, directora de defensa de la organización de derechos de inmigración RAICES, dijo a Yahoo News que el muro, que se ha convertido en un símbolo de los planes de inmigración de Trump, no era apropiado para una fiesta infantil.
"No creo que entiendan la cantidad de dolor que atraviesan las personas en la frontera para que hagan una broma sobre eso", dijo Andiola a Yahoo News. "Todavía estamos lidiando con niños en jaulas, incluso si la gente no lo llama así, así que no es una broma".
Frank Sharry, director ejecutivo de la organización de defensa de inmigrantes America's Voice, también describió el muro de papel como ofensivo.
"Sólo en la Casa Blanca de Trump un evento festivo centrado en niños, disfraces y dulces se convertiría en una oportunidad de propaganda para su racismo y xenofobia", dijo.