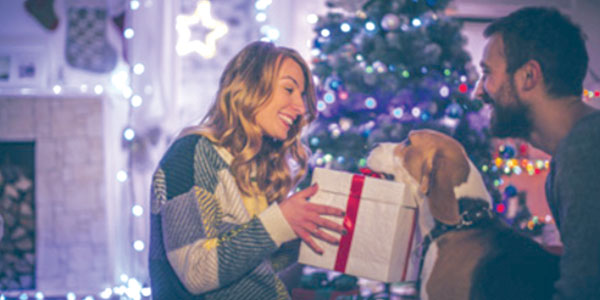 The holiday season is meant for spending time with your friends and family, including those of the four-legged variety. Whether you have a dog, cat, fish or other small pet, Christmas can serve as the perfect time to show your affection by showering him or her with thoughtful gifts.
When searching for the right gift for your furry friend, consider his or her likes and dislikes when it comes to treats, toys and bedding, among other things, and look for gifts that align with favorite hobbies, such as fetch or taking walks, or things that can be easily personalized like leashes, beds and food bowls. Check with your local pet store, such as PetSmart, and inquire about some of its seasonal bestsellers like bedding or sweaters, for example, or recommendations for gifts that might be most appropriate for your dog or cat's breed.
Regardless of whether you're looking for something wearable, playful or maybe a little of both, you can find more gift ideas for the four-legged loved ones in your life at petsmart.com.
Optimal Comfort for Your Furry Friend
Make the holidays special, and extra comfortable, for your pet this season and beyond by giving him or her a warm place to rest with this cozy Merry & Bright Tree Hut Bed. The festive hut-style pet bed, which comes in the form of a colorful Christmas tree, provides plenty of seasonal cheer and features a removable pillow that can easily be washed or used as a separate resting spot.
Warm, Stylish Pet Attire
Keep your pet warm when the weather turns cold, and do so in style, with this Top Paw Red Buffalo Checkered Fleece pet sweater. Available in sizes to fit large and small dogs alike, the hooded fleece slips on and off easily and offers optimal comfort, warmth and fashion with a fabric fastener strap at the neck to ensure it stays in place.
---
Regalos sorprendentes: Ideas de regalos navideños para los amigos peludos
La temporada de fiestas se usa para pasar tiempo con sus amigos y familia, incluidos los de cuatro patas. Ya sea que tenga un perro, un gato, un pez u otra mascota pequeña, la Navidad puede servir como el momento perfecto para mostrar su afecto llenándolo de regalos pensativos.
Cuando busque el regalo adecuado para su amigo peludo, tenga en cuenta sus gustos y disgustos cuando se trata de golosinas, juguetes y ropa de cama, entre otras cosas, y busque regalos que se alineen con sus pasatiempos favoritos, como ir a buscar el palito o caminar, o cosas que se pueden personalizar fácilmente como correas, camas y platos de comida. Consulte con su tienda local de mascotas, como PetSmart, e infórmese sobre algunos de sus más vendidos de temporada, como ropa de cama o suéteres, por ejemplo, o recomendaciones de regalos que podrían ser más apropiados para la raza de su perro o gato.
Sin importar si está buscando por algo portátil, lúdico o tal vez un poco de ambos, puede encontrar más ideas de regalos para los seres queridos de cuatro patas en petsmart.com.
Comodidad óptima para su amigo peludo
Haga que las vacaciones sean especiales y extra cómodas para su mascota esta temporada y más allá, dándole un lugar cálido para descansar con la acogedora cama Merry & Bright Tree Hut Bed. La festiva cama para mascotas estilo cabaña, que viene en forma de un colorido árbol de Navidad, brinda mucha alegría estacional y cuenta con una almohada extraíble que se puede lavar o usar fácilmente como un lugar de descanso separado.
Atuendo cálido y elegante para mascotas
Mantenga a su mascota abrigada cuando haga frío y hágalo con estilo con el suéter para mascotas Top Paw Red Buffalo Checkered Fleece. Disponible en tamaños para adaptarse a perros grandes y pequeños por igual, el forro polar con capucha se desliza fácilmente y ofrece comodidad, calidez y moda óptimas con una correa de tela en el cuello para asegurar que se mantenga en su lugar.