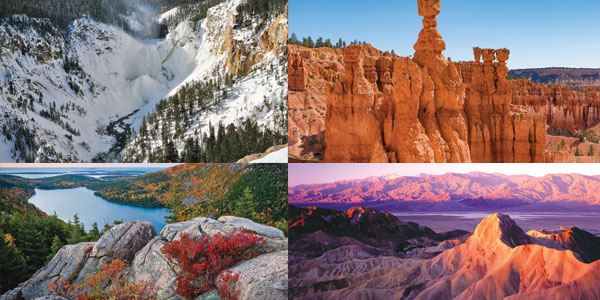 Beautiful places to consider for an off-season vacation
These four spectacular national parks are much less crowded in the cooler months, when they offer a completely different kind of vacation than you'll find in the tourist-clogged summer season. Bundle up, and enjoy the elbow room.
Yellowstone National Park
True, Yellowstone is awfully cold in winter: You'll need to pack your warmest parkas, thermal underwear and snow boots. But you'll be rewarded with the chance to see glistening icy waterfalls, steaming hydrothermal pools and spouting geysers — all without the traffic jams and packed parking lots that are routine in summer. While the wildly popular park draws more than 4 million people throughout the year, it welcomes fewer than 100,000 January through March.
During those cold, quiet months, the only road open to cars runs between Mammoth Hot Springs and the northeast entrance. That means you'll be traveling by snowmobile or snowcoach, your chariots for wildlife viewing expeditions and photography safaris. You can also join guided cross-country ski and snowshoe tours, catch a ranger-led nature program or take a dip in the Boiling River (where a hot spring merges with the Gardner river).
Old Faithful Snow Lodge is open from December 16 to March 1, 2020, and is a short shoveled walk to its namesake geyser. Mammoth Hotel and Cabins is open from December 15 to March 2, 2020. Book lodging through Yellowstone National Parks Lodges, and if you're flying into Bozeman Airport be sure to reserve the daily shuttle (winter only) between the airport and the park.
Death Valley National Park, California
This park really sizzles in the summer, but the cooler days of winter — when daytime temperatures tend to settle in the 60s or 70s, with hardly any rain — offer the perfect weather for exploration.
Death Valley has a wide variety of terrain, allowing you to walk or hike through sand dunes, desert peaks, deep canyons and salt flats where you might glimpse bighorn sheep, coyotes, jack rabbits or a tortoise. You can also take it slow on a scenic drive to famous spots such as Rainbow Canyon, Badwater Basin (the lowest point in the U.S.) and the 600-foot-deep Ubehebe Crater. Then stay late for an incredible view of the night sky (this is an official Dark Sky Park).
After Thanksgiving and before Christmas Day is the quietest time to visit. Book early if you'd like to stay at one of the four popular lodging options within the park.
Acadia National Park, Maine
Intrepid outdoor enthusiasts — those who don't mind below-freezing temperatures — will relish the solitude of an uncrowded New England winter playground. Located on Mount Desert Island near the seaside village of Bar Harbor, Maine, Acadia offers beautiful views of the Atlantic, with snowy inland trails twisting along mountain valleys.
While most of the facilities are closed in winter, visitors still enjoy easy flat walks along the Ocean Path, Compass Harbor Trail, Ship Harbor Trail or the historic carriage roads first built by John D. Rockefeller and family in the early 20th century. You can also join one of the birding groups that gather at the park in hopes of seeing snowy owls (sometimes tough within a white winter landscape). Look into birding tours led by the Schoodic Institute's Bird Ecology Program.
The park has no lodging, but there are plenty of hotels and bed-and-breakfasts nearby in Bar Harbor.
Bryce Canyon National Park, Utah
Perched near the top of the Grand Staircase-Escalante National Monument in southwestern Utah, this park on a high plateau lures about 430,000 tourists in a typical July. Bryce draws a fraction of that in winter, when the canyon's colorful copper spindles of red rock are cloaked in snow. The main road is plowed and sanded, so you can drive to see the snow-capped hoodoos (a collection of irregular rock formations that look like tall columns). More adventuresome visitors can snowshoe and cross-country ski along hiking trails.
There are a range of chain and independent hotels and motels in Bryce Canyon City, a mile from the park. They include Ruby's Inn, which hosts the Bryce Canyon Winter Festival, offering all kinds of free fun in mid-February every year.
---
4 parques nacionales para explorar en invierno
Hermosos lugares a considerar para unas vacaciones fuera de temporada alta.
Estos cuatro parques nacionales espectaculares son mucho menos concurridos en los meses más fríos, cuando ofrecen un tipo de vacaciones completamente diferente al que encontrarás en la temporada de verano repleta de turistas. Abrígate y disfruta del espacio.
Yellowstone National Park
Es cierto que en Yellowstone (en inglés) hace mucho frío en invierno, tendrás que empacar tus parkas más cálidas, ropa interior térmica y botas de nieve. Pero serás recompensado con la oportunidad de ver cascadas glaciales relucientes, piscinas hidrotermales humeantes y géiseres que arrojan agua, todo sin los embotellamientos de tránsito y estacionamientos atestados, que son rutinarios en verano. Si bien el parque tremendamente popular atrae a más de 4 millones de personas durante todo el año, recibe menos de 100,000 entre enero y marzo.
Durante esos meses fríos y tranquilos, el único camino abierto para los automóviles es entre Mammoth Hot Springs y la entrada noreste. Eso significa que te desplazarás en moto o en vehículo de nieve; tu medio de transporte para realizar las expediciones de avistamiento de vida silvestre y safaris de fotografía. También puedes participar en recorridos guiados haciendo esquí de fondo y calzando raquetas de nieve, tomar un programa de naturaleza dirigido por un guardabosques o darte un chapuzón en el río Boiling (donde las aguas termales se fusionan con el río Gardner).
Old Faithful Snow Lodge está abierto del 16 de diciembre al 1.º de marzo del 2020, y se encuentra a poca distancia del géiser con el mismo nombre. Mammoth Hotel and Cabins está abierto del 15 de diciembre al 2 de marzo del 2020. Reserva alojamiento a través de Yellowstone National Parks Lodges (en inglés), y si vuelas al aeropuerto de Bozeman, asegúrate de reservar el servicio de transporte diario (sólo en invierno) entre el aeropuerto y el parque.
Death Valley National Park, California
Este parque es realmente caliente en el verano, pero los días más fríos del invierno —cuando las temperaturas diurnas tienden a ubicarse en los 60 o 70 grados, sin apenas lluvia— ofrecen el clima perfecto para explorar.
Death Valley (en inglés) tiene una amplia variedad de terrenos, lo que te permite caminar o hacer senderismo a través de dunas de arena, picos desérticos, profundos cañones y áreas salinas planas donde podrías ver borregos cimarrones, coyotes, liebres de cola negra o tortugas gigantes. También puedes tomar el viaje con calma y hacer un recorrido panorámico a lugares famosos como Rainbow Canyon, Badwater Basin (el punto más bajo de EE.UU.) y el cráter Ubehebe de 600 pies de profundidad. Luego, quédate hasta tarde para disfrutar de una vista increíble del cielo nocturno (este es un Dark Sky Park oficial).
Después del Día de Acción de Gracias y antes del día de Navidad es el momento más tranquilo para visitar. Reserva con anticipación si deseas hospedarte en una de las cuatro opciones de alojamiento (en inglés) populares dentro del parque.
Acadia National Park, Maine
Los entusiastas intrépidos del aire libre, aquellos a quienes no les importan las temperaturas bajo cero, disfrutarán de la soledad de un lugar de diversiones al aire libre durante el invierno en Nueva Inglaterra. Ubicado en la isla Mount Desert, cerca del pueblo costero de Bar Harbor, Maine, Acadia (en inglés) ofrece hermosas vistas del Atlántico, con senderos interiores nevados que serpentean por valles montañosos.
Si bien la mayoría de las instalaciones están cerradas en invierno, los visitantes pueden disfrutar de senderos planos y fáciles de recorrer a lo largo de Ocean Path, Compass Harbor Trail, Ship Harbor Trail o los caminos de carruajes históricos construidos por John D. Rockefeller y su familia a principios del siglo XX. También puedes unirte a uno de los grupos de avistamiento de aves que se reúnen en el parque con la esperanza de ver búhos nevados (a veces algo difícil en un paisaje blanco de invierno). Explora los recorridos de avistamiento de aves dirigidos por el Bird Ecology Program (Programa de ecología de aves) del Schoodic Institute.
El parque no tiene alojamiento, pero hay muchos hoteles y posadas con servicio de desayuno cerca, en Bar Harbor.
Bryce Canyon National Park, Utah
Ubicado cerca de la cima del Monumento Nacional Grand Staircase-Escalante en el suroeste de Utah, este parque en una meseta alta atrae a unos 430,000 turistas en un típico mes de julio. Bryce (en inglés) atrae una fracción de esa cifra en invierno, cuando las rocas rojas del cañón (con aspecto de husos de cobre) están cubiertas de nieve. La carretera principal está arada y cubierta de arena, por lo que puedes conducir para ver las chimeneas nevadas (una colección de formaciones rocosas irregulares con aspecto de columnas altas). Los visitantes más aventureros pueden caminar con raquetas de nieve y hacer esquí de fondo por las rutas de senderismo.
Hay una variedad de hoteles y moteles independientes y de cadena en Bryce Canyon City, a una milla del parque. Entre ellos Ruby's Inn, que realiza el Bryce Canyon Winter Festival (en inglés), el cual ofrece todo tipo de diversión gratuita a mediados de febrero de cada año.