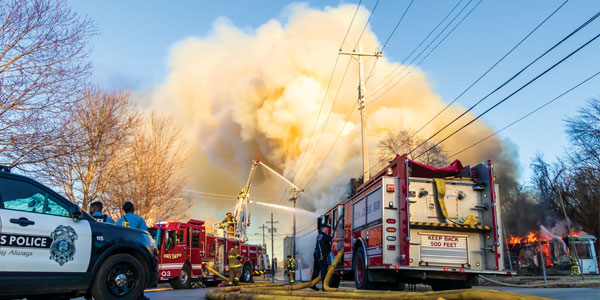 Story by Roberta Pardo and photos by Kelly Mc Gregor Photography
A 133-year-old historic church in the Argentine neighborhood of Kansas City, Kansas, was severely damaged by a massive fire Tuesday evening (March 3).
The fire was reported around 5:15 p.m. at St. John the Divine Catholic Church — built in 1887 as a frame Methodist church — according to the Kansas City, Kansas, Fire Department.
Assistant Chief Bryan Hendin told The Kansas City Star that heavy smoke and fire were showing by the time firefighters arrived. He also said there were no injuries.
From 1903 to 1909, the building underwent renovation and restoration following severe damage in a 1903 flood. It was sold to the Catholic diocese in 1937, when it became St. John the Divine. Since then, it had served as a significant presence in the neighborhood's Mexican-American Catholic community, even though it had been vacant since 1992.
In 2013, the church was added to the National Register of Historic Places, a list of places worthy of preservation authorized by the federal government. According to the National Register's website, the building survived several floods, thanks to its parishioners.
"The building was maintained and adorned by its parishioners, reflecting vernacular Mexican and Spanish art and culture," the website stated.
The origin and cause of the fire remained under investigation as of Tuesday night.
______________________________________________________________________________________________
Iglesia histórica en KCK devastada por un incendio
Una iglesia histórica de 133 años en el barrio Argentine de Kansas City, Kansas, sufrió graves daños por un incendio masivo el martes por la noche (3 de marzo).
El incendio fue reportado alrededor de las 5:15 p.m. en la Iglesia Católica St. John the Divine, construida en 1887 como una iglesia metodista, según el Departamento de Bomberos de Kansas City, Kansas.
El Subdirector Bryan Hendin le dijo a The Kansas City Star que ya había humo y fuego cuando llegaron los bomberos. También dijo que no hubo heridos.
De 1903 a 1909, el edificio fue renovado y restaurado luego de graves daños en una inundación de 1903. Fue vendido a la diócesis católica en 1937, cuando se convirtió en San Juan el Divino. Desde entonces, había servido como una presencia significativa en la comunidad católica mexicoamericana del vecindario, a pesar de que había estado vacante desde 1992.
En 2013, la iglesia fue agregada al Registro Nacional de Lugares Históricos, una lista de lugares dignos de preservación autorizados por el gobierno federal. Según el sitio web del Registro Nacional, el edificio sobrevivió a varias inundaciones, gracias a sus feligreses.
"El edificio fue mantenido y adornado por sus feligreses, reflejando el arte y la cultura vernácula mexicana y española", se lee en el sitio web.
El origen y la causa del incendio continuaban bajo investigación hasta el martes por la noche.