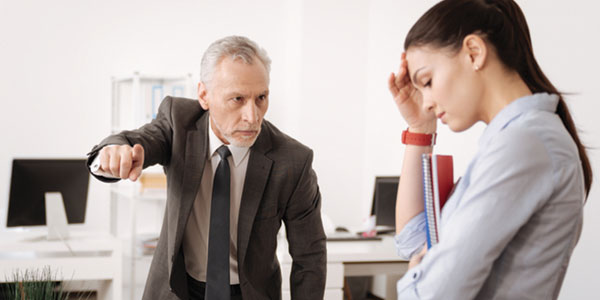 By Stan Popovich
You have been at your job for a few years and suddenly you get a new manager. Unfortunately, your manager is difficult to please. What can you do if you like your job, but your current boss causes you a lot of stress and anxiety?
Here are a few tips on how an employee can keep the peace with their difficult boss.
1. Don't Rush To Conclusions: Do not be quick to make judgements about your boss. Give it a month or two to see how things work out before getting upset. It usually takes some time to adjust to changes that take place regarding your job.
2. Improve Your Work Performance: If you get a new boss, try doing some extra work to show that you are a good and dependable employee. A few extra hours of work during the week could impress your manager and could improve relations. Many managers like employees who go the extra mile.
3. Try To Reduce Any Future Problems: It is important to make sure to plan ahead to help reduce any potential issues that might occur between you and your manager.  Make sure you meet all of your deadlines and talk to your manager if you have any questions about your performance. Doing these things will help prevent future conflicts.
4. Watch Your Actions: Be careful what you talk about when hanging out with others in your office. Do not talk about politics, religion, or any other sensitive topics that could get you into trouble. Focus on trying to do the best job you can instead of worrying what everyone else is doing.
5. Focus On What Your Boss Likes To Do: It doesn't hurt to ask your manager what they like to do when they are not working. Show an interest in what your manager likes to do.  This will help to get to know your manager as a person instead of just looking at him or her as your boss.
6. Talk to A Career Counselor For Advice: If your still having trouble with your manager, talk to a career counselor who can give you advice on what you can do. Do not be quick to make any career decisions that could cause problems for you down the road.
7. You Always Have Options: Sometimes a person may need to change departments or find another job if they do not like working for their current supervisor. Do not be afraid to change jobs if it means that you will be happier. It is important to enjoy what you are doing and to work with a supervisor who is understanding and easy to work with.
______________________________________________________________________________________________
7 consejos sobre cómo lidiar con un jefe difícil en un trabajo que ama
Ha estado en su empleo por unos años y de pronto llega un nuevo gerente. Lastimosamente su gerente es difícil de complacer. ¿Qué puede hacer si le gusta su trabajo pero su jefe actual le causa mucho estrés y ansiedad?
Aquí hay algunos consejos sobre cómo un empleado puede mantener las paces con su jefe difícil.
1. No salte a conclusiones. No se apresure a emitir juicios sobre su jefe. Dele uno o dos meses para ver cómo funcionan las cosas antes de enojarse. Por lo general, lleva algún tiempo adaptarse a los cambios que tienen lugar con respecto a su trabajo.
2. Mejore su rendimiento en el trabajo: Si tiene un nuevo jefe, intente hacer algún trabajo extra para demostrar que es un empleado bueno y confiable. Algunas horas de trabajo extra durante la semana podrían impresionar a su gerente y podrían mejorar relaciones. A muchos gerentes les gustan los empleados que hacen un esfuerzo adicional.
3. Intente reducir cualquier problema futuro: Es importante asegurarse de planear con anticipación para ayudar a reducir cualquier problema potencial que pueda ocurrir entre usted y su gerente. Asegúrese de cumplir con todos sus plazos y hable con su gerente si tiene alguna pregunta sobre su desempeño. Hacer estas cosas ayudará a prevenir conflictos futuros.
4. Vigile sus acciones: Tenga cuidado de lo que habla cuando comparte con otros en su oficina. No hable de política, religión u otro tema delicado que pueda meterlo en problemas. Concéntrese en tratar de hacer el mejor trabajo posible en lugar de preocuparse por lo que hacen los demás.
5. Concéntrese en lo que le gusta hacer a su jefe: No está de más preguntarle a su gerente qué le gusta hacer cuando no está trabajando. Muestre interés en lo que le gusta hacer a su gerente. Esto ayudará a conocer a su gerente como persona en lugar de solo mirarlo como su jefe.
6. Hable con su consejero vocacional para obtener asesoramiento: Si aún tiene problemas con su gerente, hable con un consejero vocacional que pueda aconsejarle sobre lo que puede hacer. No se apresure en tomar decisiones profesionales que podrían causarle problemas más tarde.
7. Siempre tiene opciones: A veces, una persona necesita cambiar departamentos o encontrar otro trabajo si no le gusta trabajar para su supervisor actual. No tenga miedo de cambiar empleos si significa que estará más feliz. Es importante disfrutar de lo que hace y trabajar con un supervisor que entienda y sea fácil de trabajar.