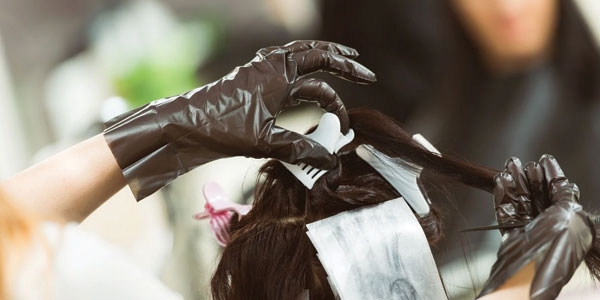 By Chara
According to a recently published study conducted by the National Institutes of Health (NIH), women who use permanent hair dye and chemical hair straighteners are at a higher risk of developing breast cancer than women who do not use them.
The study used data from a sample of 46,709 women.
"Researchers found that women who used hair dye in the year prior to enrolling in the study were 9 percent more likely than women who didn't use hair dye to develop breast cancer," an NIH news release stated. "Women who used hair straighteners at least every five to eight weeks were about 30 percent more likely to develop breast cancer. While the association between straightener use and breast cancer was similar in African American and white women, straightener use was much more common among African American women."
Alexandra White with the National Institute of Environmental Health Sciences said the study researchers found a higher breast cancer rate associated with hair dye usage.
"The effect is stronger in African American women, particularly those who are frequent users," White said.
Michael Jones, senior staff scientist in epidemiology at The Institute of Cancer Research, told Newsweek that to make a recommendation based on one study is too early. Further research is needed, Jones said.
---
Tintes y alisadores para cabello vinculados al cáncer de mama, afirma un estudio
Según un estudio publicado recientemente realizado por los Institutos Nacionales de Salud (NIH, por sus siglas en inglés), las mujeres que usan tintes para el cabello y alisadores químicos para el cabello tienen un mayor riesgo de desarrollar cáncer de seno que las mujeres que no los usan.
El estudio usó datos de una muestra de 46.709 mujeres.
"Los investigadores encontraron que las mujeres que usaron tinte para el cabello en el año anterior a la inscripción en el estudio tenían un 9 por ciento más de probabilidades que las mujeres que no usaron tinte para el cabello para desarrollar cáncer de seno", indicó un comunicado de prensa de los NIH. "Las mujeres que usaron alisadores de cabello al menos cada cinco u ocho semanas tenían un 30 por ciento más de probabilidades de desarrollar cáncer de seno. Si bien la asociación entre el uso de alisadores y el cáncer de seno fue similar en las mujeres afroamericanas y blancas, el uso de alisadores fue mucho más común entre las mujeres afroamericanas".
Alexandra White, del Instituto Nacional de Ciencias de Salud Ambiental, dijo que los investigadores del estudio encontraron una tasa más alta de cáncer de seno asociada con el uso de tintes para el cabello.
"El efecto es más fuerte en las mujeres afroamericanas, particularmente aquellas que son usuarias frecuentes", dijo White.
Michael Jones, científico sénior en epidemiología del Instituto de Investigación del Cáncer, dijo a Newsweek que hacer una recomendación basada en un estudio es demasiado pronto. Se necesita más investigación, dijo Jones.