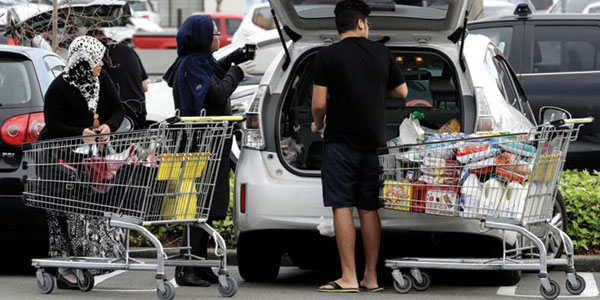 By Angie Baldelomar
Almost a third of the United States has been ordered to stay at home, including the Kansas City metro area, to try to slow down the spread of the coronavirus (COVID-19).
On March 21, four places in the Kansas City area — Jackson County and Kansas City in Missouri, and Johnson County and Wyandotte County in Kansas — issued a stay-at-home order, except for "health and safety" reasons. The order, which took effect Tuesday (March 24), is expected to last at least 30 days.
On Monday (March 23) morning, Douglas County, Kansas, where the main campus of the University of Kansas is located, issued a similar order.
Nationwide, California, New York, Illinois, Pennsylvania and New Jersey issued stay-at-home orders. Ohio, Louisiana, Connecticut and Delaware followed suit. Overall, an estimated 101 million Americans are being told to stay home.
The pandemic also has wracked multiple industries and led to a spike in layoffs nationwide. The Kansas Department of Labor (DOL) is offering a series of resources for employers and workers affected by COVID-19 at dol.ks.gov and getkansasbenefits.gov.
The KDOL also has warned businesses statewide about a website attempting to gather company importation.
"A fake website with (a) '.com' ending is trying to scam businesses and employees," a warning from the department read. "Please make sure you use the '.gov' website."
The website, www.getkansasbenefits.gov, will have the latest resources for businesses and workers during this time, the department stated.
_______________________________________________________________________________
Área metro de KC en cuarentena por 30 días
A casi un tercio de Estados Unidos se le ordenó quedarse en casa, incluida el área metropolitana de Kansas City, para tratar de frenar la propagación del coronavirus (COVID-19).
El 21 de marzo, cuatro lugares en el área de Kansas City—el Condado de Jackson y Kansas City en Missouri, y los condados de Johnson y Wyandotte en Kansas—emitieron una orden de quedarse en casa, excepto por razones de "salud y seguridad". Se espera que la orden, que entró en vigencia el martes (24 de marzo), dure al menos 30 días.
El lunes (23 de marzo) por la mañana, el condado de Douglas, Kansas, donde se encuentra el campus principal de la Universidad de Kansas, emitió una orden similar.
A nivel nacional, California, Nueva York, Illinois, Pennsylvania y Nueva Jersey emitieron órdenes de quedarse en casa. Ohio, Luisiana, Connecticut y Delaware hicieron lo mismo. En general, se estima que 101 millones de estadounidenses deben quedarse en casa.
La pandemia también ha destruído múltiples industrias y provocó un aumento en los despidos en todo el país. El Departamento de Trabajo de Kansas (DOL, por sus siglas en inglés) ofrece una serie de recursos para empleadores y trabajadores afectados por COVID-19 en dol.ks.gov y getkansasbenefits.gov.
El KDOL también ha advertido a los negocios en todo el estado sobre un sitio web que intenta recopilar información de las compañías.
"Un sitio web falso que termina con '.com' está tratando de estafar a empresas y empleados", decía una advertencia del departamento. "Asegúrese de utilizar el sitio web '.gov'".
El sitio web, www.getkansasbenefits.gov, tendrá los últimos recursos para empresas y trabajadores durante este tiempo, afirmó el departamento.