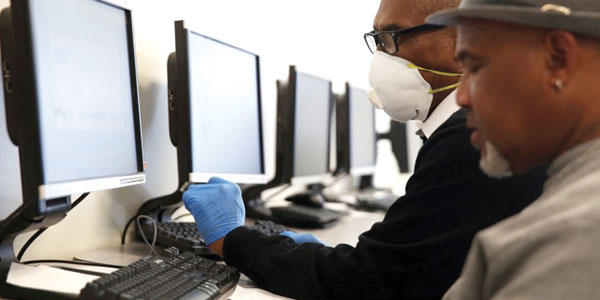 By Angie Baldelomar
The Kansas Department of Labor is working to fix lagging issues on the website people use to file for unemployment benefits, announced Labor Secretary Delia Garcia on Tuesday (April 14) during an interview with Dos Mundos.
Garcia said her internet technology team has worked nonstop to make sure it fixes the issue. The website, www.getkansasbenefits.gov, remains operational, so people can still file their claims there.
"If you're going onto our website to file your claims, the best time in the morning is 6 a.m. until 8:30 a.m.," she recommended. "The second best time is in the evening, after 5 p.m., between 5 and 10 p.m."
Workers also can file claims using the phone lines available. Garcia said the lines are usually reserved for people who do not speak English, those without internet access, military personnel and those who have moved to Kansas in the last 18 months.
"We're experiencing a high volume of calls, including people calling to ask frequently asked questions," she said.
To address the oversaturation of calls, the department has started using a new triage virtual call center to help answer frequently asked questions about the process.
On whether Deferred Action for Childhood Arrivals (DACA) recipients are eligible to receive unemployment benefits, Garcia said all immigrants with an authorized work permit are eligible, including DACA recipients.
"Anybody who has an authorized work permit is eligible for our unemployment benefits," she said.
On top of a work authorization, people should have been working at least for the last three to four months. When in doubt, Garcia advises people to file a claim anyway.
"Just go to our website and fill out the application, and we will make the determination if you are (eligible) or not," she said.
Once a claim is approved, if it is the first time filing for unemployment, it might be between seven and 10 days to get the first payment. Garcia recommends using direct deposit to get the money faster. For every filing after that, it will take a few days to receive benefits.
For more information about the process, visit www.getkansasbenefits.gov or call 1-(800)-292-6333.
---
Secretaria de trabajo da actualizaciones sobre las solicitudes para beneficios de desempleo
El Departamento de Trabajo de Kansas está trabajando para solucionar los problemas rezagados en el sitio web que las personas usan para solicitar beneficios de desempleo, anunció la secretaria de Trabajo, Delia García, el martes (14 de abril) durante una entrevista con Dos Mundos.
García dijo que su equipo de tecnología de Internet ha trabajado sin parar para asegurarse de que soluciona el problema. El sitio web, www.getkansasbenefits.gov, permanece en operación, por lo que las personas aún pueden llenar sus solicitudes allí.
"Si va a visitar nuestro sitio web para presentar sus reclamos, el mejor horario de la mañana es de 6 a.m. a 8:30 a.m.", recomendó. "El segundo mejor momento es por la noche, después de las 5 p.m., entre las 5 y las 10 p.m.".
Los trabajadores también pueden presentar reclamos utilizando las líneas telefónicas disponibles. García dijo que las líneas generalmente están reservadas para las personas que no hablan inglés, las que no tienen acceso a Internet, el personal militar y las que se han mudado a Kansas en los últimos 18 meses.
"Estamos experimentando un gran volumen de llamadas, incluyendo personas que llaman para hacer preguntas frecuentes", explicó.
Para lidiar con la sobresaturación de llamadas, el departamento ha comenzado a usar un nuevo centro de llamadas virtual de clasificación para ayudar a responder las preguntas frecuentes sobre el proceso.
Sobre si los beneficiarios de Acción Diferida para los Llegados en la Infancia (DACA) son elegibles para recibir beneficios de desempleo, García dijo que todos los inmigrantes con un permiso de trabajo autorizado son elegibles, incluyendo los beneficiarios de DACA.
"Cualquier persona que tenga un permiso de trabajo autorizado es elegible para nuestros beneficios de desempleo", dijo.
Además de una autorización de trabajo, las personas deberían haber estado trabajando al menos durante los últimos tres o cuatro meses. En caso de duda, García aconseja a las personas que llenen una solicitud de todos modos.
"Simplemente vaya a nuestro sitio web y complete la solicitud, y haremos la determinación si usted es (elegible) o no", dijo.
Una vez que se aprueba una solicitud, si es la primera vez que presenta una solicitud de desempleo, el primer pago puede demorar entre siete y 10 días. García recomienda usar el depósito directo para obtener el dinero más rápido. Por cada solicitud después de eso, tomará unos días recibir los beneficios.
Para obtener más información sobre el proceso, visite www.getkansasbenefits.gov o llame al 1- (800) -292-6333.