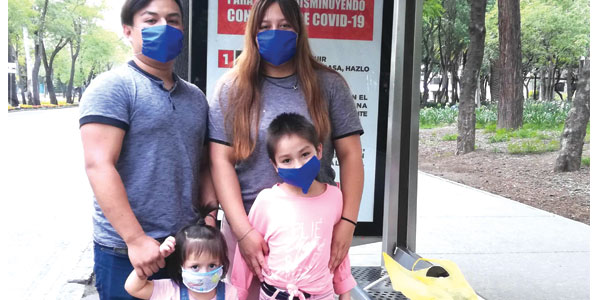 Money to go toward 19 projects for vaccine development, treatment
By Roberta Pardo
Mexico's Ministry of Foreign Relations (known by its Spanish acronym, the SRE) has announced that 19 Mexican scientific projects on COVID-19 vaccines and treatments will receive funding to accelerate their research and development.
This initiative comes from an integrated fund with resources from the Mexican Agency for International Cooperation and Development, foreign entities and private sector foundations.
The financing of the projects selected for a first phase is the result of the work of the Mexican Consortium of Vaccines and COVID-19 treatments, in which the Foreign Ministry, universities, research centers and Mexican companies participate. Its objective is to seek funding with international cooperation resources for Mexican projects against the coronavirus.
The objective of this and all the initiatives related to the development, testing and manufacture of vaccines against COVID-19 promoted by the SRE is for Mexico to have timely and early access to a vaccine, as instructed by Mexican President Andres Manuel Lopez Obrador.
On Aug. 24, Mexico Foreign Secretary Marcelo Ebrard said in a press release that his office would support the projects presented to the consortium.
"Mexico has to increase its technological capacity," Ebrard said. "No way around it. Otherwise, there is no end, not only because of the pandemic but also in terms of making money. We've said it many times, but we have to put it in practice and that's why we're meeting today."
The selected projects were submitted by higher education institutions, such as the National Autonomous University of Mexico, the National Polytechnic Institute, the Center for Research and Advanced Studies of the IPN and the Autonomous University of Queretaro, which work both in the development of vaccines, as well as treatments and diagnostic tests.
_______________________________________________________
México anuncia financiamiento de proyectos de COVID-19
El dinero irá a 19 proyectos para el desarrollo de vacunas y tratamiento
La Secretaría de Relaciones Exteriores de México (SRE) anunció que 19 proyectos científicos mexicanos sobre vacunas y tratamientos COVID-19 recibirán financiamiento para acelerar su investigación y desarrollo.
Esta iniciativa proviene de un fondo integrado con recursos de la Agencia Mexicana de Cooperación y Desarrollo Internacional, entidades extranjeras y fundaciones del sector privado.
El financiamiento de los proyectos seleccionados para una primera fase es resultado del trabajo del Consorcio Mexicano de Vacunas y Tratamientos para COVID-19, en el que participan la Cancillería, universidades, centros de investigación y empresas mexicanas. Su objetivo es buscar financiamiento con recursos de cooperación internacional para proyectos mexicanos contra el coronavirus.
El objetivo de ésta y todas las iniciativas relacionadas con el desarrollo, prueba y fabricación de vacunas contra COVID-19 impulsadas por la SRE es que México tenga acceso oportuno y temprano a una vacuna, según instruyó el presidente mexicano Andrés Manuel López Obrador.
El 24 de agosto, el secretario de Relaciones Exteriores de México, Marcelo Ebrard, dijo en un comunicado de prensa que su oficina apoyaría los proyectos presentados al consorcio.
"México tiene que incrementar su capacidad tecnológica", dijo Ebrard. "No hay forma de evitarlo. De lo contrario, no hay fin, no sólo por la pandemia sino también en términos de ganar dinero. Lo hemos dicho muchas veces, pero tenemos que ponerlo en práctica y por eso nos reunimos hoy".
Los proyectos seleccionados fueron presentados por instituciones de educación superior, como la Universidad Nacional Autónoma de México, el Instituto Politécnico Nacional, el Centro de Investigaciones y Estudios Avanzados del IPN y la Universidad Autónoma de Querétaro, que trabajan tanto en el desarrollo de vacunas, así como tratamientos y pruebas diagnósticas.