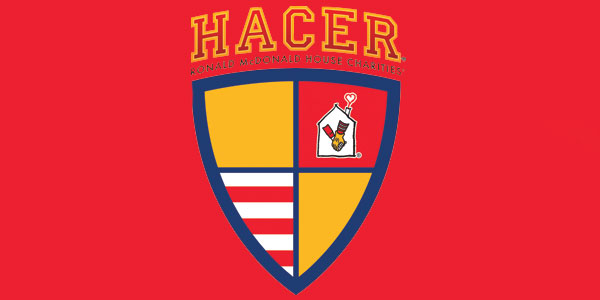 Kansas City, KS (Sept. 1, 2020) — McDonald's is proud to announce that a local Hispanic student from Kansas City, Kansas has been awarded the 2020 HACER National Scholarship to help them pursue their higher education goals.
The Kansas City, Kansas, scholarship recipient is Brian Garcia-Sandoval for $5,000. Brian attended Sumner Academy of Arts & Science and is enrolled at Kansas State University.
In order to further assist this year's HACER National Scholarship winners navigate the pandemic's impact on education, McDonald's is equipping each of them with a "tech backpack" that includes a laptop, wireless mouse, and headphones – some of the tools needed to succeed in a virtual learning environment.
While the cost of education is usually the largest barrier for Hispanic students in pursuing college degrees, this year the pandemic has also exposed a technology access gap that has placed low-income, Hispanic students at a disadvantage. A McKinsey survey conducted in April 2020 found only 56 percent of students from low-income households report having reliable internet access and just 45 percent report that their home environment could support remote learning. As educational institutions have accelerated the shift to remote learning and online classes, many Hispanics students lack access to digital devices and internet connectivity at home, further widening educational disparities.
Created to provide educational opportunities for Hispanic students and motivate them to pursue higher education, the McDonald's HACER National Scholarship has awarded more than $31.5 million in scholarships to date and helped 17,060 students since its founding in 1985. The McDonald's HACER National Scholarship is one of the largest programs committed to college scholarships and resources for Hispanics, awarding a total of $500,000 to 30 outstanding Hispanic high-school seniors annually.
Hispanic college-bound high school seniors and their parents are encouraged to visit mcdonalds.com/hacer for additional college resources in English and Spanish and for details on how to apply for the McDonald's HACER National Scholarship. The scholarship application period opens on October 5, 2020 and runs through February 3, 2021.
___________________________________________________
Estudiante de KCK recibe Beca Nacional HACER 2020
Kansas City, KS (1 de septiembre de 2020) – McDonald's se enorgullece en anunciar que un estudiante hispano local de Kansas City, Kansas, ha recibido la Beca Nacional HACER 2020 para ayudarlo a alcanzar sus metas de educación superior.
El beneficiario de la beca de Kansas City, Kansas es Brian García-Sandoval por $ 5,000. Brian asistió a la Sumner Academy of Arts & Science y está matriculado en Kansas State University.
Para ayudar aún más a los ganadores de la Beca Nacional HACER de este año a navegar el impacto de la pandemia en la educación, McDonald's está equipando a cada uno de ellos con una "mochila tecnológica" que incluye una computadora portátil, un mouse inalámbrico y auriculares, algunas de las herramientas necesarias para tener éxito en un ambiente de aprendizaje virtual.
Si bien el costo de la educación suele ser la barrera más grande para los estudiantes hispanos para obtener títulos universitarios, este año la pandemia también ha expuesto una brecha de acceso a la tecnología que ha colocado a los estudiantes hispanos de bajos ingresos en desventaja. Una encuesta de McKinsey realizada en abril de 2020 encontró que sólo el 56 por ciento de los estudiantes de hogares de bajos ingresos informan tener acceso a Internet confiable y sólo el 45 por ciento informa que su entorno familiar podría apoyar el aprendizaje remoto. A medida que las instituciones educativas han acelerado el cambio al aprendizaje remoto y las clases en línea, muchos estudiantes hispanos carecen de acceso a dispositivos digitales y conectividad a Internet en el hogar, lo que amplía aún más las disparidades educativas.
Creada para brindar oportunidades educativas a los estudiantes hispanos y motivarlos a seguir una educación superior, la Beca Nacional McDonald's HACER ha otorgado más de USD$31.5 millones en becas hasta la fecha y ha ayudado a 17.060 estudiantes desde su fundación en 1985. La Beca Nacional McDonald's HACER es una de las programas más grandes comprometidos con becas y recursos universitarios para hispanos, otorgando un total de USD$500,000 a 30 estudiantes hispanos sobresalientes de la escuela secundaria anualmente.
Se alienta a los estudiantes hispanos del último año de la escuela secundaria que van a la universidad y a sus padres a visitar mcdonalds.com/hacer para obtener recursos universitarios adicionales en inglés y español y para obtener detalles sobre cómo solicitar la Beca Nacional McDonald's HACER. El período de solicitud de becas comienza el 5 de octubre de 2020 y termina el 3 de febrero de 2021.