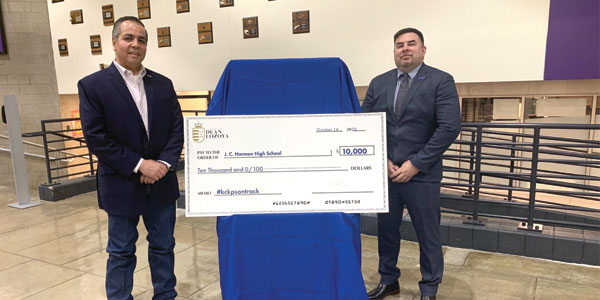 By Angie Baldelomar
La Familia Dean-Lozoya Foundation presented a check donating $10,000 to J.C. Harmon High School in Kansas City, Kansas, during a small ceremony Oct. 14 in the high school's cafeteria.
The funds will provide J.C. Harmon's families with a resource room equipped with technology and access to community resources. The money also will offer English classes for non-English speaking parents.
"The money is going to be used to buy different types of literature to help parents assist their students to be on a college and career pathway," said Stephen Linkous, Kansas City, Kansas, Public Schools (KCKPS) chief of staff.
Linkous said the money also would help families become more involved in their children's educational process.
"We know parents that are engaged generally help students become more highly engaged, so getting parents engaged is a little piece of it — and eventually, we'll be offering English classes, … so some of our immigrant parents will then be able to enhance their English skills that will help them help their students," he said.
A J.C. Harmon High School graduate, Michael Dean — one of the foundation's founders — said it is important that families engage in the educational process and that helping them is their responsibility.
"It is also our responsibility to assist parents with opportunities to improve their command of the English language," Dean said. "This assists society in seeing the impact of their efforts and hard work during their lifetime as improves society on the whole."
Dean and his wife, Guadalupe Dean-Lozoya, established the foundation in 2016. In May, La Familia Dean-Lozoya Foundation donated $10,000 to KCKPS to support students by providing internet connection to approximately 125 students in the Harmon and Wyandotte high school cluster.
_________________________________________________________________________
La Fundación de la Familia Dean-Lozoya dona USD$10,000 a J.C. Harmon High School
La Fundación de La Familia Dean-Lozoya presentó un cheque donando USD$10,000 a la J.C. Harmon High School en Kansas City, Kansas, durante una pequeña ceremonia el 14 de octubre en la cafetería de la escuela.
Los fondos proporcionarán a las familias de J.C. Harmon una sala de recursos equipada con tecnología y acceso a recursos comunitarios. El dinero también ofrecerá clases de inglés para padres que no hablan inglés.
"El dinero se usará para comprar diferentes tipos de literatura para ayudar a los padres a ayudar a sus estudiantes a estar en una carrera universitaria y profesional", dijo Stephen Linkous, jefe de personal de las Escuelas Públicas de Kansas City, Kansas (KCKPS, por sus siglas en inglés).
Linkous dijo que el dinero también ayudaría a las familias a involucrarse más en el proceso educativo de sus hijos.
"Sabemos que los padres que participan generalmente ayudan a los estudiantes a involucrarse más, por lo que lograr que los padres se involucren es una pequeña parte, y eventualmente, estaremos ofreciendo clases de inglés… para que algunos de nuestros padres inmigrantes puedan mejorar sus habilidades en inglés que les ayudarán a ayudar a sus estudiantes", dijo.
Michael Dean, quien se graduó de J.C. Harmon High School, uno de los fundadores de la fundación, dijo que es importante que las familias participen en el proceso educativo y que ayudarlas es su responsabilidad.
"También es nuestra responsabilidad ayudar a los padres con oportunidades para mejorar su dominio del idioma inglés", dijo Dean. "Esto ayuda a la sociedad a ver el impacto de sus esfuerzos y trabajo duro durante su vida, ya que mejora la sociedad en general".
Dean y su esposa, Guadalupe Dean-Lozoya, establecieron la fundación en 2016. En mayo, la Fundación de La Familia Dean-Lozoya donó USD$10,000 a KCKPS para apoyar a los estudiantes al proporcionar conexión a Internet a aproximadamente 125 estudiantes en el grupo de escuelas secundarias Harmon y Wyandotte.