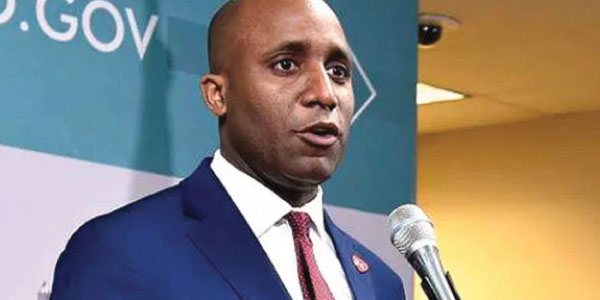 Kansas City, Mo., just reached a couple grim milestones. A fatal shooting on the East Side Monday afternoon marked the 153rd homicide in 2020, tying the city's record high set back in 1993. Also on Monday, the bistate metro area reported a record number of new coronavirus cases for the third consecutive week. The KCMO backdrop for these ominous placeholders — a crushing budget shortfall brought on by the pandemic.
Sworn in a mere 14½ months ago, 36-year-old Mayor Quinton Lucas has coolly forged ahead despite crises no one could have anticipated. A KC native, Lucas is out and about, listening, identifying the needs of his constituents and rolling up his sleeves and pitching in. He's got his finger on the pulse of Kansas Citians.
On Tuesday, he collaborated with others to host a virtual workshop for women. The Appointments Project workshop provided an overview of the application and appointment process for municipal boards and commissions.
Earlier this month, Lucas announced that the single terminal project at Kansas City International Airport had "reached an important milestone." To date, $220 million in contracts had been awarded to 100 WMBE (women/minority-owned business enterprise) companies.
On Sept. 30, the mayor unveiled his new plan to curb the city's violent crime. His inclusive Reform Project KC is organized into four categories: prevention, intervention, enforcement and administrative reform. The plan is designed to connect police, the prosecutor's office, the health department and the community. It's "a starting point, not a final plan," Lucas announced at the unveiling. "We need and want the community to provide input."
He set a January 2021 deadline for setting up Reform Project KC steering committees.
A week or so before the press conference, the energetic chief executive spent his weekend at Don Bosco Center loading 18-pound boxes of fresh produce into an SUV. He worked with Nick Conforti Jr., vice president of C&C Produce, which provided the fruits and vegetables through the USDA Farmers to Families Food Box programs. They delivered and distributed the food to senior citizens.
Mayor Lucas demonstrates his facility for working across the aisle. A democrat, he regularly combines forces with Missouri Gov. Mike Parson, a Republican to identify and solve problems.
Lucas often tours the city's neighborhoods on foot to see and hear residents. He held four town halls in October, too; the last was Tuesday night.
People may not agree with all the mayor's policies. But clearly Kansas City has the right leader for these troubling times. He seemingly has boundless energy, a very real calling to serve and personal fearlessness; when rioters took to the streets in June, Lucas didn't hide in his safe office; he was out listening to the demonstrators, to his police officers and to entrepreneurs whose businesses were at risk.
Since the pandemic struck, Mayor Lucas has led with realism and hope. He's held his place as the city leader; and at the same time, he's shown that he's one of us.
Nota bene:
Read more about the mayor's Reform Project KC online at https://www.reformprojectkc.org/.
_________________________________________________________________________
El alcalde correcto en el momento adecuado
Kansas City, Missouri, acaba de alcanzar un par de hitos sombríos. Un tiroteo fatal en el East Side el lunes por la tarde marcó el homicidio 153 en 2020, empatando el récord de la ciudad de 1993. También el lunes, el área metropolitana reportó un número récord de nuevos casos de coronavirus por tercera semana consecutiva. El telón de fondo de KCMO para estos terribles marcadores de posición: un aplastante déficit presupuestario provocado por la pandemia.
Juramentado hace apenas 14 meses y medio, el alcalde de 36 años, Quinton Lucas, ha seguido adelante con frialdad a pesar de crisis que nadie podría haber anticipado. Lucas, nativo de Kansas City, anda fuera de casa, escuchando, identificando las necesidades de sus electores, arremangándose la camisa y colaborando. Tiene el pulso de los ciudadanos de Kansas.
El martes, colaboró con otras personas para organizar un taller virtual para mujeres. El taller del Proyecto de Nombramientos brindó una descripción general del proceso de solicitud y nombramiento de juntas y comisiones municipales.
A principios de este mes, Lucas anunció que el proyecto de terminal única en el Aeropuerto Internacional de Kansas City había "alcanzado un hito importante". Hasta la fecha, se han adjudicado 220 millones de dólares en contratos a 100 empresas WMBE (empresas comerciales propiedad de mujeres o minorías).
El 30 de septiembre, el alcalde dio a conocer su nuevo plan para frenar el crimen violento de la ciudad. Su Proyecto de Reforma inclusivo KC está organizado en cuatro categorías: prevención, intervención, ejecución y reforma administrativa. El plan está diseñado para conectar a la policía, la fiscalía, el departamento de salud y la comunidad. Es "un punto de partida, no un plan final", anunció Lucas durante la presentación. "Necesitamos y queremos que la comunidad brinde su opinión".
Estableció una fecha límite de enero de 2021 para establecer comités directivos del Proyecto de Reforma KC.
Aproximadamente una semana antes de la conferencia de prensa, el enérgico director ejecutivo pasó su fin de semana en el Don Bosco Center cargando cajas de 18 libras de productos frescos en una camioneta. Trabajó con Nick Conforti Jr., vicepresidente de C&C Produce, que proporcionó las frutas y verduras a través de los programas Farmers to Families Food Box del USDA. Entregaron y distribuyeron la comida a las personas mayores.
El alcalde Lucas demuestra su facilidad para trabajar más allá de los partidos políticos. Como demócrata, regularmente combina fuerzas con el gobernador de Missouri Mike Parson, un republicano, para identificar y resolver problemas.
Lucas a menudo recorre los barrios de la ciudad a pie para ver y escuchar a los residentes. También organizó cuatro foros en octubre; el último fue el martes por la noche.
Es posible que la gente no esté de acuerdo con todas las políticas del alcalde. Pero es evidente que Kansas City tiene el líder adecuado para estos tiempos difíciles. Aparentemente tiene una energía ilimitada, un llamado muy real al servicio y audacia personal; cuando los manifestantes tomaron las calles en junio, Lucas no se escondió en su oficina segura; estaba escuchando a los manifestantes, a sus policías y a los empresarios cuyos negocios estaban en riesgo.
Desde que golpeó la pandemia, el alcalde Lucas ha liderado con realismo y esperanza. Mantuvo su lugar como líder de la ciudad; y al mismo tiempo, ha demostrado que es uno de nosotros.
Nota bene:
Lea más sobre el Proyecto de Reforma KC del alcalde en línea en https://www.reformprojectkc.org/.