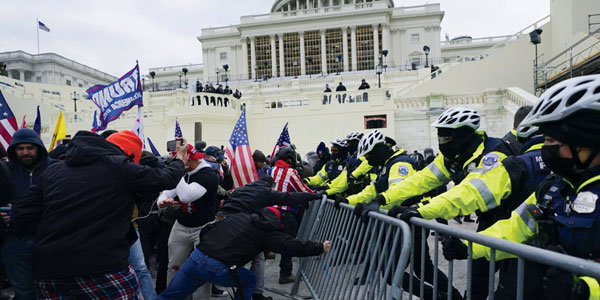 By Roberta Pardo
Trump supporters moved into the Kansas Statehouse on Wednesday (Jan. 6) afternoon to protest election results, KSNT first reported, as pro-Trump extremists breached into the U.S. Capitol in Washington D.C. and forced the building on lockdown.
The protesters in Kansas gathered inside the first floor of Topeka's capitol rotunda and, unlike D.C., they remained peaceful.
According to the Kansas Highway Patrol, protesters had obtained a permit allowing them to protest at the capitol and that no breach occurred.
In D.C., armed pro-Trump extremists interrupted proceedings in the House and Senate, as members of Congress were taking up President-elect Joe Biden's Electoral College victory.
Since the Nov. 3 presidential election, Trump has falsely claimed the election was stolen from him, and dozens of fellow Republicans planned to object to slates of electors from various states they considered contested.
People inside the building were told to shelter in place and Vice President Mike Pence was quickly evacuated from the building as violent extremists were seen smashing windows and occupying the House and Senate floors and various officers.
The National Guard was deployed hours after extremists stormed the building.
---
Protestas pacificas dentro del Kansas Statehouse mientras extremistas pro-Trump invaden el Capitolio
Los partidarios de Trump se trasladaron al Palacio de Gobierno de Kansas el miércoles (6 de enero) por la tarde para protestar por los resultados de las elecciones, informó KSNT por primera vez, al mismo tiempo que extremistas pro-Trump irrumpieron en el Capitolio de Estados Unidos en Washington D.C. y forzaron el cierre del edificio.
Los manifestantes en Kansas se reunieron dentro del primer piso de la rotonda del capitolio de Topeka y, a diferencia de lo ocurrido en D.C., permanecieron en paz.
Según la Patrulla de Caminos de Kansas, los manifestantes habían obtenido un permiso que les permitía protestar en el capitolio y no se produjo ninguna infracción.
En D.C., extremistas armados pro-Trump interrumpieron los procedimientos en la Cámara y el Senado, mientras los miembros del Congreso discutían la victoria del presidente electo Joe Biden en el Colegio Electoral.
Desde las elecciones presidenciales del 3 de noviembre, Trump ha afirmado falsamente que le robaron la elección, y decenas de compañeros republicanos planeaban oponerse a las listas de electores de varios estados que consideraban impugnados.
A las personas dentro del edificio se les dijo que se refugiaran en el lugar y el vicepresidente Mike Pence fue evacuado rápidamente del edificio cuando se vio a extremistas violentos rompiendo ventanas y ocupando los pisos de la Cámara y el Senado y varios oficiales.
La Guardia Nacional fue desplegada horas después de que extremistas irrumpieran en el edificio.