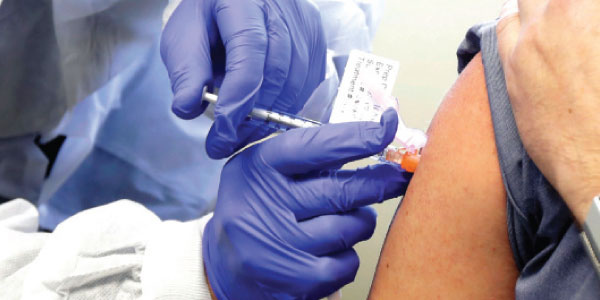 Commentary by Tere Siqueira
Getting vaccinated for COVID-19 is a personal choice. But it is a choice you should consider making.
Vaccination is the only way to get our lives back to normal, despite recent safety concerns about the safety of the Johnson & Johnson vaccine. As multiple media outlets have reported, distribution of Johnson & Johnson's single-dose vaccine has been suspended while the U.S. Centers for Disease Control (CDC) and the Food and Drug Administration review data involving six reported cases of a rare but severe kind of blood clot.
To help you decide if you want to be vaccinated, here are some myths and facts from the CDC about COVID vaccinations:
*Myth: The vaccine is not safe.
*Fact: Many pharmaceutical companies invested significant resources into quickly developing a vaccine for COVID-19 because of the pandemic's worldwide impact, but that does not mean that companies bypassed safety protocols or did not perform adequate testing.
*Myth: The vaccine will alter your DNA.
*Fact: COVID-19 vaccines do not change or interact with your DNA in any way. All vaccines work with the body's natural defenses to safely develop immunity to diseases.
*Myth: People who have had COVID should not get vaccinated.
*Fact: The CDC insists that people should be vaccinated, even if they have already had COVID-19. However, if you were treated for COVID-19 with monoclonal antibodies or convalescent plasma, you should wait 90 days before getting a COVID-19 vaccine. You also should talk to your doctor if you are unsure what treatments you received and address any vaccination questions.
*Myth: I do not need to wear a mask after getting vaccinated.
*Fact: Vaccines help protect you from COVID-19, but it remains unknown if you can still carry and transmit the virus to others. Thus, it is crucial to continue practicing precautions such as mask-wearing and physical distancing.
*Myth: The vaccines were developed using fetal tissue.
*Fact: The Pfizer/BioNTech COVID-19 and Moderna COVID-19 vaccines do not contain fetal cells. Nor were fetal cells used to create them. Although the Johnson & Johnson vaccine used lab-replicated fetal cells, known as fetal cell lines, during its production process, the vaccine itself does not contain any fetal cells.
*Myth: COVID-19 vaccines cause infertility or miscarriages.
*Fact: There is no evidence that COVID-19 vaccination causes any problems with pregnancy, including the development of the placenta. There also is no evidence that fertility problems are a side effect of any vaccine, including COVID-19 vaccines.
---
Vacunas de COVID-19: ¿Cómo separar los hechos de los mitos?
Vacunarse contra el COVID-19 es una elección personal. Pero es una elección que debería considerar hacer.
La vacunación es la única manera de que nuestras vidas vuelvan a la normalidad, a pesar de las recientes preocupaciones sobre la seguridad de la vacuna Johnson & Johnson. Como han informado varios medios de comunicación, la distribución de la vacuna de una sola dosis de Johnson & Johnson se ha suspendido mientras los Centros para el Control de Enfermedades (CDC). Y la Food and Drug Administration revisan los datos de seis casos notificados de un tipo de coágulo sanguíneo poco común pero grave.
Para ayudarle a decidir si desea vacunarse, aquí hay algunos mitos y hechos de la CDC sobre las vacunas de COVID:
Mito: La vacuna no es segura.
Hecho: Muchas compañías farmacéuticas invirtieron recursos significativos para desarrollar una vacuna para el COVID-19. Esto se realizo rápidamente debido al impacto mundial de la pandemia, pero eso no significa que las compañías pasaron por alto los protocolos de seguridad o no realizaron las pruebas adecuadas.
Mito: La vacuna alterará su ADN.
Hecho: Las vacunas del COVID-19 no cambian ni interactúan con su ADN de ninguna manera. Todas las vacunas trabajan con las defensas naturales del cuerpo para desarrollar de manera segura la inmunidad a las enfermedades.
Mito: Las personas que han tenido COVID no deben vacunarse.
Hecho: El CDC insiste en que las personas deben vacunarse, incluso si ya han tenido COVID-19. Sin embargo, si recibió tratamiento para el COVID-19 con anticuerpos monoclonales o plasma convaleciente, debe esperar 90 días antes de recibir la vacuna del COVID-19. También debe hablar con su médico si no está seguro de los tratamientos que recibió y abordar cualquier pregunta sobre la vacuna.
Mito: No necesito usar una máscara después de vacunarme.
Hecho: Las vacunas ayudan a protegerte del COVID-19, pero se desconoce si aún puedes portar y transmitir el virus a otras personas. Por tanto, es fundamental seguir practicando precauciones como el uso de cubrebocas y el distanciamiento físico.
Mito: Las vacunas se desarrollaron utilizando tejido fetal.
Hecho: Las vacunas Pfizer / BioNTech COVID-19 y Moderna COVID-19 no contienen células fetales. Tampoco se utilizaron células fetales para crearlas. Aunque la vacuna Johnson & Johnson utilizó células fetales replicadas en laboratorio durante su proceso de producción, conocidas como líneas celulares fetales, la vacuna en sí no contiene ninguna célula fetal.
Mito: Las vacunas COVID-19 causan infertilidad o abortos espontáneos.
Hecho: No hay evidencia de que la vacuna COVID-19 cause algún problema con el embarazo, incluido el desarrollo de la placenta. Tampoco hay evidencia de que los problemas de fertilidad sean un efecto secundario de cualquier vacuna, incluidas las vacunas del COVID-19.