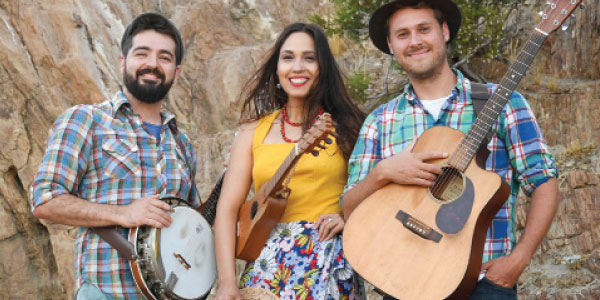 By Roberta Pardo
Family artists Sonia de los Santos and The Okee Dokee Brothers will perform on Oct. 23 at the Midwest Trust Center, formerly the Carlsen Center, at Johnson County Community College in Overland Park, Kansas, as part of the center's new family series MTC Kids Jam.
De los Santos and The Okee Dokee Brothers will perform their new collaboration, titled "Somos Amigos: Songs on Common Ground."
"We're friends," she said. "We speak different languages, but we can find common ground in folk music – in this case, and our love for playing music for families."
A native of Mexico, de los Santos is excited to be collaborating with longtime friends The Okee Dokee Brothers. That friendship is at the heart of the collaboration, she said.
The performance will be bilingual and include both old and new songs that span the musical traditions of North America and illustrate the collective power of singing together and learning from each other.
"We really believe that the message that comes across from this collaboration is one that … (is) important these days," de los Santos said.
With an "adventurous spirit" and a common vision of peace and understanding, "Somos Amigos" will encourage the audience to explore, dance, sing and laugh together, hand in hand, according to the official program description.
MTC Kids Jam is the Midwest Trust Center's new, free family concert series featuring acclaimed artists from around the world.
"We are thrilled to offer these free concerts and arts activities to families in our community," said Kara Armstrong, arts education program director. "With a variety of award-winning local, national and international children's artists, our goal is to provide fun and engaging activities to our youngest audience members that spark a love of the arts for years to come."
De los Santos encourages families to see the Oct. 23 performance.
"Come ready to have fun," she said. "The show, I think, is uplifting for us and I hope it's uplifting for folks who haven't experienced live music lately. We hope to see you there."
To reserve tickets, visit https://jccc.universitytickets.com/w/?cid=172.
---
Sonia de los Santos, Okee Dokee Brothers se presentarán en JCCC
Los artistas familiares Sonia de los Santos y The Okee Dokee Brothers actuarán el 23 de octubre en el Midwest Trust Center, anteriormente Carlsen Center, en Johnson County Community College en Overland Park, Kansas, como parte de la nueva serie familiar del centro MTC Kids Jam.
De los Santos y The Okee Dokee Brothers presentarán su nueva colaboración, titulada "Somos Amigos: Songs on Common Ground".
"Somos amigos", dijo de los Santos. "Hablamos diferentes idiomas, pero podemos encontrar puntos en común en la música folk, en este caso, y nuestro amor por tocar música para las familias".
Nativa de México, de los Santos está emocionada de colaborar con sus viejos amigos The Okee Dokee Brothers. Esa amistad está en el corazón de la colaboración, dijo. La actuación será bilingüe e incluirá canciones antiguas y nuevas que abarcan las tradiciones musicales de América del Norte e ilustran el poder colectivo de cantar juntos y aprender unos de otros.
"Realmente creemos que el mensaje que surge de esta colaboración es uno que … (es) importante en estos días", dijo de los Santos.
Con un "espíritu aventurero" y una visión común de paz y comprensión, "Somos Amigos" animará al público a explorar, bailar, cantar y reír juntos, de la mano, según la descripción oficial del programa.
MTC Kids Jam es la nueva serie de conciertos familiares gratuitos del Midwest Trust Center con artistas aclamados de todo el mundo.
"Estamos encantados de ofrecer estos conciertos y actividades artísticas gratuitos a las familias de nuestra comunidad", dijo Kara Armstrong, directora del programa de educación artística. "Con una variedad de artistas infantiles locales, nacionales e internacionales galardonados, nuestro objetivo es proporcionar actividades divertidas y atractivas a los miembros más jóvenes de nuestra audiencia que despierten el amor por las artes en los años venideros".
De los Santos anima a las familias a ver la actuación del 23 de octubre.
"Vengan listos para divertirse", dijo. "El espectáculo, creo, es edificante para nosotros y espero que sea edificante para la gente que no ha experimentado música en vivo últimamente. Esperamos verlos ahí".
Para reservar boletos, visite https://jccc.universitytickets.com/w/?cid=172.