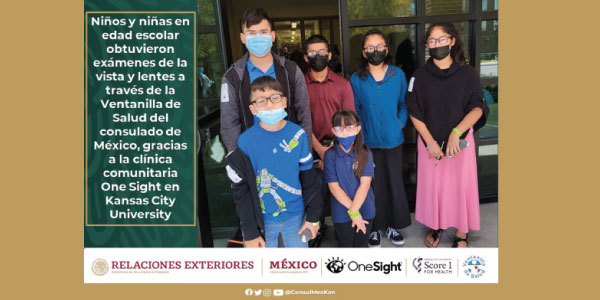 ---
---
To see clearly
Smiles could be guessed under the face masks of elementary school students who received eye exams and glasses in Kansas City days ago.
They were some of the 400 benefitted by the One Sight clinic and the Score 1 For Health program of the Kansas City University (KCU), including 25 girls and boys who had immediate access to eye exams and glasses through a referral from the Window for Health Services of the Mexican Consulate.
The clinic is one of almost two thousand carried out by One Sight since 1988, when an initiative to donate -precisely- 25 pairs of eyeglasses gave way to its mission to eradicate the vision care crisis in the world, where one in seven people lack access to eye care.
For children it is a vital issue as 80% of what they learn is visually processed, yet one in four students in the U.S. has an undiagnosed vision problem affecting their ability to see and learn in school.
Score 1 for Health provides free medical screenings for school-age children in need, including low-income residents in urban areas. The clinic for eye exams like the one held from October 11 to 15 is part of their work.
I toured the clinic on Friday the 15th and I observed the careful work of specialists, volunteers and professionals.
The diagnostic equipment and methods are impressive, but the most exciting moment is choosing eyeglass frames, as I found with KCU President Marc Hahn and Score 1 for Health Director Annette Campbell.
Special designs, arrays of hues and contours, some with sparkles and glitter, others in solid colors.
Each child tries on one or more until they find the one they like, without pressure from mom or dad to agree on the price, and from there to the machine that assembles the lenses … and done. The visit to the clinic concludes. Now to see clearly with new lenses.
Spread the word
Vision can change after a period of growth, so annual exams that include various tests are suggested. For more information call the Window for Health at (816) 556-0800 x 728 or follow us on Facebook @ConsulMexKan.